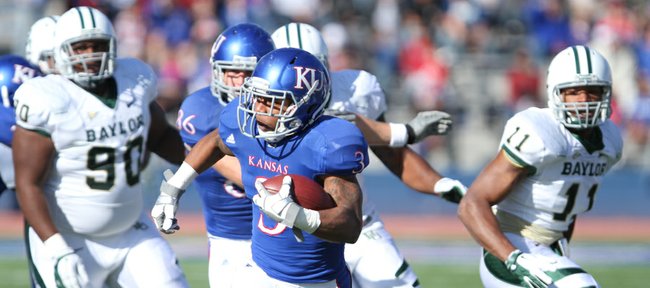 With the way he has run from the first scrimmage of the spring to last week's loss against Baylor, it's hard to believe the Kansas University coaching staff once questioned Darrian Miller's commitment.
According to offensive coordinator Chuck Long, that was the case when Miller, a true freshman from Blue Springs, Mo., first arrived on campus a semester early last spring.
"In the first scrimmage, we thought he had something going," said Long, referring to Miller's raw talent. "But he was fresh out of high school, and, at first, we were wondering if he was focused on being here or going to the prom. But he just got better and better and gained more confidence."
The numbers show that better than Miller's running style, which hasn't changed. From his first carry against McNeese State in the season opener to the last carry of his career day against Baylor last week, Miller has run with the same slippery style that appears to be an equal mix of power and precision. It also tends to be rather unpredictable.
"He gets through small spaces, and he's one of those guys who, once you get your hands on him, you better keep your hands on him," said KU center Jeremiah Hatch. "I've never played for a back like that. He makes us offensive linemen look pretty good."
Some downs Miller will dash to the outside and use his tremendous balance and vision to juke a defender. On others, he'll hammer away, head down, legs churning. Then there's the occasional carry in which Miller is pin-balled around by defenders but never stops moving forward and never goes down. At times, he's hit four or five times on a single carry before going to the ground. Long and the coaching staff love those carries.
"It's hard to change that part of a running back," Long said. "That's why you recruit him. We liked what he did. We liked the fact that he has that balance and can make the yards after contact so we don't say much to him in that regard. I know (running backs) coach (Reggie) Mitchell coaches him up on not taking direct shots, how to use your shoulders, how to stiff-arm. But we don't want to change much more than that."
The only thing about Miller that has changed during the first season of what seems to be shaping up as a promising college career is the frequency with which he is used.
In each of the last two weeks, Miller has turned in career highs for carries and yards. First came a 17-tote, 70-yard performance against Iowa State. Then came the breakout performance — 147 yards on 24 carries — against Baylor.
"The game has slowed down a little bit for him, and you're seeing him being a lot more productive," KU coach Turner Gill said. "We were able to put more on him because he was here in the spring. I think the good thing is he is taking care of the ball. He's a hard runner, a very determined runner."
In Long's eyes, Miller has achieved more during his first season of college football than many of the running backs he worked with in the past, both as a coach and a player.
"As far as knowing more, yes, I think he's ahead of the curve that way," Long said. "He's a smart guy, and he's starting to understand things really well now."
The way his teammates tell it, Miller's God-given ability already has placed him in an elite group.
"I'd like to think I've faced some pretty good running backs," senior co-captain Steven Johnson said. "And Darrian's up there."
Added sophomore quarterback Jordan Webb: "He's got balance like I've never seen. For him to keep some of those plays alive like he does, it's a big thing for us and it just gives us even more yardage. He's just a spectacular back, and we're all excited about what the future holds for him."
Miller clone on tap?
When the Jayhawks take on Texas A&M; this weekend in College Station, Texas — 11 a.m. kickoff Saturday — they could very well be facing the future version of freshman running back Darrian Miller.
Like Miller, A&M; senior Cyrus Gray stands 5-foot-10 and runs hard. Although the A&M; back has 10 pounds on the KU freshman — Gray weighs 200 and Miller 190 — the two have similar running styles.
"They both run very hard," Gill said. "The first person making contact with them usually doesn't stop them or knock them back. They still move forward. (Gray) might be a little bit thicker than Darrian, but, again, there's the difference in age, too."
Regardless, Gray has the respect of the Jayhawks.
"He probably puts as much hard work in as anybody in the Big 12," said senior defensive tackle Patrick Dorsey. "Power and speed. He has a combination of both. He might run you over, he might run past you."
Johnson, Shealy punished by Big 12 for comments
The Big 12 announced a public reprimand of KU defensive coordinator Vic Shealy and senior linebacker Steven Johnson for their comments about a face-mask penalty during last week's loss to Baylor, which the league deemed to be a violation of the Big 12's Sportsmanship and Ethical Conduct rules.

"Both individuals violated Conference rules that prohibit coaches, student-athletes, athletic department staff and university personnel from making public comments about game officials," said Big 12 interim commissioner Chuck Neinas on the league's web site. "Consistent with our precedent for such violations, they are being issued a public reprimand."
Asked about the league's action after Wednesday's practice, Gill said it would be addressed internally.
"We'll talk about it," he said. "We're gonna let the officials officiate, and we gotta coach and let our players play. And that's really about all it's about, and we'll move on."