Feature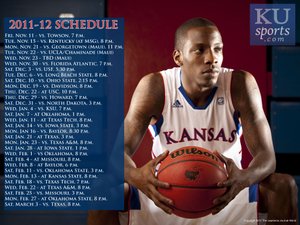 Download these exclusive wallpapers, which contain KU's complete regular season schedule, for your computer's desktop background.
Kansas University basketball coach Bill Self likes what he's seen in Perry Ellis the basketball player and Ellis the person.
"The kid is so competitive in the classroom. He wants to be valedictorian," Self said of the 6-foot-8 Wichita Heights senior standout, who on Wednesday signed a letter of intent with KU. "Perry wants to go into business. I'm not sure if international business or general business, finance or accounting."
Of course, as Rivals.com's No. 24-rated player, there's a chance Ellis will put off his business career a few years for a lucrative NBA career.
He's the state of Kansas' most accomplished recruit since Wayne Simien.
Self was asked if recruiting would be easier if the state churned out blue-chip prospects such as Ellis more often.
"Recruiting is hard everywhere," Self said. "People think just because you coach at a place that has the appearance of having everything in place ... the people you go against in recruiting have the appearance of having everything in place, too. So much of it comes down to different things. A lot of times it's geography. A lot of times it's not. Every individual is different.
"Recruiting is hard everywhere," he repeated. "It doesn't matter if you are at Kentucky or Duke or Carolina or Kansas. You think it should be easy. When you are going into somebody else's backyard to try to get 'em, it's not always easy. There's a lot of good players out there. I hope we are able to sign a couple more kids early. I believe we will ... that will really solidify this class."
No. 144-rated Zach Peters, a 6-9 forward from Prestonwood Christian Academy in Plano, Texas, will sign with KU at a Monday night banquet. Meanwhile, Landen Lucas, a 6-foot-9, 240-pound center from Westview High School in Portland, Ore., begins a campus visit to KU today. He tells jayhawkslant.com he will sign with a school in the early signing period, which concludes Wednesday. The unranked player has visited Cal, Stanford, Washington and Tennessee. KU is also after No. 56 Andrew White, a 6-6 senior from Miller School in Chester, Va., who is also considering Louisville, West Virginia and North Carolina State, with Georgetown trying to set up a visit.
Labels: Self at his weekly news conference was asked if he has ever been labeled as a "recruiter" more than a "coach."
"I think a lot of people have said that," Self said. "We haven't recruited near as many McDonald's All-Americans. Since I've been here we've signed seven or eight (seven). We've done pretty well with the guys we've gotten, though."
About Towson: Located in Towson, Md., with an enrollment of 21,111, Towson returns two letter-winners from last season's 4-26 team. Senior forward Robert Nwankwo, who sat out the 2010-11 season, is back for his fifth year. Nwankwo averaged 9.9 points as a junior and was the Colonial Athletic Association leader in rebounds (9.2 rpg), field-goal percentage (.562) and blocked shots (3.2 bpg) in 2009-10. Sophomore forward Erique Gumbs averaged 3.6 points and 2.8 rebounds with four starts last year. ... KU leads the all-time series 1-0. KU beat the Tigers 87-61 on Nov. 19, 2006, in Allen Fieldhouse. The game was the opening round of the Las Vegas Invitational. ... KU is 2-1 all time against current membership of the CAA . ... This game is technically part of the EA Sports Maui Invitational. ... Towson beat Holy Family, 51-43, and lost to Virginia State, 50-43, in the exhibition season. "They haven't scored great yet, but it's exhibition games," Self said.