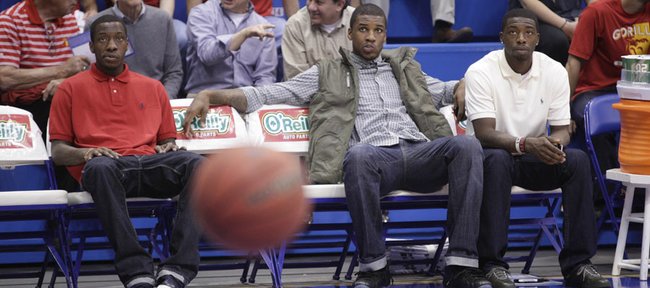 Videos
Bill Self press conference, Nov. 10, 2011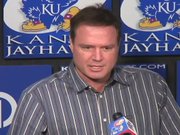 Kansas head men's basketball coach Bill Self addressed the media in his weekly press conference Thursday, Nov. 10, 2011 at Allen Fieldhouse. The Jayhawks are preparing for Towson on Friday.
Feature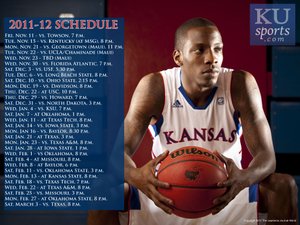 Download these exclusive wallpapers, which contain KU's complete regular season schedule, for your computer's desktop background.
Sitting out a pair of exhibition games as penalty for violating team rules proved painful for Kansas University combo guard Elijah Johnson.
"Seeing my teammates come out of that tunnel," the 6-foot-4, 195-pound junior said Thursday outside the northwest tunnel of Allen Fieldhouse, asked to identify the worst aspect of missing blowout victories over Pittsburg State and Fort Hays State.
"I was a teammate, but it was more so me being a fan. It's tough to sit over there (in street clothes on bench) and be able to do nothing except voice your opinion about what is going on the floor," Johnson added.
He and senior point guard Tyshawn Taylor — who is also coming off a two-game banishment — will start in the backcourt today against Towson in the 7 p.m., regular-season opener for both teams.
"It just sucks not being a part of your team ... where you have to be on the second squad at practice sometimes because you know you are not going to play in the game," Taylor said. "Things like that just kind of suck, but it really didn't kill me. My team played really well both games. We improved game to game, which is good."
The Jayhawks annihilated both the Gorillas (84-55 on Nov. 1) and Tigers (101-52 on Tuesday), preceding tonight's opener which features an oddity — Taylor and Johnson in the same game-day backcourt.
Usually they subbed for each other a year ago.
"Fast. Fast. That's all I've got for you. You've got to see the rest tomorrow," Johnson said Thursday, asked what to expect with him and Taylor starting the offense. "Faster than you can probably imagine it being," he added with a smile.
The 6-foot-3, 185-pound Taylor enters tonight's game as KU's first four-year starter since Aaron Miles (2001-05). Johnson enters ready to shed his super-sub role.
"This is his chance. It's his time. It's the time he's been waiting for, a position he's wanted to be in since he came in," Taylor said. "Now he's getting his chance. I'm sure he's really excited. I mean, I would be if I was him."
Needless to say, Johnson is raring to go.
"I can't explain how excited I am. Since high school (Las Vegas Cheyenne High) I've been waiting on this moment, and it's finally here," he said.
He has started eight of 59 games in his two-year KU career, not that many for a guy ranked No. 24 nationally in the Class of 2009.
"It never was a big deal. If it was, I'd be complaining about starting since my freshman year," Johnson said. "But just knowing you could be the person to set the base or the tempo ... If we start out down eight points, I know it's my fault. If we start out up 10 points, I know I had something to do with that. Everybody is waiting on the first five, and you have to be the one to step up. The fans, the coaches, the team ... everyone is waiting on you to set the pace, and it's comfortable to know I can be one of those five people now."
Just as Johnson was mentored by elder teammates in the past, he now will assist a rookie — freshman backup point guard Naadir Tharpe.
"I told him, 'Just don't play dumb,''' Johnson said. "When I say play dumb, I don't mean as far as skills, I mean, 'Don't act dumb on the court. You know what to do. Stop asking so many questions You understand that game. Have fun. You know what you need to know ... now just go have fun.'"
Taylor and Johnson are ready to have some fun after sitting two games in the penalty box.
"I've got it under control. I think I'll be fine. I won't be in this position again," Taylor said, sure he will not run afoul of coach Self's rules again. "I am real hungry. I'm excited. I feel it's been awhile since I played when it's not against my team. I'm ready to get it rolling."
And Self is ready to watch Johnson and Taylor play together.
"They both will start. The day is kind of early though," Self cracked before practice Thursday.
He knows what Taylor can do.
As far as Johnson ... "Sometimes when you have returning guys who played only a little bit or averaged two or three points a game (Johnson averaged 3.4 points in 13.7 minutes per game as a sophomore), how can you really believe they are capable of doing the same things guys in the past have done? I'm telling you, Elijah is ... he's capable. He just hasn't had the opportunity yet," Self said.