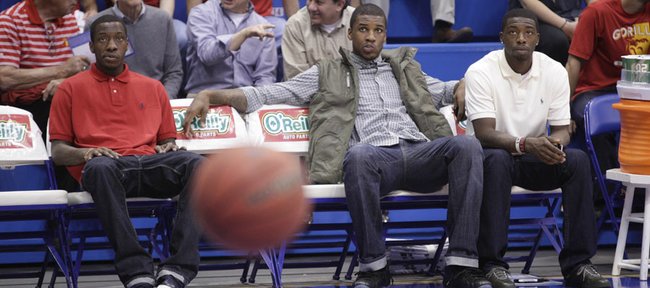 Videos
KU vs. Pittsburg State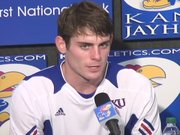 Kansas defeated Pittsburg State, 84-55, Tuesday, Nov. 1, 2011 at Allen Fieldhouse.
Podcast episode
Kansas coach Bill Self talks to reporters following the Jayhawks' 84-55 exhibition victory over Pittsburg State on Nov. 1, 2011.
It might have been known that the Kansas University men's basketball program would be without starters Elijah Johnson (suspension), Thomas Robinson (injury) and Tyshawn Taylor (suspension) for its exhibition opener against Pittsburg State on Tuesday. But that didn't change the way the Gorillas approached the game.
"For me as a coach, it was prepare for Tyshawn, Elijah and Robinson," second-year PSU coach Kevin Muff said after KU's 84-55 victory. "I thought they were playing, so most of our preparation was centered around them, especially Thomas."
If anything, Kansas' being without three of its most high-profile players was a disappointment for the Div. II team making its ninth appearance all-time against KU.
"For me, it was," said junior forward JaVon McGee, who finished with eight points and 12 rebounds in 35 minutes. "We thought Robinson was gonna play because some of us looked on Twitter, and he said he was gonna come back for this week. So we still prepared the same way. We didn't find out until minutes before the game that he wasn't going to play, so it was kind of a damper, for me. I wish I could've seen what I could've done against him."
Added senior guard Drake Green: "As a player, you do want to go against the top prospect-type guys from a high major D-I. At the same time, whether they were playing or not, we still had to go in with the mind-set that we were gonna give it our best effort."
For more than 25 minutes, Pitt State's best effort looked as if it might make things interesting. But, with KU leading by six, senior Conner Teahan drained his fourth of five three-pointers at the 14:05 mark of the second half and sparked a 12-4 Kansas run that opened the door for the rout.
In addition to being impressed with KU's less-heralded players, Muff said he was proud of his own team, particularly McGee.
"I thought JaVon had a heck of a game inside and did a good job trying to attack the basket and make some plays," Muff said.
The Kansas City, Mo., native made just four of 16 shots, but relentlessly went after the rim and KU's big men. The biggest obstacle between McGee and a big night was KU center Jeff Withey, who finished with 10 blocks, including two on McGee on one possession.
"I wasn't expecting him to keep blocking my shot like that," McGee said. "I thought I was gonna get a few calls, but, you know, that's home-court advantage."
Asked if he ever had faced a better shot-blocker, McGee smiled.
"Yeah, my freshman year. We played KU here, so I played against somebody better than him," said McGee, referring to former KU center Cole Aldrich. "Other than that, probably not."
Though not the kind of game it could have been had Johnson, Robinson and Taylor suited up, Muff praised Kansas coach Bill Self for having his players ready.
"We knew were going to be in for a fight," Muff said. "It doesn't matter if you're bottom five or top five, they're going to be ready to play, they're going to be disciplined, and I thought their discipline, especially in the second half, was better than our discipline, and it showed."
Muff, who played at Kansas State in the mid-1980s, made his first trip to Allen Fieldhouse since the 1985-86 season. Aside from a little different look, the old barn was pretty much as Muff remembered it.
"I just remember how loud it got," he said. "And that hasn't changed. ... It's just a great environment and a great place to play basketball."