Videos
KU vs. Pittsburg State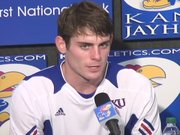 Kansas defeated Pittsburg State, 84-55, Tuesday, Nov. 1, 2011 at Allen Fieldhouse.
Podcast episode
Kansas coach Bill Self talks to reporters following the Jayhawks' 84-55 exhibition victory over Pittsburg State on Nov. 1, 2011.
KU vs. PSU
The team's three best players didn't dress. Two were serving the first half of two-game suspensions. The third was injured. Two of the team's top three freshman recruits will watch all season in street clothes because the NCAA denied them eligibility.
It was enough to make even veteran Kansas University coach Bill Self a little nervous heading into Tuesday night's exhibition opener against Pittsburg State.
No wonder so many in the announced Allen Fieldhouse crowd of 16,300 that actually was much smaller appeared on edge at tipoff.
Seventy-five seconds later, Conner Teahan was on pace to score 288 points, and Pitt State hadn't yet scored. With three beautiful long shots, Teahan stretched the defense and plenty of tense nerves. Nobody cheered harder for him than suspended guards Elijah Johnson and Tyshawn Taylor, who would have been feeling pretty lousy watching SportsCenter if things had turned out differently.
Teahan didn't maintain his pace, but did contribute 21 points, seven rebounds, three assists, five three-pointers and a steal to KU's 84-55 victory, during which KU outscored the visitors 28-11 in the final 8:45.
The nerves Teahan calmed while giving Kansas a 9-0 lead returned at times during an extremely sloppy first half generated by a mix of inexperienced walk-ons and scholarship players, but thanks to Teahan's hot shooting display, Pitt State never drew closer than two points (23-21, 4:20 left in the first half).
A fifth-year senior who red-shirted last season, Teahan won't get as many open looks in the regular season, but he will get significant playing time for the first time in his career.
"Conner's our sixth man," ninth-year Kansas coach Bill Self said. "There are no ifs, ands or buts about that. I like him as that because if he's hitting, he can stretch it and all those things. But we weren't going to probably win the game or have a chance to look very good unless Conner was offensive tonight. He's up 9-0 to start the game. He played well."
At the risk of getting myself tagged with the "sexist" label again, Teahan, in having his big night, proved it is indeed possible for a male member of the human species to exercise patience.
"He's waited his time," Self said. "And he's practiced like this for the majority of our practice sessions."
In his three seasons, Teahan five times reached double digits in minutes, played 218 minutes total and scored 81 points.
During five seasons under the direction of strength and conditioning coach Andrea Hudy, Teahan gradually has added strength and quickness.
"If you looked at the way I was in high school, I've always been slow-footed," Teahan said. "I'm not the quickest guy laterally, but I've been able to work with Hudy, and I've been able to hold my own. I owe a lot to her and other people I've worked with the past four years."
Teahan fills the most enjoyable of all bench roles. He's the designated gunner.
"I'm not supposed to hesitate at all," he said after making five of eight three-pointers and eight of 11 field goals. "They might be a little mad at me not taking more shots tonight."