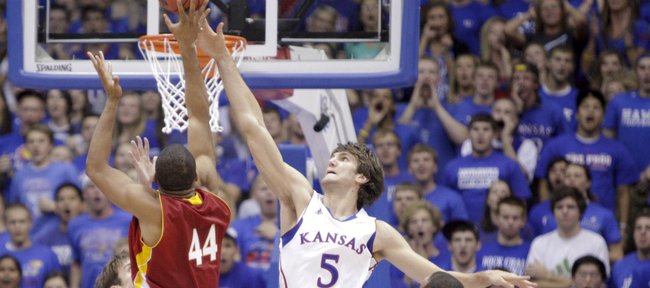 Videos
KU vs. Pittsburg State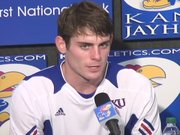 Kansas defeated Pittsburg State, 84-55, Tuesday, Nov. 1, 2011 at Allen Fieldhouse.
Podcast episode
Kansas coach Bill Self talks to reporters following the Jayhawks' 84-55 exhibition victory over Pittsburg State on Nov. 1, 2011.
Jeff Withey now has something in common with Kansas University basketball legend/fellow 7-footer Wilt Chamberlain.
Both have attained the rarest of rare stat feats — a triple-double in a Jayhawk uniform — yet unofficially.
Withey's 18-point, 12-rebound, 10-block outing came in Tuesday's 84-55 victory over Pittsburg State in Allen Fieldhouse. Numbers in exhibitions, of course, don't count in the record books.
Chamberlain's triple-doubles also went unobserved because blocks weren't recorded at KU until the 1970s and the NCAA in the 80s.
"I didn't know until I came out of the game, and coach (Bill Self) said, 'Good job, you got a triple-double.' I was shocked," said Withey, who had back-to-back blocks with two minutes left to record KU's first triple-double since Cole Aldrich (20 rebounds, 13 points, 10 blocks) against Dayton in the 2009 NCAA Tournament. That's the only official triple-double in KU history.
"I love blocking shots. The opportunity was there. It's something I do. It was 'all-on' tonight," added junior pivot Withey, who noted he averaged eight blocks a game his senior year at San Diego's Horizon High with a career-best mark of 15 rejections. "I definitely want to make my mark here."
Withey had a big stat night despite suffering a left ankle sprain on a block attempt with 6:46 left in the first half.
"I heard something pop, and right away I started worrying. I said, 'Not again,''' said Withey, who has been injured often. "I'm blessed it's nothing serious. I'm just going to be sore a few days."
Withey thinks his tender ankle may have contributed to an 8-of-15 free-throw performance. He was 5-of-10 from the field in his 31 minutes.
"I obviously need to work on my free throws," Withey said, "but I think my ankle hurt me with the shot — being on my toes."
Self said he thought Conner Teahan (21 points, seven rebounds, three assists) was sensational on a night Elijah Johnson, Tyshawn Taylor (suspensions) and Thomas Robinson (hyperextended knee) sat on the bench in street clothes.
Yet Withey was not far behind.
"I think it's good Jeff got a triple-double," Self said, adding, "he could have had 22-23 (points) if he made his free throws. The first half he was not a factor (five points, three boards, three blocks in 15 minutes). He was the second half. He's pretty good at blocking and altering. I think he can be one of the better shot blockers in our league."
Yet ... "I told him to not get too excited. They're 6-4. You should block shots if you are 7-foot. Still, though, he's got great timing. I thought he and Teahan were bright spots."
Self said overall, "It was ugly. The first half was hard to watch, but I thought we tried hard."
KU led, 32-27, at the break.
"Our on-the-ball defense on the perimeter from our big guys was horrific," Self noted. "We didn't have any low-post presence the first half. We got it inside a little bit to Jeff the second half. Naadir Tharpe I thought was going to set the freshman record for turnovers in the first 10 minutes. He calmed down and did some nice things," he added of freshman point Tharpe, who also almost had a triple-double that included a negative category — nine turnovers, eight assists to go with 12 points in 34 minutes.
"Naadir made a couple of shots and did some good things," noted Self, whose team also will be without Johnson and Taylor in Tuesday's exhibition finale against Fort Hays State (7 p.m., Allen).
Robinson should be back for that contest. KU's regular-season opener is 7 p.m., Nov. 11 versus Towson.