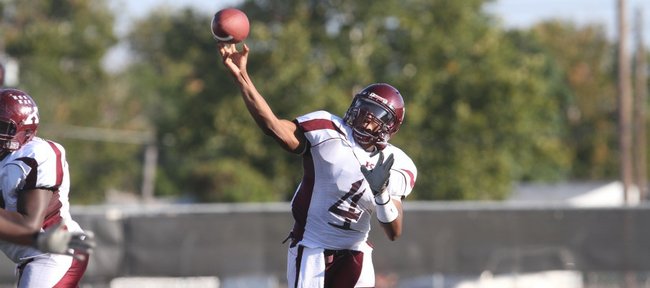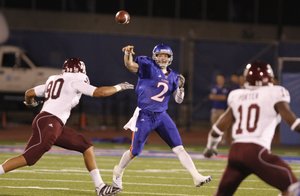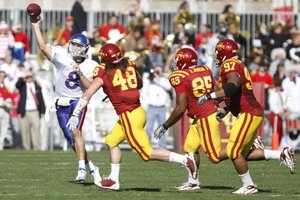 While the coaching staff waits to see if either Brock Berglund or Michael Cummings turns out to be Kansas University's quarterback of the future, the position remains a priority on the recruiting trail.
"You're probably always gonna take a quarterback," KU assistant coach Reggie Mitchell said, when asked what position, if any, the Jayhawks would recruit every year in a recent interview with the Journal-World. "That's just the nature of that position."
Sometimes quarterbacks pan out. Other times they flop. And still other times they change positions. KU's current two-deep depth chart features three such examples, as wide receivers Kale Pick and Christian Matthews, and tight end AJ Steward all arrived on campus as QBs.
Then there's the case of Todd Reesing and Kerry Meier.
Meier made his way to KU in the Class of 2005 and came with 4.6-second 40-yard dash speed and a 6-foot-3, 203-pound frame. Clearly, Meier was the kind of QB the Jayhawks envisioned shaping their future around. But one year later, former KU coach Mark Mangino had a hunch about a 5-10, 180-pound waterbug out of Texas and offered him a scholarship. It turned out to be the best move Mangino ever made. Reesing beat out Meier for the starting QB job in 2007 and led the Jayhawks to a 12-1 season and an Orange Bowl victory while becoming one of the greatest players in Kansas football history. At the same time, Meier took his size and skill and became an NFL-caliber wide receiver, one of the best to ever play the position at KU. Imagine if Mangino had sat on Meier as his quarterback and simply stopped recruiting the position.
The numbers show Mitchell's claim to be dead on. During the past 10 seasons, KU has signed a quarterback in every class. In five of those 10 classes, the Jayhawks signed two QBs. Nine of the 15 guys on that list stayed at quarterback — eight of those started at least one game — while four moved to wide receiver, one moved to tight end and one left the program a year after arriving. While it's still too early to tell where freshmen Berglund or Cummings will play, it's safe to expect KU to keep recruiting QBs behind them.
"One thing I learned about the quarterback position a long time ago is you never know," offensive coordinator Chuck Long said. "You never know."
Recruiting a different game with Class of 2012
During their first full season at Kansas, the KU coaching staff signed 27 players in the Class of 2011, which was ranked as one of the Top 35 classes in the country by most recruiting services.
With just 13 scholarships available for the Class of 2012, Gill's crew has encountered a vastly different recruiting landscape than the one with which it had such success a year ago. Smaller pools of athletes, deeper player evaluations and careful consideration of each offer has created a slight change of style. In short, the staff is making its list and checking it 10 times.
"You hate to say it, because you don't want it to seem like you work harder some years than others," Mitchell said. "But, this year, because of our numbers, we've had to do an even better job of evaluating guys because with (13) scholarships you can't afford to make a mistake."
Three players — Overland Park offensive lineman Brian Beckmann, Florida cornerback Daniel Gray and Arkansas athlete Derek Keaton — already have made oral commitments to Kansas, which leaves the Jayhawks with 10 scholarships left to hand out.
Though the Jayhawks have identified areas of need, they won't stick to them blindly.
"It's kind of like the NFL Draft," Mitchell said. "You go in with a set plan, but you're not gonna turn down a great player just to get a position of need. You're gonna take the best players."
Mitchell continued: "It's not a perfect science, but we've watched guys and rewatched 'em and we're really evaluating guys just to make sure we aren't gonna miss on a guy. We've probably scrutinized them a little more than we have in the past."
While the Jayhawks have fewer scholarships to dish out and different paths to pursue this time around, their main objective remains the same as it was last year.
"We're trying to get speed," Mitchell said.