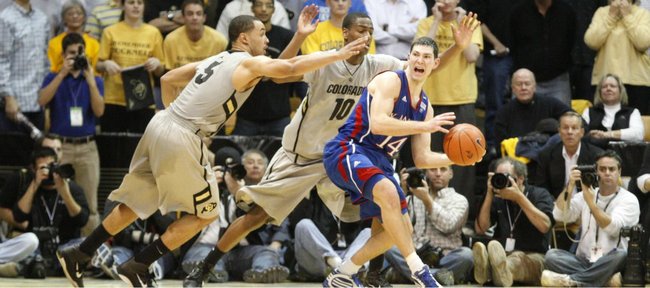 KU vs. Colorado
Podcast episode
Kansas coach Bill Self talks to reporters following the Jayhawks' 82-78 victory over Colorado on Jan. 25, 2011.
Boulder, Colo. — The Colorado students were a bit more frenzied than usual during the Buffs' 82-78 basketball loss to Kansas University on Tuesday night.
"They always want Kansas, but especially right now that we're leaving (for the Pac-12), it's one of the last times we're going to get them at home," CU senior guard Marcus Relphorde said. "We all really wanted this one."
Just 10 days after chanting, "We want Kansas!" in the closing seconds of a victory over Oklahoma State, the CU fans experienced familiar heartbreak Tuesday.
Following the loss, the Buffs fell to 1-14 against the Jayhawks in Boulder during Big 12 play.
"We lost to a helluva team," CU coach Tad Boyle said.
The Buffs lamented two statistics: KU's three-point shooting and offensive rebounds.
The Jayhawks made 10 of 24 three-pointers (41.7 percent), which was their best long-range shooting effort in conference play.
"We weren't expecting them to come out hot like that," CU senior guard Cory Higgins said. "We don't feel like they really have a consistent, knockdown shooter outside of (Tyrel) Reed, but everybody was hitting shots."
Boyle said allowing the Jayhawks open three-pointers was the result of Colorado's trying to limit Marcus and Markieff Morris inside.
"We don't have one guy on our team that can guard those guys one-on-one," Boyle said, "so we talked about having a team defensive effort, and I thought our guys did a great job of that. But what you give up sometimes is a three."
Though the Morris twins combined for just 12 field-goal attempts, KU's outside shooters were able to take advantage of the extra space.
That included Brady Morningstar, who was 4-for-7 from three after making just one of his previous 15 three-pointers.
"Our rotations were a little late sometimes," Boyle said, "but again, I thought for the most part we guarded them pretty well. They executed awfully well."
Asked for the biggest difference in the game, Boyle didn't hesitate.
"Second-chance points, 21 to two," Boyle said. "End of story."
The Jayhawks outrebounded the Buffs, 37-23, but more importantly, KU grabbed 12 offensive boards to CU's four.
KU also held CU without an offensive rebound in the first half.
"If we rebound the ball today, I think we win that game," Higgins said.