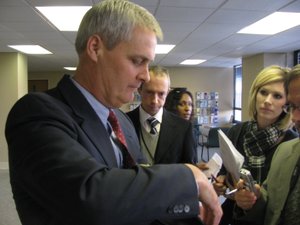 Topeka — Former Kansas University Athletic Director Lew Perkins on Tuesday was fined $4,000 for violating a ban on gifts to state officials by accepting free exercise equipment.
But under an agreement with the Kansas Governmental Ethics Commission, Perkins admitted no liability or any intent to violate the law.
"I regret that this matter may have detracted from the attention given to our athletes, as my objective has always been to enhance the programs, facilities and the overall collegiate experience for all of KU's student athletes," Perkins said in a statement distributed to the media by his attorney Todd Thompson.
Perkins, who resigned in September, also said: "It is time for closure and to move on, and I am glad to have this matter fully and finally resolved."
Ethics Commission Chairwoman Sabrina Standifer of Wichita said the resolution of the case was in the best interests of everyone concerned. She noted that Perkins self-reported the issue to the commission, cooperated fully with the investigation and returned the equipment.
A payment by Perkins, and no admission of intentionally violating the law, avoided potentially costly and protracted litigation, she said. According to the agreement, Perkins has seven days to pay the fine.
"I think it's important to show that state employees are not receiving benefits because of their position, and it's important for the public to know that there are consequences if that does occur," Standifer said.
The ethics complaint alleged that in 2005, then-Athletic Director Perkins accepted at no cost exercise equipment from Medical Outfitters, a now-defunct Lenexa company. The equipment remained in his home until 2009.
Perkins was considered a state employee because part of his salary came from taxpayers. State law prohibits gifts to state agencies, state officers and employees, and candidates for state office.
The complaint originally had a second count that alleged Perkins asked for and received free physical therapy sessions from employees of the KU department of sports medicine.
But that was dropped. Ethics Commission General Counsel Judy Moler said witness statements were not strong enough to pursue the matter.
Moler and Perkins' attorney Thompson agreed to a consent decree, finding of facts and report that they had worked out before the commission's meeting on Tuesday.
The consent decree states that it is a "compromise of a disputed claim; the payment made is not an admission of liability on the part of the Respondent (Perkins) and, in fact, Respondent maintains his innocence."
Appearing briefly before the commission, Thompson said he had no statement, but noted that Perkins self-reported and made a $5,000 payment for the equipment. But later Standifer said it was unknown if that payment was actually made.
After Moler presented the consent decree, the commission went into a closed-door session for about 10 minutes.
When members returned to open session, Commissioner Mark Simpson made a motion to fine Perkins the maximum $5,000, but that failed on a 4-5 vote. A motion was then made for a $4,000 fine and that was approved.
Commissioner John Solbach said he believed the maximum was too much but that a $4,000 fine "indicates this is a serious manner."
The controversy surrounding the exercise equipment was one of several that plagued Perkins last year.
The school was rocked by a scam uncovered by authorities that football and basketball tickets were allegedly sold by staff members who pocketed the money. An audit said the school could have lost upwards of $3 million. Six former athletics department employees and a former department consultant have been charged. Four of the former employees have pleaded guilty in connection with the scheme. And two other defendants are slated for plea hearings this week.
Perkins was not implicated but he admitted to having been guilty of poor oversight.
Shortly after that hit the news, Perkins was accused by former staff member William Dent of accepting use of the exercise equipment in his home in exchange for giving the company's owners access to premium men's basketball tickets. Perkins and the company's co-owner denied the allegation.
Prior to the accusation, Perkins had filed a report with Lawrence police saying he was being blackmailed by Dent over the equipment.
Perkins later said he wrote a check for $5,000 for use of the equipment. In June, an internal review by KU found "no evidence" to substantiate Dent's claims.
Perkins had announced he would retire in September 2011, but on Sept. 7, 2010, he announced he was stepping down immediately.