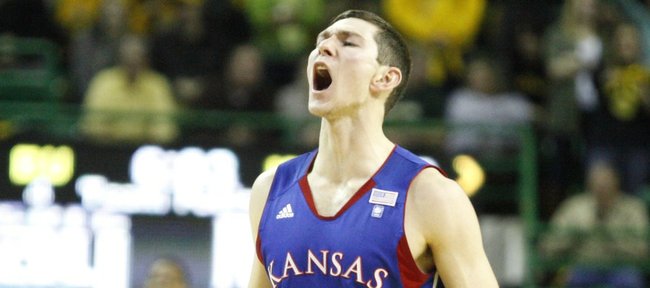 The NCAA required Josh Selby to sit out Kansas University's first nine games for accepting extra benefits.
Mario Little sat six games for the behavior that led to his middle-of-the-night arrest.
Brady Morningstar lost his jumper 10 games ago.
Tyshawn Taylor seemingly tightened up his game at the beginning of the season and then regressed.
Travis Releford forced his way into the rotation with terrific all-around play, but sprained his ankle and has missed the past three games.
Thomas Robinson has improved a great deal and has given the team an energy boost off the bench, but still travels too often and commits too many fouls.
Elijah Johnson, suspended the first two games, has improved his shot and tightened up his turnovers, but hasn't progressed as rapidly defensively.
Even the reliable, consistent twins have had their downer moments, each with a temper flare-up that cost them minutes.
Even with all the personnel changes, brought on by suspensions and injuries, and unsteady performances, Kansas has managed to make it through the first 18 games of its season undefeated and ranked second in the nation.
When figuring out how the Jayhawks have negotiated through so many changes without changing the number in the loss column, don't forget to send credit the way of the team's steadiest presence, senior shooting guard Tyrel Reed of Burlington.
A two-time Academic All-Big 12 first-team selection, Reed leads the team in minutes per game (27.7) and assists-to-turnover ratio (2.9). He ranks second to Selby (2.1) with 1.9 made three-pointers per game and as a scorer ranks behind only Marcus (17.2) and Markieff (13.2) Morris and Selby (12.1) with 9.4 points per game.
Unlike in years past, it's more than just his long-range touch that motivates coach Bill Self to keep him in games for so many minutes.
"I think I'm more of a complete player," Reed said during a recent pre-practice interview. "I've been able to drive better and be more aggressive. I think that just comes with confidence and being a senior."
Reed already has earned his undergraduate degree and is enrolled in 12 credit-hours of classes. He intends to get an advanced degree in physical therapy at KU Medical School, but isn't sure when he'll do that.
"I talked to the PT school and I can defer my acceptance for a couple of years," Reed said. "I'm excited about that."
He's excited because he might have the opportunity to play basketball professionally, which would enable him again to use the sport to pay for his education. Plus, he loves playing the game, and if somebody is willing to pay him to do that, why not?
"I'd love to see what my opportunities are in that direction and just kind of go where the wind blows me," Reed said.
It's likely to blow him to Europe or South America or to a professional league somewhere else overseas.
"That would be OK with me," Reed said. "Go see the world, experience some things that I wouldn't otherwise have the opportunity to experience."
For now, he's enjoying wearing the uniform he grew up picturing himself wearing.