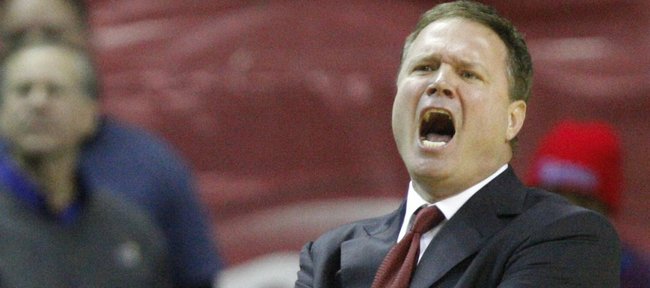 Reader poll
Travis Releford

11%

619 votes

Elijah Johnson

1%

105 votes

Brady Morningstar

14%

789 votes

Mario Little

5%

292 votes

Thomas Robinson

65%

3543 votes

Jeff Withey

1%

55 votes

Other

0%

21 votes
5424 total votes.
One of the 35 NBA scouts at Monday's Kansas-Baylor basketball game briefly interrupted a Bill Self media session in a hallway in Ferrell Center.
"Beautiful basketball, Bill," the talent evaluator said as he walked briskly past KU's coach, following the No. 2-ranked Jayhawks' 85-65 victory over the Bears.
"Thanks," Self replied, before returning to the topic at hand — pretty, unselfish KU play that resulted in 53 first-half points off amazing 79.3 percent shooting.
"I'm not too excited," Self said. "This is not the same team I see in practice every day. We were better than what we've been practicing. Where we are right now is we are a team that has a chance to be really good. When we get more consistent guard play ... I think our ceiling is high."
Frontcourt players Marcus and Markieff Morris, who combined for 44 of KU's points and 14 of KU's 27 rebounds, dominated Monday's game.
"The twins were the best players in the game, but I thought everybody played well, especially the first half," Self said.
Two of KU's guards produced big-time on the offensive end. Josh Selby scored 12 points off 5-of-11 shooting (two of six threes) and Tyrel Reed 11 points off 4-of-8 shooting (three of five threes).
"We had four turnovers in the first four minutes and two the last 16," Self said of the opening 20 minutes. "The ball really moved and they were crisp passes and we drove to pass. We played through the high post pretty well. That was a big key (in attacking BU's 2-3 zone), playing through the high post."
The Jayhawks have seen a lot of zone defenses this season.
"We did a good job of being patient and getting some easy baskets," Self said. "You don't shoot 79 percent unless you are able to get some shots inside. We shot the ball well behind the arc, five of nine the first half (seven of 18 for game), but we got a lot of baskets inside three and four feet, which is sometimes hard to do against the zone."
On the defensive end, guards Tyshawn Taylor (six points, four assists) and Brady Morningstar (no points, three assists) shadowed Baylor senior LaceDarius Dunn, the Big 12's scoring leader, who hit for just 13 points off 3-of-9 shooting.
"Brady probably guarded him 15 minutes; Tyshawn 20 (or so)," Self said. "We went triangle and two a couple possessions and (Anthony) Jones made a three. We got out of that (quickly)."
Dunn needed a three with just 38 seconds left to extend his school-record streak of games with a three to 31. He made just one of three treys.
"He's terrific. The best scorer in our league," Self said. "I thought we did a good job limiting his good touches, a good job of shadowing him with other guys off ball screens. The thing we didn't do well with him and the whole team is we fouled way too much (BU hit 20 of 26 free throws to KU's eight of nine). For the most part we did a good job of awareness of where LaceDarius was the whole time."
•
Scout team excels: KU assistant Kurtis Townsend filled in for Self on Tuesday's weekly Hawk Talk radio show. Self was out recruiting. Townsend cited some unlikely heroes who helped the Jayhawks shred Baylor's zone defense.
"Our scout team did an unbelievable job (at Sunday's practice and Monday's shootaround). Tyshawn mentioned last night how well they simulated Baylor's zone defense. He said it was so hard to score against our scout defense. They did an unbelievable job preparing us," Townsend said.
The scout team generally consists of red-shirts (Conner Teahan, Justin Wesley) and those players not in the regular rotation.
•
Funny stuff: Baylor's student section broke into a wild rendition of "Peanut Butter Jelly Time" from Family Guy when Mario Little strolled to the free throw line in the second half.
"I know Mario was getting ready to shoot the free throw and he started laughing," Townsend said. "Somebody showed me the clip this morning. It's pretty funny."
Little did sink both free throws on a night he scored 10 points in seven minutes.
•
Releford recovering: As Self said after Monday's game, it looks as if Travis Releford, who missed the last three games, may play Saturday against Texas (3 p.m., Allen Fieldhouse).
"He had the (left) ankle sprain (in first half of Jan. 9 game at Michigan). We thought he wouldn't miss much time. It swelled up pretty good the two days after," Townsend said. "He went through workouts 50 percent to game time (Monday). He's been getting three treatments a day. I'd expect to see him on the floor Saturday."