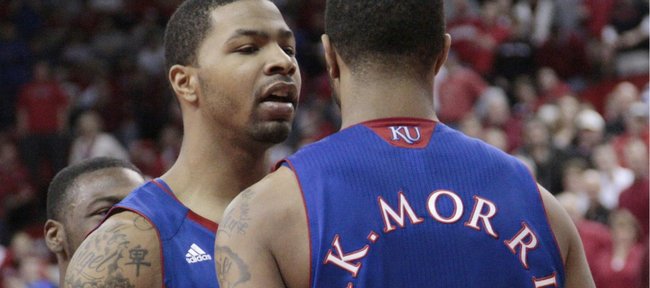 A caller to Bill Self's Hawk Talk radio show Wednesday night wanted to know if he should be concerned about the Morris twins occasionally losing their temper(s) on the basketball court.
"I will tell you this: I don't think you should lose any sleep over it. I think there are some other parties that potentially could lose some sleep over it," Self, Kansas University's eighth-year coach, cracked.
"We've done a lot of stuff with the twins in so many ways. They've matured. There's a lot of ways they can mature more. I am not at all pleased at some of the things that's transpired. (But) some that's transpired sometimes appears worse than what it is. A lot of times we bring it on ourselves because of some previous actions where you've kind of developed a reputation.
"I am concerned. It has been addressed," Self added of Markieff Morris being whistled for a flagrant foul in Monday's Missouri game, two days after Marcus Morris was called for a technical at Nebraska.
Marcus was ejected from the Cal game on Dec. 22 for a flagrant foul, while Markieff also had a 'T' against UMKC.
"We had a long team meeting today," Self said. "Believe it or not, you (talk show caller) could have probably conducted it because that was one of the topics we discussed in conjunction with a lot of other things."
Self keeps any possible discipline private. He has been known to put players on the treadmill for transgressions in the past.
"I'm believing that stuff is behind us, and certainly if they care about their teammates and care about fans and care about KU and all those things, then it should be behind us," Self said. "I know sometimes emotions get the best of a lot of us, including me, in the heat of the moment. But those are things we can't allow to happen because it jeopardizes what we are all trying to do."
Self has been thrilled with the progress and maturation of the twins, who are KU's top two scorers and top two rebounders.
Marcus Morris averages 16.9 points to Markieff's 13.2. Markieff has grabbed 8.4 boards per game to Marcus' 6.8.
"They have matured so much, and they both care so much, and they both love their teammates so much that they have to eliminate a certain part that doesn't have any place in the game, and they'll see their performance level go even higher," Self said. "I believe they'll do it because I know how much they care."