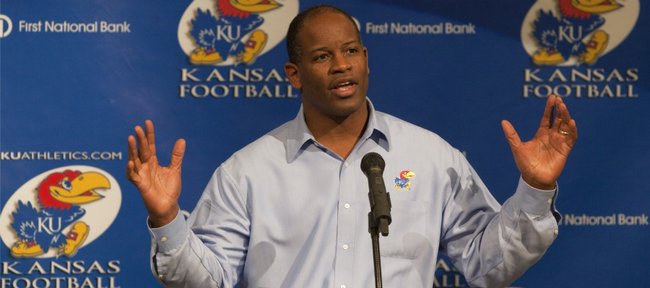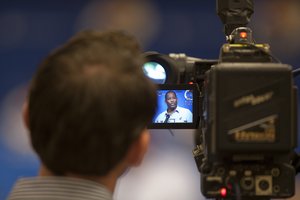 KU class of 2011 quick hits
By State
Texas: 9, Kansas: 7
Arkansas: 2, Illinois: 2
California: 1, Colorado: 1
Florida: 1, Georgia: 1
Missouri: 1, Oklahoma: 1
Virginia: 1
By Position
Offense: 13
QB: 2, RB: 3, WR: 2, OL: 6
Defense: 13, DL: 4, LB: 5, DB: 4
Specialists: 1
PK: 1
Videos
Turner Gill 2011 signing day press conference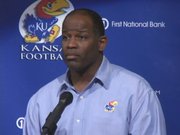 Turner Gill addressed the media on signing day Wednesday, Feb. 2, 2011.
Class of 2011, alphabetical:
Dylan Admire, OL, 6-3, 264
Tunde Bakare, LB, 5-11, 215
Brock Berglund, QB, 6-4, 205
Travis Bodenstein, OL, 6-5, 295
Michael Cummings, QB, 6-0, 196
Javonte Daniel, DE, 6-4, 215
Phil Ford, OL, 6-6, 320
Collin Garrett, LB, 6-1, 205
Ben Goodman, DE, 6-2, 225
Julius Green, DE, 6-7, 260
Ben Heeney, LB, 6-1, 195
Jason Hensley, LB, 6-2, 225
Marquis Jackson, WR, 6-0, 205
Jake Love, LB, 6-0, 195
Luke Luhrsen, OL, 6-5, 275
Damon Martin, OL, 6-5, 265
Alex Matlock, DB, 6-2, 190
Alex Mueller, K, 5-10, 155
Darrian Miller, RB, 5-10, 181
Bryan Peters, OL, 6-5, 305
Anthony Pierson, RB, 5-11, 175
Michael Reynolds, DE, 6-4, 220
Chris Robinson, DB, 5-9, 170
Adonis Saunders, DB, 5-11, 185
JaCorey Shepherd, WR, 5-11, 170
Victor Simmons, DB, 6-1, 185
Dreamius Smith, RB, 6-1, 210
Throughout his first 13 months on the job, Kansas University football coach Turner Gill demonstrated one thing above all else: He's as steady as they come.
During KU's 3-9 season last fall, Gill never got too pumped about the highs nor too down about the lows. Instead, he remained focused on his task and talked often about striving to build a winning program.
Wednesday, inside Mrkonic Auditorium at the Anderson Family Strength and Conditioning Center, Gill slipped ever-so-slightly and showed a little extra enthusiasm when announcing the recruiting Class of 2011, his first full class since taking over at Kansas.
"This is a great class," said Gill of the 27 players who signed national letters of intent to join the Jayhawks. "This is a great class because they have speed, they have good character and they all do well academically. We just have to put it all together."
Doing that will take time. Gill made sure to point that out. But it also will be easier now that the players who will wear Kansas across their chests and Jayhawks on their backs are Gill's players, shaped in his mold, ready to play his style of football.
That starts and ends with speed.
"Absolutely," Gill said. "Speed was the No. 1 thing that we wanted to get addressed at every position, and we did that. We believe that we did that at every position. We were very fortunate and blessed this year that we had a lot of numbers; we were able to have 27 scholarships available; that's probably not going to happen again as we go along."
There were a couple of areas in which speed was the major focus for this year's class and Gill and company delivered in both. In running backs Darrian Miller (Blue Springs, Mo.), Anthony Pierson (East St. Louis, Ill.) and Dreamius Smith (Wichita), Gill inherits three dynamic ball carriers.
"We were definitely trying to find some people who would be explosive, who would be able, any time they touched the football, to find the end zone," Gill said. "As you research these guys, they found the end zone, many, many, many times."
The other position where speed was of prime importance was linebacker, where the Jayhawks were woefully undermanned throughout the 2010 season. Class of 2011 linebackers Tunde Bakare (the only junior college prospect in the class), Ben Heeney (Hutchinson), Jason Hensley (Alma, Ark.), Collin Garrett (Beaumont, Texas) and Jake Love (Tonkawa, Okla.) all have serious wheels.
"These guys have shown that they can go from sideline to sideline," Gill said. "They can hit people, they can splatter people, they can knock the ball out. They showed that."
Though speed was important, it wasn't the only factor Gill and his coaching staff considered. Another big element was creating competition. This class, which includes players from 11 different states — coast to coast — and is made up of 13 offensive players, 13 defensive players and one special teamer, will bring that to Gill's roster.
"We talked about size, we talked about speed, we talked about explosiveness and then we looked to get depth throughout our football team," Gill said. "And I know we accomplished that. There will be competition at every single spot."
And in some areas, that competition will lead to playing time for plenty of freshmen. Last season, Gill chose to play just three true freshmen — Keba Agostinho, James Sims and Keeston Terry. KU's second-year coach said that number could increase dramatically in 2011.
"If I had to guess, out of this class of 27, I would say that over half will play this year," Gill said. "Again, they could go one way or the other, but I can say anywhere from 15 to 16 of these guys will play this year. They may not all be starters on offense or defense initially, but they may help right away on special teams and then, as they mature and are able to move forward, they can help us on offense or defense."
KU's most recent recruiting class was ranked 34th in the nation by Rivals.com, as of Wednesday night. It includes two four-star prospects (Miller and Pierson), 22 three-star prospects and three two-star recruits. Most of them come from winning programs and Gill said that was one of the things his staff was searching for while on the road recruiting.
"This class is full of football players who know how to win," Gill said. "And when you're building a football program, as we are, and you want to build a winning program, you need to have people who know how to win, who have experienced winning and (who) understand and thrive on competition. That was kind of the common theme: Have they been on a successful football team? Can they run? And can they overcome adversity? Because that's what a champion is. These guys have shown that."