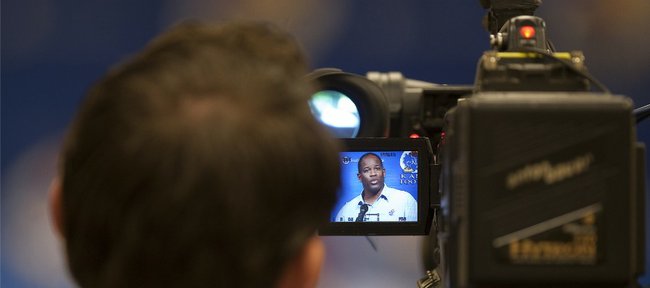 LUBBOCK, TEX. — The forecast called for the temperature, without the wind-chill factor, to drop below zero during the night and I'm beginning to wonder if they have the material here to de-ice wings on airplanes. The thought occurred that just when Kansas University recruited a class of football players with Texas Tech-type speed, I might have to wait until they come here to see them play.
Locked in Lubbock, while watching college basketball on TV with country music blaring and seeing my breath inside a frosty sports bar Wednesday night, the young men at the nearby table were talking football and one of them temporarily changed the subject: "Did Tech win last night?"
"No, they got killed," another said. "When I turned the news on and they showed the score it was something like 48-12 (41-19, probably)."
"Oh, but Kansas is really good, right?"
It's always football season in Texas, which is one factor that makes it so difficult for schools from the North to compete against those from the South. (A bigger hurdle: Student-athletes generally prefer to stay close to home.)
A native of Forth Worth, Texas, KU coach Turner Gill shared he used the example of his own career in an attempt to overcome the geographic concerns. Going to Nebraska, he told recruits, helped him broaden his contacts and opportunities. It's not a bad pitch, especially since he believes it.
Even for assistant coaches who evaluate grainy film and get to know the families of recruits, trying to forecast how recruits will compete against the big, fast bodies of the Big 12 presents a challenge. Still, it's fun to try to guess at which recruits will do the most.
The five athletes among the 27 recruits who signed Wednesday that I'm most eager to watch perform:
1. Brock Berglund, QB: He plays by far the most important position on the field. Look at the difference between how Kansas played when a healthy Todd Reesing played and how it faded when a strained groin hampered him. Berglund's size, arm strength, above-average feet and strong self-confidence make him a lock to start as a freshman.
2. Tunde Bakare, LB: Highland Community College standout with a nose for the ball that calls to mind James Holt, compensates for lack of size — 5-foot-11, 215 pounds — with exceptional speed, which KU has lacked at linebacker since Holt's departure.
3. Bryan Peters, OL: At 6-5, 305, he already has college size and he was ranked No. 65 in the nation among offensive line prospects. That might not sound great, but considering there are five O-line positions, do the math. It equates to being ranked No. 13 at running back.
4. Darrian Miller, RB: James Sims has the ability to change directions, a la Brandon McAnderson, but he also got caught from behind. Miller is to Jake Sharp as Sims is to McAnderson. A burner, Miller, from Blue Springs, Mo., rushed for 2,226 yards and 30 touchdowns as a senior.
5. Michael Reynolds, DE: KU hasn't had a long, wiggly, speed rusher hunting quarterbacks since Charlton Keith in 2005. Reynolds, a 6-4, 220-pound baseball standout from Wichita, might be the guy. TCU and Oklahoma State pursued him.