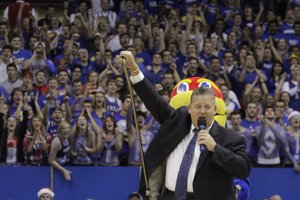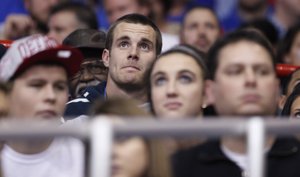 It didn't take long for new Kansas University football coach Charlie Weis to win over the KU basketball crowd. If he can get the same response from roughly three times as many people next fall at Memorial Stadium, he might be on his way.
Saturday afternoon, in front of 16,300 amped-up fans at Allen Fieldhouse, KU officials introduced Weis during halftime of the Jayhawks' 78-67 victory against No. 2 Ohio State. Although he delivered a message similar to the one he pushed at his introductory news conference Friday, Weis ad-libbed a little and got to the heart of why he's in town more quickly.
"I came here with only one thing in mind," he said. "I want to leave here knowing we have a perennial winning program that is going to compete on the level that you expect on an annual basis."
When Weis got to the part where he wondered aloud why KU was 2-10 last season, the fieldhouse crowd began to boo. They seemed to be booing the result and not the new coach.
Either way, Weis had a little fun with it.
"I haven't got to the question," he joked. "Don't boo me yet."
As he continued to draw the comparison between KU's 2-10 season and Kansas State's 10-2 record, the same fans who greeted him with chants of "Char-lie, Char-lie" grew restless.
"I know there's a lot of arm-chair (quarterbacks) that want to give me the answer to that," he said as he laughed.
He then explained how that was his responsibility.
"I'm here, not only to figure out why, but to do something about it," he said. "We need to stop neglecting the fact that there's another school in the state that's our competitor. And we need to go figure out a way to beat their butts. That's a good place to start. Win the state first, then we'll worry about the rest of the country second."
After Saturday's victory, KU men's basketball coach Bill Self was asked about his initial interaction with Weis.
"I left him a message last night," Self said. "And then when I got here today, he was behind the bench, and I said, 'Hi,' and told him congratulations. I didn't get any plays from him, but if he's as good a mind as everybody tells me, I'll be more than happy to sit down with him."
It wasn't just the raucous cheers from the fans in the stands that served as a measuring stick for how Weis had been received. As he walked around the arena prior to tipoff, dozens of fans approached KU athletic director Sheahon Zenger and expressed how happy they were with the hire.
While Weis remained tied to the meet-and-greet circuit that typically follows a new hire, his impact at KU already was being noticed.
Quarterback Dayne Crist, whom Weis recruited to Notre Dame, was in Lawrence for a visit Saturday. Crist, a former top-5 prospect who spent the past four seasons with the Fighting Irish, sat with the rest of the football recruits in the student section behind the south goal. Because the 6-foot-4, 235-pound pro-style QB with one year of eligibility remaining is scheduled to graduate from Notre Dame this month, NCAA rules permit him to transfer and play for one more year at a new school without having to sit out first. Reports have indicated that Crist has narrowed his final choices to Kansas and Wisconsin.