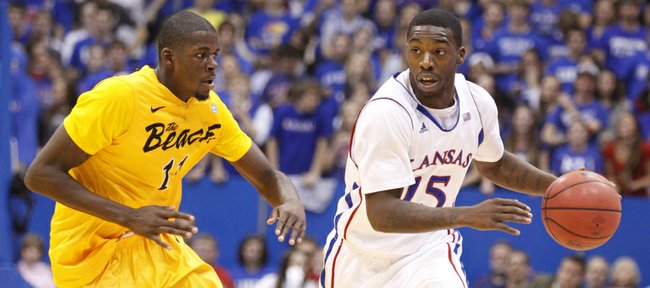 The statistics support Kansas University basketball coach Bill Self when he refers to the 2011-12 Jayhawks as the "worst passing team" he's ever seen.
Through eight games, the (6-2) No. 13-ranked Jayhawks have totaled more turnovers (119) than assists (117).
Obviously it's early, but for reference ... the last time a KU team finished a season with more turnovers than assists was 1982-83, when Ted Owens' squad had 457 assists/492 turnovers en route to a 13-16 record.
"We've got to keep working at it. We've got to cut down these turnovers," said KU junior forward Travis Releford. He has 15 assists against 18 turnovers. "The last four or five games ... turnovers are why we haven't been extending leads on teams or the reason we're keeping games close. We really need to work on that."
KU has more assists than turnovers in three of eight games. Overall, Tyshawn Taylor has 29 assists/32 turnovers, Jeff Withey eight assists/14 turnovers, Thomas Robinson 14 assists/17 turnovers. Elijah Johnson has 30 assists to 19 turnovers; Conner Teahan nine assists/six turnovers; Kevin Young three assists/four turnovers; Justin Wesley one assist/four turnovers and Naadir Tharpe eight assists/five turnovers.
KU had turnover troubles late in Tuesday's 88-80 victory over Long Beach State when the 49ers applied some full-court pressure.
"We don't pass it real well. We don't catch it real well, and we don't see real well. Those are three problems teams will have against pressure," Self said. "It'd be nice if Johnson was in the game (he fouled out at 5:37) so we could have another guard in the game. There's absolutely no excuse. It wasn't even high pressure, and we turned it over to them."
Of course, in looking at seasonal statistics, it should be noted KU's opponents have just 69 assists to 123 turnovers.
Also, the Jayhawks have outrebounded foes 307 to 234. KU has been outrebounded in just one game — the opener against Towson, a 100-54 victory.
"Coach hasn't really said much about us rebounding. It's just the turnovers. We need to cut those down," Releford said. "It's about keeping the ball and controlling it."
The Jayhawks aren't necessarily a young team this season, but the squad definitely is inexperienced.
"I know there's times I'm out there I've done some things that have stalled our offense, things I've done in practice and coach has got on me for," said senior guard Teahan, who has not been a rotation player until this season. "You get in the moment. It's something we need to get better at ... focusing in and making sure we make the right plays, the easy plays. Sometimes people get in the mode we are trying to make extraordinary plays where it's a combination of easy plays that make great plays."
Junior center Withey had four turnovers against one assist against Long Beach State.
"Toward the end, we definitely showed how young we are and made some bonehead plays — me giving it off to Tyshawn when they were trapping," Withey said. "I have to hold onto that (ball). We are young. We are going to make stupid plays. We definitely are going to get better through being out there and learning. It was my first time out there late-clock in a close game. We are learning a lot and coach knows that, but he's not going to let up. He will keep riding us until we are a great team."
Some other stats of interest through eight games: The Jayhawks average 75 points off 47.5 percent shooting (45 of 129 threes for 34.9 percent); opponents 61.5 ppg off 38.5 percent shooting (52-140 threes for 37.1 percent). KU has 52 blocks and 58 steals; opponents 37 blocks, 63 steals.
"We're working every day to get better," Releford noted.
Next up: KU will meet No. 2-ranked (8-0) Ohio State at 2:15 p.m., Saturday, in Allen Fieldhouse. Sophomore center Jared Sullinger, who sat out last Saturday's win over Texas-Pan American because of back spasms, is expected to play, the Cleveland Plain-Dealer reported recently. Sullinger experienced back spasms in the Buckeyes' 85-63 home win over Duke on Nov. 29. Coach Thad Matta said an MRI revealed an aggravated disc. "The big thing is, with therapy and stretching, you can really strengthen that area and make it a non-issue," Matta told the Plain-Dealer.