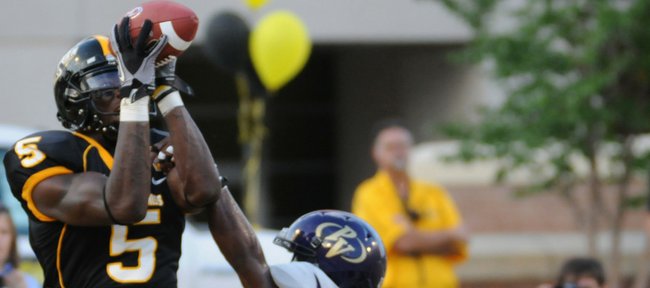 In two days, various members of Kansas University's football team used more than half a dozen different words to describe Southern Miss wide receiver DeAndre Brown.
Freak. Specimen. Stud. Talent. Big. Physical. Fantastic.
All were used, and each seemed fitting.
Through two games this season, Brown has nine catches for 165 yards and two scores.
"Everybody has heard about DeAndre Brown," KU coach Turner Gill said. "Outstanding player. (He) has size and speed and is a big-play guy. He's somebody we have to limit. We're not going to shut him down, but we do have to limit his big plays."
In last year's 35-28 victory against Brown and Southern Miss, the Jayhawks did about as good a job as anybody could expect against the 6-foot-6, 239-pound junior. He scored a 22-yard touchdown in the second quarter and, in the third, hauled in a 49-yard grab — which replay upheld — on another Golden Eagles scoring drive. Take away those two catches, though, and Brown tallied just two more receptions for 15 yards.
KU senior Chris Harris was on the field that day and occasionally drew the task of shadowing Brown. Harris is hoping what the Jayhawks learned in 2009 will help them at 7 p.m. Friday when KU travels to USM for a nationally televised rematch.
"We're definitely going to challenge him more," Harris said. "Last year we kind of sat back a little bit, (but), as a secondary, we weren't half as prepared last year as we will be this weekend."
A big reason for that is defensive coordinator Carl Torbush, a man whose gameplan against Georgia Tech's option attack was critical in helping the Jayhawks upset the No. 15 Yellow Jackets last weekend.
"We got all the confidence in the world in coach Torbush," Harris said. "We're loving that man, right now."
Through Torbush's tutelage, the Jayhawks currently lead the Big 12 in pass defense, having given up the fewest yards (211) and second-fewest touchdowns (one) in the conference through two weeks. KU's opponents also have attempted the fewest passes (37) in that time, making the true measure of the KU secondary somewhat of a mystery.
Friday's game figures to go a long way toward providing a more accurate read of just how talented the Jayhawks' pass defense is. In its two games this year, Southern Miss has attempted 83 passes for 548 yards and two touchdowns. Harris, for one, is ready for that kind of action.
"I've been extremely bored," he said. "No action at all. This is really kind of like my first game. I've got, like, four tackles on the year, and I'm fresh and ready to go."
KU just so-so on Fridays
KU's matchup with Southern Miss will be the program's 10th Friday game since 1950. The Jayhawks' record in the previous nine contests is 4-5, with the last victory coming against Houston on Dec. 23, 2005, in the Fort Worth Bowl. Of those nine games, three were bowl games, and KU is 1-2 in those contests. The Jayhawks' last regular-season Friday night victory was a 21-13 road victory against Oklahoma State in October of 1956.
KU's most recent Friday night showing came in 2008, when Todd Reesing and company fell to South Florida, 37-34, in 2008, in a matchup of Top 25 teams.
Second meeting all-time
This week's game will mark just the second all-time meeting between the Jayhawks and Golden Eagles. The first meeting came in 2009, when KU knocked off USM, 35-28 in Lawrence.
Though KU and USM have faced off just once before, the Jayhawks are 18-9 all-time against teams from Conference USA, with two of those wins coming in 2009, when KU defeated USM and UTEP.