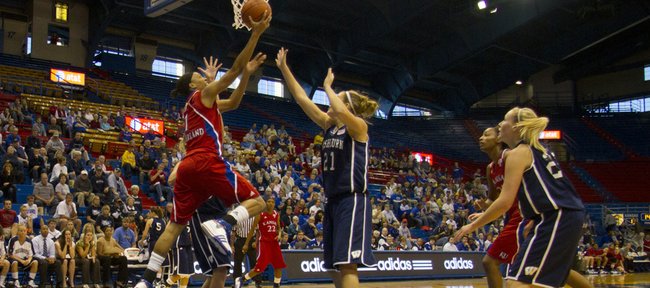 Kansas University women's basketball coach Bonnie Henrickson sat at her postgame news conference following the Jayhawks' 80-46 trouncing of Washburn on Sunday and was slightly apologetic about her voice — which she said had been under a bit of strain this past week.
A week's worth of yelling about two things — defense and ball security — was the cause.
"For the last couple of days, you turn it over, you're going to get subbed out," Henrickson said. "And you can stand and watch somebody take care of the ball, because we're going to have to.
"It's a game of possessions. No sense giving it back to somebody."
The Jayhawks held the Lady Blues to 35 percent shooting, forced 27 turnovers and committed only 13 in an exhibition game at Allen Fieldhouse, all pretty strong indicators they heard Henrickson's message clearly.
"She was on us this week," senior guard Marisha Brown said. "But I feel like it paid off today."
The Lady Blues swarmed the Jayhawks early, pounding the ball inside on offense and defending well in the paint.
Once KU decided to match Washburn's hard-nosed style, though, it was a pretty one-sided battle.
"I'm not a weak player," junior forward Aishah Sutherland said. "I'm going to go out there and bump them back.
"I wanted to show them that I'm not going to back down just because you come out aggressive."
KU's defense in the second half was stifling.
"Defensively, in the second half, they were as good as we're going to ever see this year," Washburn coach Ron McHenry said. "I don't care who we go and play."
McHenry added that while the first half was respectable, the second half — in which Kansas forced 15 turnovers and held Washburn to 19 points — felt like a blur.
It sure looked like one, as red jerseys flew around the court, swiping passes and diving on the floor for loose balls.
"Players don't want to play defense like they did tonight," McHenry said, crediting KU's coaching staff.
It certainly helps that Henrickson has players who buy into the importance she places on the defensive end.
"It was really exciting," Brown said. "I know that's the one thing I can bring to the table if I don't bring anything else."
The Jayhawks, who shot 50 percent from the field, weren't too shabby on offense, either.
Sophomore Carolyn Davis notched another double-double, making her 15 points and 11 rebounds look pretty effortless — despite constant hounding and bumping from multiple defenders down low.

Fellow sophomore Monica Engelman was more aggressive, scoring a team-high 20 points — including the first 10 KU points after halftime — on 8-of-13 shooting.
Brown added nine points, and Sutherland chipped in eight.
Freshman Keena Mays also stood out, looking comfortable running the offense when sophomore Angel Goodrich was on the bench.
The 5-foot-7 Mays only finished with three assists, but showed great speed in transition.
"She's probably as good as anybody in the gym one-on-one," Henrickson said.
Mays also used that quickness on defense, after being called out by Henrickson for her defensive effort last weekend.
"I think she's accepted that challenge from her teammates to be better there," Henrickson said.
Boogaard update
Senior center Krysten Boogaard saw her first minutes of the season after missing the game against Fort Hays State because of patellar tendinitis in her knee. The 6-3 Boogaard played 16 minutes and scored two points with four rebounds, two blocks and one steal.