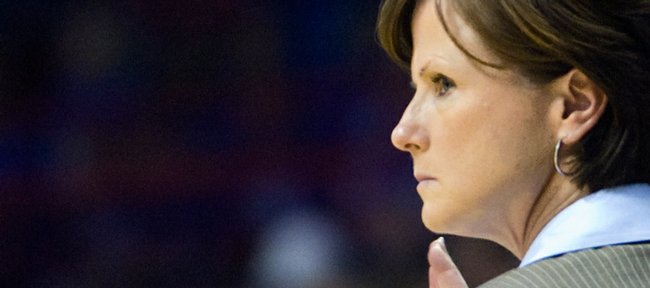 Bonnie Henrickson has landed the highest-rated recruit in her seven seasons at Kansas University.
The Jayhawks' women's basketball coach on Thursday night received an oral commitment from No. 39-ranked Asia Boyd, a 6-foot-1 senior combo guard out of Detroit's Renaissance High School.
Boyd — she chose KU over LSU and Michigan State — averaged 12.0 points, 8.0 rebounds, 2.0 assists and 2.0 steals a game for last year's Detroit city champs and Michigan state runner-up team.
"She has excellent ball-handling skills and finishes well," Renaissance High coach Diana Jones said of the guard who enters her KU career rated 10 slots higher than sophomore guard Angel Goodrich, who was Hoopgurlz.com's No. 49-rated player. KU freshman guard Keena Mays entered as No. 61.
"She's a natural scorer, a strong kid, a big guard. At 6-1 she goes to the hole and not many can check her," Jones added.
Boyd and Goodrich figure to be one of the top backcourts in the Big 12.
"I like the way she passes the ball," Boyd said of Goodrich. "I think they had a good team before they added me. They've just had injuries in the past that have hurt them. Hopefully adding me will make the team even stronger."
Of choosing KU, Boyd, who attended KU's Elite camp last summer then made an official visit in early October, said: "I like the team and staff. I bonded well with them on my visit. I think in the back of my mind I always wanted to go away from home. I think it'll be fun and Rock Chalk, Jayhawk."
ESPN.com has had good things to say about Boyd.
"Asia Boyd of Team Detroit is a 6-1 combo guard with a ton of tools. The lefty plays a lot of point guard, but can flat out score," ESPN writes on the network's recruiting website. "She is strong for her age and uses her body well when attacking the defender. She sees the floor and makes a lot of nice dishes in the lane, many of which catch her teammates off guard. Those plays won't be turnovers at the next level. Her range extends beyond the three-point arc as well. The added size can also ultimately be a weapon with her ability to muscle smaller guards and handle the physical play when she penetrates the paint. It also can be a benefit on the defensive end of the floor and make her a rebounding force from the perimeter."
KU has also received commitments from: Donielle Breaux, 5-9 guard, Elkins High School, Missouri City, Texas; Chelsea Gardner, 6-3 forward, DeSoto (Texas) High; Natalie Knight, 5-7 guard, Olathe South; and Catherine "Bunny" Williams, 6-1 forward, Duncanville (Texas) High.