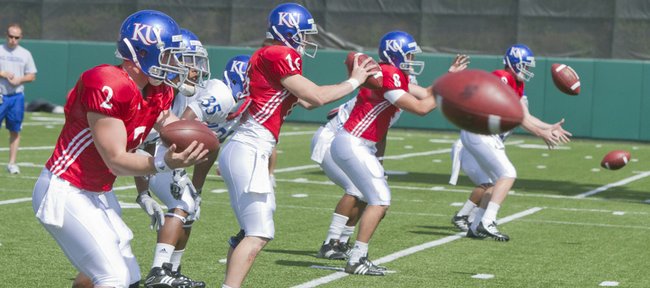 Kansas University football coach Turner Gill might have picked a starting quarterback for today's 1 p.m. kickoff against Colorado, but he isn't letting anyone in on the secret.
Asked Friday night if he had selected a starter, Gill declined to reveal the answer.
Gill's options include junior Quinn Mecham, who started last week against Iowa State; red-shirt freshman Jordan Webb, the team's No. 1 quarterback when healthy; and sophomore Kale Pick, the Week 1 starter-turned-second-stringer who missed last week due to a concussion.
Gill said all three had practiced this week, though not necessarily at 100 percent.
"On and off they (have been) practicing," he said. "We're just trying to get some different reps for some different guys. On different days (we've been) doing different things just to see what we're trying to get done, making sure who's the right guy."
The only real indication given by Gill about this week's starting QB came after Saturday's 28-16 loss at Iowa State when he said, "If Jordan Webb's healthy, he'll be our starting quarterback." Webb has been dealing with an injury to his non-throwing, left shoulder.
However, Gill said he was not disappointed by what he saw from Mecham against the Cyclones. In his first start as a Jayhawk, Mecham finished with 149 yards, one touchdown and one interception on 22-of-33 passing.
"He showed good poise," Gill said. "I like the way he handled himself in the huddle, and I like the way he handled himself on the football field. There are a few more plays he needs to make, but, overall, I like the way he played."
In starting at ISU, Mecham became the third starting quarterback for the Jayhawks in eight games this season. Gill said Thursday that he had been through similar seasons in the past. During one year at Buffalo he started three different quarterbacks, including one who started just one game. As an assistant at Nebraska, Gill also saw NU coach Tom Osborne go with three different starters in the same season.
Although he has been slow in making this decision, Gill said gaining a competitive advantage against the Buffs was not his motivation.

"I guess, as an underlying deal, that's part of it," he said. "But we're trying to find out who's the best guy that gives us the best chance to win. That's No. 1. And if (Colorado doesn't) know for sure who's going to be the guy, then I think that might help us to a certain extent."