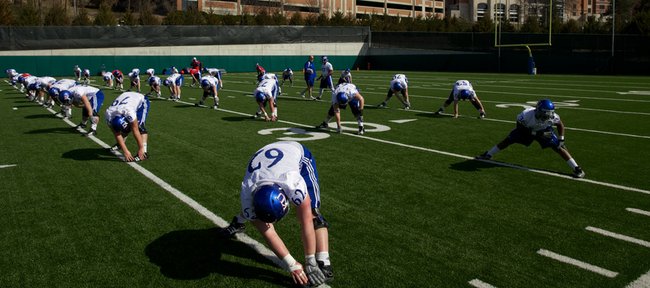 Although the start of spring football practice has been accompanied by a fair amount of excitement and energy, there still are a handful of rules that players and coaches must follow.
For that reason, Kansas University coach Turner Gill has not put too much emphasis on what he has seen during the first two days of drills.
"I'm more anxious to see what they do when pads are on and things are going on around them," Gill said. "I'm taking into consideration what we learned in the winter (during individual workouts), but I want to know how they respond when we're on the field, and (I want to) see all the things that are going through their minds. It's a process. It's a journey. Each and every day we're going to find out some things about our football team."
Beginning today, Gill will discover how his players perform in pads. According to the NCAA rulebook — which can be accessed at www.ncaa.org — only 12 of a team's 15 spring practices can include full pads and contact. The first of those days cannot take place before the third practice of the spring. That third practice without contact is scheduled for Friday, April 23, the day before the annual spring game.
Of the 12 days during which contact is permitted, eight may involve tackling, and no more than three of the eight tackling days can take place via the 11-on-11 scrimmage-type scenario.
In short, after helmets and shorts on Sunday and Monday, the Jayhawks are ready to turn it up a notch beginning at 3:30 p.m. today.
"Obviously, we know some guys, who's played quite a bit and who hasn't," Gill said. "But I want to make sure our coaches have an open mind as we go here and really evaluate these guys on the practice field, particularly when we get into pads. It's really going to be more of a true evaluation once we get our pads on."
In a lot of ways, today could be the first real indication of what Kansas football under Gill might look like. Both coaches and players referred to the first couple of days of drills as a learning process, a chance to feel each other out and see how the coaches coach and the players respond.
Offensively, playing in full pads gives the linemen a better chance to show Gill and his staff what kind of players they are. Are they better suited for run-blocking or pass-blocking? In addition, the wide receivers, of which there are many, will get the opportunity not only to show how they make plays in pads, but also how they play in blocking situations.
"I try to be physical," freshman Chris Omigie said. "At receiver, you have to be tough, physically and mentally tough."
Defensively, opening practice up to full-contact status provides those vying for starting spots — on a defense full of opportunities — a chance to play fast and hit hard, which seems to be in line with the style of defense Gill's teams will play.
"We're going to get to be a lot more aggressive," senior defensive back Chris Harris said. "We'll get to take a lot of chances. As a defense, we're bringing a lot now. It's just an aggressive-minded defense."
After today's session, KU will practice again on Friday and Saturday and will be off Sunday.