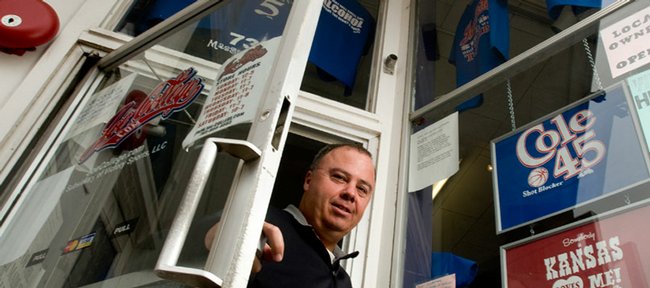 Joe-College.com, a T-shirt business whose unlicensed merchandise has riled officials at Kansas Athletics Inc. and Kansas University, will close Wednesday.
Joe-College owner Larry Sinks confirmed Friday that both the store at 734 Mass. and its online operation would be out of business at the end of this month.
He declined to discuss reasons for the closure, referring questions to his attorney, Jim Tilley, who also declined to provide details.
Tilley did say that settlement negotiations were ongoing with Kansas Athletics and KU regarding legal matters.
"We have no comment on that," said Jim Marchiony, an associate athletics director.
Kansas Athletics and KU sued Sinks and Joe-College in federal court, securing a judgment in July 2008 that prevents Joe-College from producing and selling certain shirts deemed to violate KU's licensed colors, phrases and other items that could cause confusion in the retail marketplace. Among the offending shirts was one with the words "Kansas Swim Team," and an illustration of sperm cells.
As part of that case Joe-College retained permission to print other shirts — "Kansas Drinking Team," "Muck Fizzou" and "Hawk Star" among them — but was ordered to pay Kansas Athletics $127,000 in damages, plus at least $667,000 in attorney's fees.
Joe-College has appealed various components in the case, including the amount of legal fees owed. This past September, after learning that he would be responsible for paying such fees, Sinks said that he wasn't sure what effect the decision would have on his business.
"I don't have it (the money), I can tell you that," he said at the time.