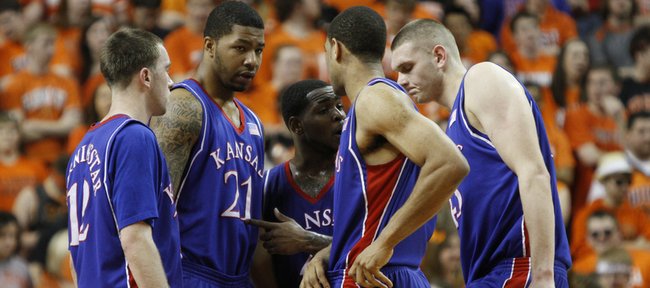 Bill Self and his wife, Cindy, spent some quality time together in front of the TV over the weekend, not watching the Academy Awards, but re-runs of a special basketball team — the 2008 national champion Kansas Jayhawks.
"My wife said, 'Bill, we seem to be more fluid and move the ball better,'" Self said of the 2008 Jayhawks, a dominant 37-3 squad that, after tying for the Big 12 regular-season title, claimed Big 12 tournament victories over Nebraska, Texas A&M; and Texas prior to winning NCAA Tourney contests over Portland State, UNLV, Villanova, Davidson, North Carolina and Memphis.
"She's right. I was pretty confident with that team. I'm confident with this team, but there's less margin for error without question than with that team," added Self, whose 2009-10 league champion Jayhawks take a 29-2 record into this week's Big 12 tourney at the Sprint Center in Kansas City, Mo.
"I felt in '08, going into the NCAA Tournament, if we played well, there was nobody that could beat us. With this team, I think we've been more inconsistent in the number of times that we've played very well. That's obviously a concern. Hopefully we can get more confidence going into Kansas City and leaving Kansas City, believing that we made great improvement over the last couple weeks of the season."
KU enters the conference tourney with a No. 1 seed in the 2010 Big Dance a certainty. KU, which moved back into the top spot in the polls Monday following victories over Kansas State and Missouri and Syracuse's loss to Louisville, still could be tapped the top overall seed in the 65-team event if the Jayhawks win out in KC this week.
KU opens tourney play against either Colorado or Texas Tech at 11:30 a.m. Thursday. A win would push KU into the semifinals against either Nebraska, Texas A&M; or Missouri at 6 p.m. Friday. Finals are 5 p.m. Saturday.
"I want to be the seed that gives us the best chance to advance. Who knows what that is?" Self said. "Sometimes it is a disadvantage staying close to home (in NCAAs), because staying close to home offers more distractions sometimes than going away. I'm not saying that's the case with us."
It's believed KU will open the NCAAs in Oklahoma City, and if KU is the overall No. 1 seed, would (provided KU wins two games) move on to the Midwest Regional semifinal in St. Louis.
"Once the tournament field is set, coaches forget where you are seeded. Now it's, 'Who are you playing?' Certain teams will match up better than others will," Self said.
Self joked about regaining the No. 1 slot in the rankings Monday.
"I am ecstatic. It may be one of the happiest days of my life," he cracked. "No, I could care less. This is the point and time of the season where your play will determine where you are ranked. I said all along I just want to play like a team that deserves to be a No. 1-ranked team. We've been a 3 seed going into the tournament playing like a 6, 7 seed, and we've been a 4 seed playing as well as a No. 1. So much is matchups. We are not playing to be ranked No. 1 now. We're playing to get the best seed possible to give us the best chance to play well in the (NCAA) Tournament."
Milestone talk: KU's next victory will be the 2,000th in school history.
"I haven't thought about that. I do think for this particular game and the fact that we performed so poorly last year in the Big 12 tournament (first round loss to Baylor), hopefully those two things will be motivation for us to make a better Thursday than we had last year," Self said.
"That is a great milestone. I haven't had much to do with getting to 2,000, but I think it is a reason for fans to feel good about the program."
Ballard interviews at Baker: KU director of basketball operations Brett Ballard interviewed for the head-coaching position at Baker University on Monday, a Baker official confirmed. Ballard, a former KU guard from Hutchinson, is in his seventh year on Self's KU basketball staff.
Dooley report incorrect: A Monday morning Foxsports.com report that Kansas University basketball assistant Joe Dooley had been offered the head-coaching job at East Carolina was incorrect.
"Nothing has been offered. Nothing is imminent at all. (They are) still gauging interest," KU coach Self said.
Dooley has already served a tenure as East Carolina coach. He was 57-52 in four seasons (1995-99). He was fired by the prior administration.
Self has a policy of not letting his assistants discuss other jobs publicly. Self does not have a policy prohibiting assistant coaches from accepting jobs before the end of KU's season. Foxsports.com later reported that Dooley is expected to withdraw from consideration.
East Carolina is looking to replace coach Mack McCarthy, who was reassigned after compiling a 34-55 three-year record.
D: Self had a good line about KU's defense: "This week it's much better than it was last week. There's been a lot of bullfighting stuff on TV lately. That's kind of where we were last week. Now we are getting a little bit better where we are actually putting up some resistance (instead of just waving the cape)," he joked. "I thought we guarded K-State very well and Missouri very well."
Finalist: Self is one of 15 finalists for the Jim Phelan national coach of the year award. Others include Kansas State's Frank Martin and Texas A&M;'s Mark Turgeon.
• A previous version of this story was updated.