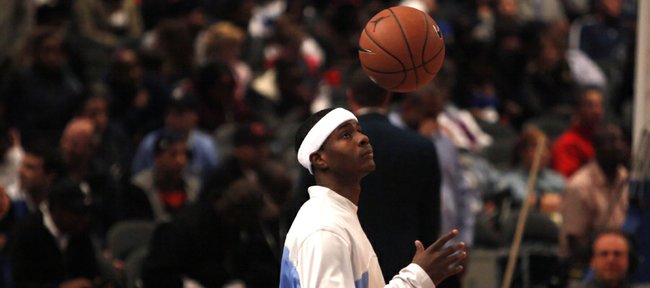 Kansas University freshman basketball point guard Josh Selby, who broke the pinkie on his left, non-shooting hand in a June 7 pick-up game, is "progressing fine," coach Bill Self said on Monday's Big 12 summer coaches teleconference.
"He's got about another week and a half probably in the splint. After that if everything looks good, which we anticipate it will, he'll be able to do noncontact stuff. He's just three to four weeks away from being full speed, full contact," Self said.
Talented team: KU's coach believes the Jayhawks will be able to withstand the losses of Cole Aldrich, Sherron Collins and Xavier Henry.
"The team two years ago that performed at a pretty high level — Sherron was the only kid back in the top seven," Self said of the 27-8 Big 12 champion and Sweet 16 team. "There were question marks about that team as well. You knew you had Sherron. You knew you had Cole that had a chance to be good anchors. This team is a little more of an unknown, although I do believe that Tyshawn (Taylor) and Marcus Morris and Josh Selby will be three of our best performers in our league.
"I like our talent level. We're just young and won't know what we're doing for a while. Hopefully we'll figure it out. This is going to be a very athletic, quick ballclub, probably quite a bit more athletic than last year's team."
Expanded slate: In two years, the Big 12 is expected to go to an 18-game conference schedule instead of the current 16-game slate.
"I've always been a strong advocate we only play 16 league games because based on all the veteran coaches I've talked to who coached in the Big Ten or Pac-10 or whatnot, that two extra games do make a big difference," Self said. "You are throwing in two potential losses when you could buy two games in the nonconference. Everybody says the league's RPI will improve. I do believe that's the case, but so much of league RPI is determined what you do in nonconference play. How our league will be viewed is how we do in nonconference play. When you get into league, you end up beating each other."
Self said he thought a mark of 14-4 would be the type of record one would need for "a championship season. I really believe that the league has gotten that much tougher because we play everybody twice."