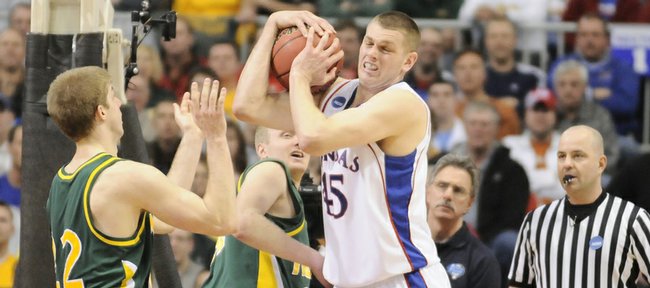 For more information on the NCAA Tournament, check out NCAA.com.
KU to meet Dayton
With a victory over West Virginia on Friday, Dayton advanced to meet KU in the second round of the NCAA Tournament.
The two teams will meet at 1:30 p.m.
This is the second time the two teams have met, with Dayton winning the first contest in 1968.
KU scoring
Collins 32 (career high, 12-for-26 shooting), Aldrich 23 (9-for-12 shooting), Marcus Morris 8, Morningstar 8, Taylor 8, Reed 3, Markieff Morris 2.
KU went 32-for-64 from the floor (50 percent), 4-for-12 from three (33.3 percent) and 16-for-20 from the free-throw line (80 percent).
NDSU was 26-for-62 from the floor (41.9 percent), 10-for-24 from three (41.7 percent) and 12-for-15 from the free-throw line (80 percent).
Woodside finished with 37 points on 13-for-23 shooting.
KU out-rebounded NDSU, 39-34. NDSU had nine turnovers to KU's five.
FINAL: KU defeats NDSU, 84-74
Woodside hits another near-impossible shot on the baseline, but it's not enough. The Jayhawks make eight straight free throws and survive their first-round road game against the Bison, 84-74.
KU 76/NDSU 70 — 1:07 left in game
Collins draws a pair of defenders, then drops a pass to Marcus Morris for an easy two. Good play by the point guard.
Marcus Morris drives, then hurls it over to Aldrich for another slam. The big man's hands might be raw from so many dunks.
Woodside continues to will NDSU back, as he drains a guarded three over Morningstar. Nothing the KU defender could do.
Collins misses on a drive, but Aldrich follows the shot with a slam and foul. Aldrich has 12 shots and Collins has 25. It just doesn't make sense.
Collins misses a chippy on a drive, and Winkleman follows with a three to cut KU's lead to six with 1:07 left.
KU 69/NDSU 62 — 3:52 left in game
Collins hits a huge three on a set play. It's the best shot Collins has had this half, as it was open and in the flow of the offense.
Huge steal by Morningstar, who turns it into two points on the other end by going under the basket for a layup.
Collins bounces it to Aldrich, who picks up Moormann's fifth foul. I believe Aldrich has drawn fouls four of the last five times he's touched it.
Woodside continues to get the benefit of the whistle when he goes inside. KU needs to survive four more minutes.
KU 62/NDSU 57 — 7:57 left in game
Another bad shot for Collins, who doesn't look to any of his teammates before hoisting up an 18-foot guarded jumper. Collins checks out, and Appleton checks in.
Just after checking back in, Collins takes a pass then, without a pass, goes to the bucket and gets rejected on a shot. Why won't he look to Aldrich at least once before putting up a shot?
KU's dodging some bullets, as Tveidt and company have had some open shots rattle out lately.
Collins can't guard Woodside, so I don't know why Self is still trying it. KU needs Appleton, Morningstar or a zone. Woodside's up to 27 points.
The last four times Aldrich has touched it has resulted in three fouls on NDSU and a dunk for KU.
KU 56/NDSU 52 — 11:48 left in game
Woodside is putting on a clinic. KU can't keep anyone in front of him. Self is trying to trap ball screens, switch on ball screens, everything in the book, but it's not working. Woodside is blowing by every defender and getting to the basket for layups.
Woodside's up to 22 points, and KU needs somebody — anybody — to step up defensively. Could that be Appleton?
KU 49/NDSU 44 — 15:21 left in game
Two dunks to start off the second half for KU. A lob pass on the baseline to Aldrich gets him a slam, and on a fast break, Taylor throws the ball down with one hand.
Just when KU looks in control, the Bison make another run. Michael Tveidt hits an open three, and after a pair of free throws, Tveidt tips in a miss while getting fouled by Aldrich. About half of the Bison's 20,000 fans remain on their feet during a Self timeout with KU's lead down to four at 47-43.
Following the timeout, Collins forces up another terrible shot. Against more talented defensive teams, KU needs that kind of tough shot. The Jayhawks don't need it against the Bison.
Next possession, Collins takes a few dribbles in before lobbing it to Aldrich for a dunk. That's the high-percentage shot the Jayhawks are looking for.
KU scoring
Collins 17 (8-for-12 shooting), Aldrich 8 (4-for-5 shooting), Marcus Morris 6, Taylor 6, Morningstar 3, Markieff Morris 2, Reed 1.
KU was 19-for-34 from the floor (55.9 percent), 2-for-5 from three (40 percent) and 3-for-6 from the free-throw line (50 percent).
NDSU was 13-for-30 from the floor (43.3 percent), 7-for-13 from three (53.8 percent) and 1-for-3 from the free-throw line (33.3 percent).
Woodside had 16 first-half points on 7-for-10 shooting.
KU out-rebounded NDSU, 20-16. NDSU had five turnovers to KU's two.
Halftime thoughts
•Would you have felt confident if I told you before the game that the Bison would hit seven of 13 threes in the first half? KU has built its lead by overpowering the Bison offensively. The Jayhawks, if they pass it long enough, have been able to get good, open shots against the Bison.
•Only two first-half turnovers for KU? That has to be the best mark in a half this season. Not only are the Jayhawks getting good shots, they're also getting shots.
• KU has tried about every defender it has on Woodside, and not many seem to be working. The best option, so far, has looked like Tyrone Appleton, so I wouldn't be surprised (especially if KU's leading) if he logs quite a few more minutes in the second half (He had four first-half minutes).
• Don't overlook Marcus Morris' line in the first half: Six points, 2-for-2 shooting, four rebounds, one assist and no turnovers in 10 minutes.
KU 43/NDSU 34 — Halftime
Nice pass by Markieff Morris, who lobbed it to Aldrich under the basket for an easy layup.
KU had a chance to go ahead double digits, but Collins kills the momentum. He tries to go one-on-three, forcing up a tough shot in the lane that misses. KU has been getting easy buckets inside, so don't know why Collins feels like he has to do things himself.
Sure enough, NDSU follows with a quick run. Woodside drives for a layup, then Brett Winkleman rattles in a three for a 5-0 run. Timeout KU.
The Jayhawks go back to what works. Collins drives, then finds Aldrich inside on an easy pass for a slam. It's that easy if the Jayhawks want it to be.
Costly missed free throw by Woodside at the end of the half. He bricked the front end of a one-and-one, and KU once again scored in the final 5 seconds of the first half, as Collins swished a 16-foot fadeaway. What could have been a five-point deficit for NDSU instead balloons to nine.
KU 34/NDSU 29 — 3:48 left in first half
NDSU can keep up with KU offensively, but the Bison's defensive woes are starting to show through. KU pushes ahead with a 7-0 run, and none of the shots (Aldrich dunk, Morningstar three, Taylor layup) were defended well by NDSU.
Woodside has an answer after the break, floating in a jumper. KU hasn't found a way to slow him down yet, as Woodside has 14 points on 6-for-7 shooting.
KU 27/NDSU 25 — 6:47 left in first half
Woodside buries a three over Mario Little. The Bison are 4-for-6 from three.
Bad shot for Collins, who pulled up from 18 feet with a man right in his face.
KU fails to hustle to a loose ball, and it turns into a Woodside three. Self doesn't look pleased that his team looked too tired to make a defensive play.
The good news for the Jayhawks is that they don't look tight or tense. They just haven't played good enough defense so far to build much of a lead.
KU 21/NDSU 19 — 10:53 left in first half
Collins isn't passing the ball much. The good news for KU is that he isn't missing much either.
He's scored 11 straight for KU, and he shows the 'I'm feeling it' face to the KU fans.
Tyrone Appleton checks in early for KU. This shows the value of a deep bench. Appleton has played just 15 minutes in conference play, but he will have value today if he can slow down NDSU's Ben Woodside today.
Lucas Moormann, NDSU's 6-10 center, just picked up his second foul. The Bison will have to play small.
KU 12/NDSU 11 — 14:47 left in first half
North Dakota State hits the first basket — a three from Mike Nelson — and the crowd erupts.
At least early, NDSU is showing a ton of energy. One guy dives to save a ball from going out of bounds. Another dives at a ball that goes just out of his reach. The crowd loves it.
Collins has taken some questionable shots early on. He looks to be forcing the issue just a bit.
Already three three-pointers from NDSU. The Jayhawks' three-point defense hasn't shown improvement from the Baylor game yet.
Marcus Morris gets a two off an offensive rebound, and Cole Aldrich gets free for a dunk on an alley-oop. The Jayhawks should realize now that that is where they have the biggest advantage.
11:30 a.m.
Fair or not, this is a great atmosphere for NCAA basketball.
Here we go.
11:20 a.m.
After consulting with Gary Bedore, we're going to say that there are 20,000 Bison fans here. I guess NDSU coach Saul Phillips wasn't lying earlier this week when he said that his team's fans would single-handedly boost the economy in Minneapolis.
The "Let's Go, Bison" chant has reverberated across the court a few times already. It would be best for the Jayhawks to get off to a good start.
11 a.m.
Now that I've told you KU has a great chance to win, we have to get to the bad news for KU fans.
There's no doubt now: This will be a true road game for the Jayhawks.
There is yellow everywhere. There is only one small section across from me where I see more blue-shirted fans than yellow-shirted ones.
The only good news for the Jayhawks is that many Bison fans are on the outskirts of the arena — quite a ways from the court. I don't know how well we'll hear those fans.
Having said that, 10,000 Bison fans would probably be a low estimate for today's game.
10:52 a.m.
I know you came to this blog for good news, so here are four statistical reasons the Jayhawks will win today:
1. North Dakota State allows 68.6 points per game. KU is 24-1 this year when it scores 68 points or more.
2. North Dakota State's opponents have shot 36.1 percent from three this year. KU is 22-1 when it shoots 36 percent or better from three.
3. NDSU is 2-3 against teams ranked in the top 100 of Ken Pomeroy's rankings. The Bison have lost to Minnesota (52nd), Stephen F. Austin (91st) and Southern Cal (28th) but beat Oral Roberts twice (88th). KU is ranked 11th in KenPom's rankings.
4. KU has not allowed a team to shoot 50 percent or better all year. NDSU is 26-6 overall, but just a pedestrian 10-6 when it doesn't shoot 50 percent or better.
10:24 a.m.
Welcome back to the Newell Post Live, coming to you from the Metrodome in Minneapolis, Minn., where the third-seeded Kansas Jayhawks are getting ready to face the 14th-seeded North Dakota State Bison.
The most intriguing part of the pre-game, to me, will be seeing just how many fans from the state of North Dakota State show up here today. We've heard all sorts of predictions: 5,000, 10,000, 20,000, 30,000.
My guess would be somewhere in the 10,000 range, which would give the Bison a distinct home-court advantage.
I can tell you this much: the yellow shirts are already starting to descend into the seats. I'd say there's already a few hundred Bison fans here, and with the yellow shirts, they should be able to spot on TV.
Is this fair for KU? Should the third-seeded Jayhawks have to play a road game in the first round of the NCAA Tournament? Probably not.
Then again, the game is played on the court. The Jayhawks are more talented than the Bison, and they've had a week to get themselves ready for this game.
The Jayhawks also have been told again and again how great North Dakota State is. There's no way the Jayhawks should overlook the Bison today.
We'll have more coming up from Minneapolis as the game gets closer.