More coverage
Photo Gallery
The career of Bob Frederick, in pictures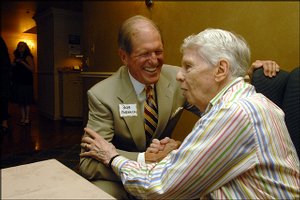 KUsports.com looks back at the career of former athletic director Bob Frederick via the pictures in the KUsports.com archive.
As soon as I started working at the Journal-World, I encountered a couple of local titans.
Young and impressionable though I might have been, I quickly decided that — and this was a huge stretch for a teenager who hadn't so much as entertained the thought of marriage, much less parenthood — I wanted any eventual offspring of mine to swim for coach Pat Grzenda and play baseball for Lynn Harrod.
Both were coaches, and more importantly people, without peer, and I figured my kids would be well served as players and individuals.
And if any of these future mini-me's should find a way to overcome their genes and go on to participate in a Div. I sport, I wanted them to do so in an athletic department overseen by Bob Frederick.
Grzenda and Harrod got out of coaching, and I always figured my kids were missing out.
Frederick resigned as Kansas University's athletic director about eight years ago and died Friday from injuries from a bike crash, and I figure we're all missing out.
Friday, a co-worker asked if I felt a special pang as a fellow cyclist.
My knee-jerk response was, "Do you feel a special pang whenever someone dies in a car wreck?"
Truth is, when I thought about Freddy, the fact he was a cyclist was about the last thing I thought of him.
That's strange, because I've thought quite a bit about him as a cyclist.
When I first started riding semi-seriously, I'd sometimes go without a helmet. A nagging voice — Frederick's — told me I should wear a lid. I recall the first time he spoke after his awful bike wreck out by Clinton Lake in 1994 that a helmet had saved his life, and he pleaded for all cyclists to wear them. Now I won't ride without one.
Whenever I ride out by Clinton, I peer down the rip-rap and think about Freddy's awful fall.
And when I was preparing for my first ride in the mountains, I thought about Freddy's big mountain ride in 2005, in which he covered 129 miles and climbed 15,000 feet. Though Kansas is a bad place to prepare for such a race, he said the state's frequent winds provided a nice stand-in to the pull of gravity. He pulled off the ride in 13 hours. He was 65 at the time.
I once was asked to assess his tenure as KU's athletic director.
I said it was marked — just like Freddy — with integrity and character, and that if he had one failing as an AD it was that he wasn't ruthless enough and was too principled to succeed at the level fans expected in a field that too often rewards those with far fewer principles and more flawed characters.
He expected others to behave the same way he did, when in truth few did. Or do.
Small people can debate his legacy as AD. They can gather online or wherever such people do in the real world — if they do at all; I imagine even they can't stand their own company — and criticize his overall won-lost record (which was pretty darn good), or his role in hiring Roy Williams or whether he should have hired this coach or fired that one.
But nowhere can they question the man's character.
Do I feel a special pang because he was a fellow cyclist? Not really.
But I do feel a void as a human. We all are a little worse off he's no longer among us.