Kansas University football coach Mark Mangino was speaking cautiously to a dozen or so reporters at the Big 12 media days earlier this week when the subject of Aqib Talib came up.
Specifically, how is KU's star cornerback handling all of this attention?
"I'm a little bit concerned," Mangino said. "A lot of people are tugging at him and wanting his time. Once we get him started with football, we're going to have him just focus on that."
The irony of that thought sat just 20 feet away from where Mangino was talking. Up on the balcony above Mangino's table, Talib was yukking it up with other reporters, answering every question honestly, laughing, smiling, announcing lofty goals for himself - and all in all seemingly enjoying the heck out of all the people tugging at him and wanting his time.
If anyone has the personality to deal with success, Talib seems to be that guy. Tremendously talented and athletic, Talib has a cocky confidence reminiscent of some the most well-known names in sports, and a personality that media - and subsequently, the public - can fall in love with.
As he enters his junior season, which very well could be his last before he goes to the NFL, Talib has a list of preseason honors longer than most. He flew to Arizona in June for the Playboy magazine All-America team photo shoot, is a consensus preseason All-Big 12 pick, and is regarded as one of the top cornerbacks in college football by many national pundits.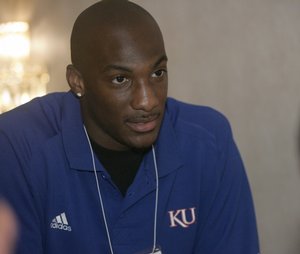 With regional and national media traveling to San Antonio to talk to the Big 12's best earlier this week, Talib instantly stole the show with his eagerness to say countless things of interest:
¢ On why he didn't go pro after last year: "I couldn't leave here on that note."
¢ On what a good note would be to leave on: "10-2, play for the Big 12 championship, and get in a hot bowl game."
¢ On KU's two quarterbacks, Kerry Meier and Todd Reesing: "You're going to see both of them this year, and they're both going to bring different things to the table. It's going to be like game planning for two different games. Defenses are going to have a lot of film to watch."
¢ On going to Arizona for the Playboy shoot: "I'll probably remember that weekend for the rest of my life. They took about 60 pictures. We had a real photo shoot where we had to get dressed and stuff. I've never done a photo shoot before."
¢ On wanting to win the Thorpe award, given to the top defensive back in college football: "I see myself keeping it in the Big 12, taking it from (former Texas standout) Aaron Ross, keeping it in the Big 12. I think I can do that for him. I think he'd appreciate it."
¢ On KU's pass defense, which was ranked dead last in NCAA Division I-A last year: "We just want to make the biggest jump in NCAA history, going from last to first."
¢ On his personal goal for the season: "Double-digit interceptions."
It's a lot of talk, sure. But Mangino insists that Talib, a team captain, is working hard - as are his supervisors - to make sure that's not all it is.
"It doesnt matter if you're on the scout team or a Playboy All-American," Mangino said. "'This is today's workout, and you're going to do it, and I'm going to stand there until you do it, whether it takes an hour, two, three, four.'
"Guys like Aqib know that you've got to show up and get the work done. He's just like everybody else, and he's accepted that role. That's why he's got a chance to be special."
Talib has noticed his physical conditioning is as good as ever, too. He points to a complex workout that strength coach Chris Dawson has designed, which involves sprints across the Memorial Stadium field followed by sprints up the stairs to the top of the stadium. A full workout can often mean doing it up to six times or more.
Talib can do it without getting winded now, something he couldn't say in the past.
It's been an inspiring growth for Talib, who wasn't highly recruited out of high school in Richardson, Texas, despite showing a real knack for making plays.
He came in as a cornerback but switched to strong safety to take advantage of his 6-foot-2, 185-pound frame. Still, he red-shirted in 2004 with the secondary featuring Charles Gordon, Tony Stubbs, Theo Baines, Rodney Harris and Rodney Fowler.
"We probably could've used him, but we didn't need him," Mangino said. "We were OK at that time."
Talib was moved back to cornerback midway through the 2005 season, and that's when he started to take off.
Which brings us here, to a gaggle of reporters surrounding him and Talib yapping his way through all the questions in San Antonio. He's had friendly trash-talking conversations with Iowa State receiver Todd Blythe, Texas receiver Limas Sweed (Sweed said he and Talib had a basketball dunking contest at the Playboy photo shoot) and surely a few others recently.
"I never turn down a challenge," Talib said. "I'm looking forward to playing against all of 'em."
Downstairs, Mangino is asked about Talib's outgoing personality. He said that Talib handles things pretty well but "he's getting spread a little thin. We'll probably get him a little bit of air once in a while."
Upstairs, Talib seems to be breathing just fine. It can be argued that no KU player has received preseason national attention like this in more than a decade. It's possible that no player has been wired for it quite as well as Talib, either.
"I hear (people) tell me I'm good for the camera or whatever, so I don't know man," Talib said. "I just ride with it. I just ride with everything."