The continual error-filled play by the Kansas University softball squad - this time in Friday's opening games of the Jayhawk Classic - has coach Tracy Bunge baffled.
The Jayhawks (12-11) had three errors in each of their games Friday - a 2-1 loss to Eastern Michigan and a 6-3 nightcap victory over Minnesota.
"We just haven't been very good defensively for a couple of weeks now, and it's frustrating, because this is a very good defensive ball club," said Bunge, who promptly ripped up the stat sheet given to her following the Minnesota game.
"We have at least as strong of an infield as we had last year, and we were a very good defensive ballclub last year. But right now, they're pressing a little bit, they're thinking a lot ... so we just need to get back, and they've got to find some confidence."
Freshman pitcher Valerie George (0-2) shot herself in the foot, committing all three errors in her start against EMU.
"We need her (George) to give us some quality innings, and she did a good job pitching-wise, but she opened up the door for them with what she did defensively out on the mound," Bunge said.
Heather Stanley knocked in Tiffany Craner to score the lone Jayhawk run. And after the loss, Bunge gave her team an earful.
"Basically, I was disappointed with our focus and our effort," Bunge said. "I felt like we didn't make adjustments offensively, and we've talked a lot about that this year. ... We didn't have people making adjustments, and you can only say it so many times. I think they got the message, they were better the second game and hopefully will be better (Saturday)."
In the second game, a solo home run by Jessica Moppin in the second and a two-run shot by starting pitcher Serena Settlemier in the third gave KU an early four-run lead. Moppin and Settlemier each had an error, though.
"I always like to help myself out when I'm pitching, come back and get some hits after that," said Settlemier, who earned her seventh win of the season. "I think I was a little mad at the plate. Just mad about how things were going - frustrated."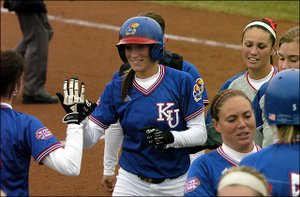 The Golden Gophers gave KU a scare, cutting the lead to one run, but Kassie Humphreys made her second relief appearance of the day to stop the Minnesota rally in the fifth.
"They told me to come out and put the ball in play, and that's what I try to do," Humphreys said. "I'm not really a strikeout pitcher, I never have been. So I just try to throw strikes and not walk people."
Today, KU will play Portland State at 2 p.m. and Eastern Michigan again at 4 p.m.