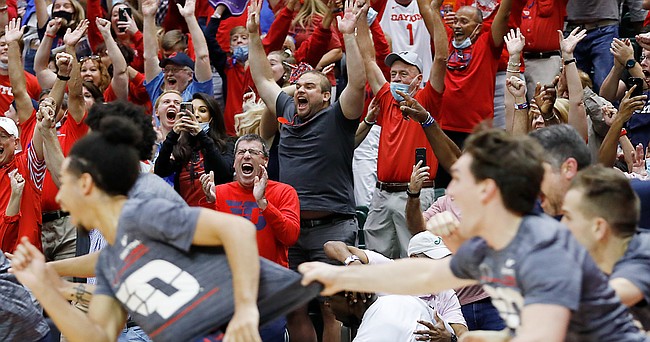 Kissimmee, Fla. — Friday's wild win by Dayton over fourth-ranked Kansas marked the second time in three seasons that the Jayhawks and Flyers have played a memorable November basketball game.
In the title game of the Maui Invitational in 2019, KU outlasted Anthony Grant's Flyers in one of those instant-classic games that featured overtime and was talked about for months.
Friday's 74-73 Dayton win was not quite as high-level as that one, but Grant said it featured two teams competing hard because of their appreciation for the history of college basketball.
"The two games we've had the last few years have been classics and epic," Grant said after Friday's win. "I think the fanbase is impressive, on both sides, and that's what makes it so fun. And our guys have a lot of respect for Kansas. It's a great opportunity for us to play one of the storied programs in college basketball."
Photo Gallery
KU basketball vs. Dayton — ESPN Events Invitational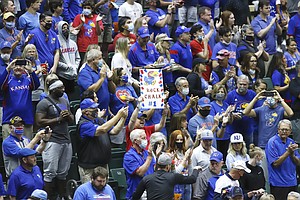 KU basketball vs. Dayton — ESPN Events Invitational
KU senior Ochai Agbaji, who led the Jayhawks for the fifth game in a row with 21 points, said his team knew as soon as the bracket was revealed that a matchup with Dayton would be a dogfight.
"We could feel it right when we walked in," he said. "Their fans cheering, our fans cheering; it's kind of just a new rivalry in these preseason tournaments like this and it's always fun playing them."
Despite Dayton entering Friday's game with home losses to Lipscomb, Austin Peay and UMass Lowell already on their schedule, Kansas coach Bill Self said he, too, was not surprised by how hard Dayton fought.
"They played really well," said Self, who had Grant as an assistant coach on his staff with USA Basketball a couple of summers ago. "That was a good basketball team."
Grant said the two shared a brief moment on the court after the victory as the Flyers' celebration unfolded around them.
"He just said congratulations," Grant said. "I consider him a friend and we just wished each other well."
Braun T'd up
Late in the first half of KU's Friday loss, junior guard Christian Braun was whistled for a technical foul after flushing a lob from Dajuan Harris Jr., with one hand and adding a little extra to his celebration.
The dunk put Kansas up 44-29 and inspired Braun to yell and point in the direction of the player who had tried to contest it. Dayton then closed the half on a 6-1 run to make their comeback seem manageable as the team's headed to the locker room.
Another rough day for Dave
McCormack's early-season struggles continued during Friday's game.
Although he managed to stay on the floor for 25 minutes on Friday — nearly twice as long as he played on Thursday — his numbers and miscues continued to paint the picture of a player still trying to find his game.
"He's kind of laboring right now," Self said. "He's better than what he's playing. But he'll get it back, and we need him to get it back. He was an all-league player last year."
McCormack finished 2-for-6 from the floor and scored five points to go along with five rebounds, one assist, two blocks, five steals and two turnovers.
While his misses in close continue to be a problem, the senior forward also is struggling to play to his size on the defensive end and even was whistled for a lane violation on a made free throw by Agbaji during Friday's loss.
"We need to get our big guys going," Self said.
Vitale on the call
Legendary broadcaster Dick Vitale called Friday's action for ESPN shortly after returning from a hiatus related to his battle with cancer.
As he walked across the court to take his seat to call the game, fans from both sides rose to their feet and showered him with love and applause.
Vitale, who lives in Florida, waved to all corners of the arena and was still smiling long after he sat down.
This and that…
Friday's win was the first for Dayton over a top-four team since beating No. 3 DePaul in 1984… Friday's loss ended a streak of six consecutive Kansas titles in in-season tournaments. The run started with the 2014 Orlando Classic and ran through the 2019 Maui Invitational. Last season's Fort Myers Classic did not have bracket play… KU has played at least 11 different players in every game this season… One day after Agbaji became the latest Jayhawk to join the program's 1,000-point club, super-senior Remy Martin surpassed the 1,800-point mark for his career. Most of those came during his four seasons at Arizona State, but Martin's 17 points in the loss to Dayton were a new KU high… KU and Dayton are now tied 2-2 in the all-time series.