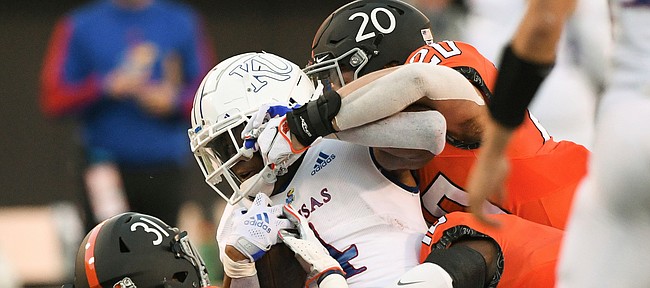 The Kansas football team could be without its starting running back, Devin Neal, in its season finale this Saturday.
Neal got hurt late in the second quarter of the Jayhawks' narrow road loss at TCU this past weekend. As of Monday, head coach Lance Leipold described the true freshman from Lawrence as "questionable to doubtful" for the upcoming home game versus West Virginia. Leipold said that Neal didn't partake in any of KU's Monday practice reps.
The depth of KU's running back room has been challenged this year, due to injuries and the unexpected in-season departure of former starter Velton Gardner. Backup running back Torry Locklin suffered a season-ending injury against Kansas State on Nov. 6, and the Jayhawks lost Daniel Hishaw Jr. for the year back during preseason camp in August.
If Neal, KU's leading rusher (707 yards, 4.5 yards per carry, eight touchdowns), can't go against WVU on Saturday (6 p.m., FOX Sports 1), then redshirt freshman Amauri Pesek-Hickson will be the primary back and start for the second time in his career.
Pesek-Hickson, who filled in for Neal throughout the second half of KU's rally at TCU, finished with 28 yards on nine carries this past week. A year ago, in Pesek-Hickson's lone career start, he ran for 100 yards. It was a similar situation to what the Jayhawks could be facing this week, with Pesek-Hickson filling in due to injury issues.
KU super-senior receiver Kwamie Lassiter II said after the team's loss at TCU on Saturday that the Jayhawks "of course" missed Neal in the second half.
"But when things come like that, it's next man up. I'm going to preach that every day as long as I'm playing football. So it's next man up. We trusted Amauri and we ran with it," Lassiter said.
Sophomore quarterback Jalon Daniels also credited Pesek-Hickson, saying the backup running back stayed ready and that helped KU's offense "not skip a beat" in the second half without Neal at TCU.
The Jayhawks (2-9 overall, 1-7 Big 12) are thin and inexperienced behind Pesek-Hickson on the depth chart. Leipold said redshirt freshman Malik Johnson, who has yet to carry the ball in a college game, would be the No. 2 back if Neal is unavailable.
"And Malik missed over five weeks or so with a high ankle (injury)," Leipold pointed out, "so his reps at some times have been limited."
Next up on the depth chart is DeAndre Thomas Jr., a true freshman walk-on.