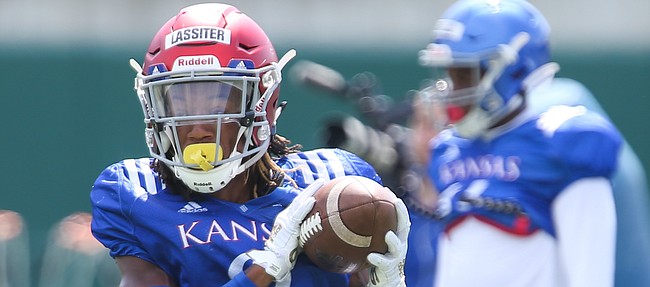 With the start of preseason camp in early August on their minds all summer, Kansas football players have made sure to invest much of their down time in preparing on their own for the first practices of the Lance Leipold era.
According to a couple of the team's leaders, the Jayhawks are resolutely supplementing their typical offseason strength and conditioning workouts and staff-led meetings and video review. One way they go about that is by gathering without coaches on the field to get valuable reps they hope will make for a smoother transition into August and the season that follows.
Super-senior Kwamie Lassiter II said he and other receivers are running routes "as much as we can" with KU quarterbacks Jalon Daniels, Jason Bean, Miles Kendrick and others this summer. And there are regular opportunities throughout each week for players on both sides of the ball to make themselves ready for what's ahead.
"We do player-led practices, so right now we're just working on getting the timing down," Lassiter said of KU's offensive players. "I feel like the last few years the timing wasn't good, so that messes a lot of things up in the offense. So getting the timing down will help improve how we move the ball."
Such groundwork ahead of the preseason is nothing new nor revolutionary in the realm of college football, but for the Jayhawks, who haven't even practiced for Leipold yet, the summer work feels even more necessary.
Lassiter said the player-led practices happen three or four times a week, and they get the sessions in whenever they can. Depending on the weather and time of day, he said those players-only practices happen either at David Booth Kansas Memorial Stadium, the nearby practice fields or the indoor facility.
"It really doesn't matter," he said of the setting, noting the players have enjoyed all three.
To make those practices beneficial, players have to study their playbooks, too. As a team leader, junior safety Kenny Logan Jr. said he and others try to make sure teammates are studying video footage and putting in "extra work" with those types of mental reps.
"Trying to be ahead of the eight ball," Logan said of why that's important. "Just trying to make sure we feel comfortable when we get out there on the field, calling the calls, just alongside one another."
Within the eight hours per week that staff members can be with the players during the summer, Leipold said, coaches have introduced the Jayhawks to plays offensive coordinator Andy Kotelnicki and defensive coordinator Brian Borland will be using in camp and during the season. That type of installation, which comes with accessible video clips, allows the players to study and learn outside of their time with coaches.
"We've got to trust that," Leipold said of how the Jayhawks can try and make the most of their summer. "And there's a lot of player-led activities that have a football involved that we have to lean on them to install on their own so to speak."
Lassiter said having former Buffalo players around has made all of that easier on the team, too. One of six transfers who already have played for Leipold and his coordinators, receiver Trevor Wilson, Lassiter said, has helped him out greatly this summer.
"Without him, it would've been harder to learn," Lassiter said, "because he's helping me out with the languages and everything. Hand signals if there is any. He's helping me out a lot and I appreciate him for that."