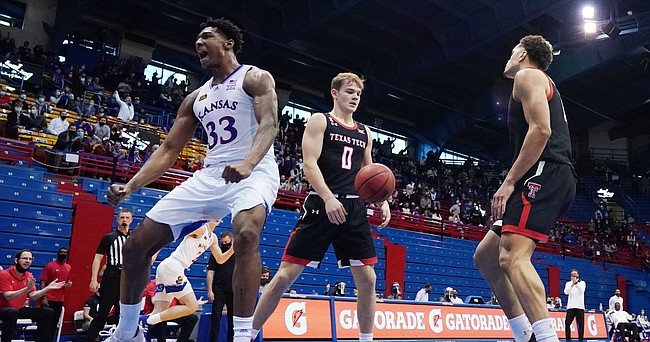 For months, the Kansas men's basketball team has been clamoring for its entire roster to play at a high level at the same time.
On Saturday, in a top-25 showdown with No. 15 Texas Tech, the 23rd-ranked Jayhawks got exactly that in a massive 67-61 victory at Allen Fieldhouse.
In securing its fifth consecutive victory, Kansas (17-7 overall, 11-5 Big 12) never trailed and committed just six turnovers against the vaunted Texas Tech defense.
More important than any of that, though, was the fact that, when KU needed a big bucket or someone to make a key play, the Jayhawks had options all over the floor and up and down the lineup.
All five starters scored in double figures and each of them took their turn in delivering, from the over-the-head, reverse alley-oop thrown down by Ochai Agbaji to the key offensive rebounds gathered by Jalen Wilson and Christian Braun and everything in between.
"When we have five guys out there all clicking, all playing for each other and making the right plays, whether it's scoring, passing, just doing anything that we can to win the game, I love it," said Wilson, who tallied 11 points and 11 rebounds in 37 minutes. "It makes it a lot more fun than we had in the past, and, now, I say we're just clicking on all ends."
While some of KU's best offensive moments made for the most memorable part of Saturday's victory, it was the Jayhawks' torture-tough attitude and willingness to grind that most impressed head coach Bill Self.
Braun had a key block midway through the second half and joined Wilson in hitting the offensive glass all afternoon.
Senior guard Marcus Garrett (10 points, five assists in 27 minutes) made plays for others — both as a set-up man and a security blanket — and scored when he needed to. And Agbaji (14 points on 4-of-11 shooting) and David McCormack did their part as the team's leading scorers, combining to shoot 11-of-21 from the floor for 31 points.
"Guys are taking pride in what wins games," Self said after the victory. "Where, I'm not sure that was the case in January. I think we were taking pride in what we thought won games (then) as opposed to what we know wins games (now)."
A better start helped.
Kansas raced out to leads of 10-2 and 15-6 and led 31-25 at halftime.
"We came out with great energy and got off to a great start," said McCormack, who was the catalyst for that, scoring six of KU's first 12 points and hitting his first shot. "This momentum's going to carry us into our next games and help us moving forward."
Defense was also a big part of KU's winning equation in this one. And the Jayhawks were good on that end from the jump on Saturday.
KU held Texas Tech (14-7, 6-6) to 42.3% shooting for the game, including a 37% showing in the first half.
That included holding Texas Tech's leading scorer, Mac McClung, to 11 points on 4-of-13 shooting and giving up just 11 second-chance points.
"We know that we're going to win the game on the defensive end," Wilson said. "In games against good teams we aren't going to be winning by just trading buckets back and forth."
Still, there were a few buckets in this one that helped Kansas prevail.
One came from Wilson, on an offensive rebound of a missed 3-pointer by Braun that put the Jayhawks up 64-58 with 49 seconds to play. And the other was the reversal of that combination, with Wilson driving and kicking to Braun, whose 3-pointer from the wing with 21 seconds to play set the final margin and iced the game.
"That was a big time shot, a big time play," Self said.
Braun, who scored 10 points in a game-high 38 minutes, finished just 2-of-10 from 3-point range in this one, but never hesitated on either of those later 3-point tries. Agbaji also struggled from the outside, going just 3-of-8 from downtown, but his 3-pointer that was set up by an assist from Braun following one of Braun's two offensive rebounds put Kansas up 62-51 with 3:51 to play.
It was those moments, and the fact that the Jayhawks made them at crucial times and against such a quality team, that had Self smiling from ear to ear after the victory.
"I'm leaving out of here feeling the best I've felt in a long time about this group," Self said.
Even with that being the case, Self and his players know the Jayhawks weren't perfect on Saturday.
But even that knowledge brought an element of confidence to a team that enters the final week of the season feeling awfully good about itself.
"We had a great all-around game and, yet, we still didn't hit the shots that we know we can hit," said McCormack, who led all scorers with 17 points on 7-of-10 shooting. "We had a lot of great looks and once those start falling the point (differential is) going to be even bigger and it'll be a much easier game."
Added Self: "We actually played better offense than what we scored, because we missed a lot of good looks."
None of those misses hurt Kansas the way they did in January because the Jayhawks now know how to make up for them. Whether that means getting the ball off of the offensive glass for another crack or locking in and getting a stop to offset it, these Jayhawks have figured out what works and are showing that they understand what it takes to win games.
"It feels like it's the most complete game we've played, positively, since Christmas," Self said. "I do think this is probably as good as we've been on both ends."
Asked later why he was so encouraged about Saturday's victory, Self began by listing some of the more obvious elements before hinting that there's still more to come.
"Well, we've won five in a row and we beat a ranked team for the first time in a while and the attitudes are the best they've been all year long," he said. "This has been a good stretch for us. We haven't always played well, but we've gotten confidence through it. And that's why I'm feeling better, because I still think there's another step that this team can take."
KU will get that chance on Tuesday, when they play at No. 12 Texas, which beat the Jayhawks by 25 in Allen Fieldhouse on Jan. 2. Tipoff for that one is set for 8 p.m. on ESPN.