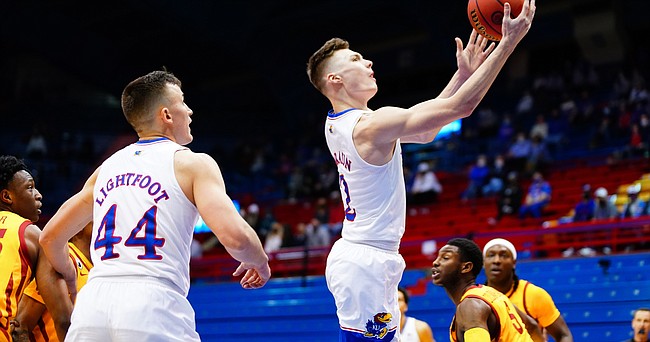 Because of COVID-19 issues, poor play and a whole bunch of losses, Iowa State's 2020-21 basketball season has largely resembled something out of a horror flick.
On Thursday, the Cyclones encountered a three-headed monster at Allen Fieldhouse and stood no chance, falling 97-64 to Kansas.
It marked one of those rare nights this season when multiple Jayhawks were clicking at the same time. And KU's trio of wings, Ochai Agbaji, Jalen Wilson and Christian Braun, punished the Cyclones from start to finish.
Each Jayhawk had his own moment to shine. And the trio combined to deliver heavy blows together, as well.
Document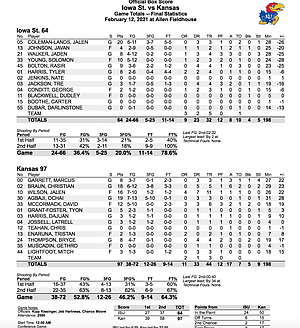 They did it on offense and defense. They did it on the glass and from 3-point range. And they did it in transition and with their athleticism.
"They were hot," said Kansas freshman Bryce Thompson, who played 19 minutes in his first game back from a broken finger. "And, you know, you're supposed to feed the fire so that's kind of what I did."
Agbaji led the Jayhawks with 19 points, many of them coming on 5-of-10 shooting from 3-point range.
Braun was right behind him with 18 points, and he added six assists, five rebounds and two steals in his 30 minutes on the floor.
And Wilson, who recorded a double-double with 18 minutes still to play, added 16 points and 11 rebounds on 7-of-10 shooting.
Asked if that was the best he had seen the three guards play together, Self paused and considered the Jayhawks' 93-64 win at TCU in early January as the only other possible answer.
In that one, Agbaji, Braun and Wilson combined for 45 points, 13 rebounds and 12 assists while shooting 16-of-29 from the floor and 6-of-13 from 3-point range.
On Thursday, those three went for 53 points, 19 rebounds and seven assists while shooting 20-of-35 overall and 9-of-20 from behind the arc.
Regardless of which one was better, Self felt very strongly about one thing as it related to KU's three top scorers from Thursday night.
"It hasn't happened enough," he said of that group getting hot at the same time. "If you get two of those three guys playing well, I think that we're a pretty hard team to guard. But those three were all really good tonight."
Wilson agreed and said watching everyone play well at the same time added more to the victory than just another much-needed win in the win column.
"I feel like we've just all been so focused on playing for each other lately," he said. "I think when we play like that, and we're not worried about individual things, these types of games happen, where everybody does well. We all love seeing the ball go in, especially when it's other teammates. Us making plays for each other, it gets us all going and it all fuels us."
For the most part, the Jayhawks (14-7 overall, 8-5 Big 12) avoided their signature slow start that has put them in so many early holes so far this season.
Photo Gallery
KU basketball v. Iowa State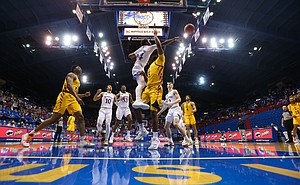 View a photo gallery from Thursday night's game between the Jayhawks and Cyclones at Allen Fieldhouse.
But KU did not gain control until midway through the first half when Agbaji and Braun combined to score 10 consecutive Kansas points to put the Jayhawks up 15-9.
Both hit a 3-pointer during the stretch. And Braun found Agbaji on a nice back-cut to the rim that helped Kansas gain some separation.
The Jayhawks maintained that type of a lead most of the rest of the half before closing on a 8-2 run that turned a six-point lead into double digits at the break.
Braun's 3 with 1:50 to play put Kansas up 11 and Wilson's 3-pointer at the halftime buzzer — his only 3-point make of the night, and just the third in his last 10 attempts — put the Jayhawks up 39-27 at halftime.
"It felt good," Wilson said with a sigh and a smile. "It always feels good for a 3 to go in, especially when I've been kind of off lately."
That bucket and the double-digit lead set the stage for a monster second half and Kansas never even thought about letting Iowa State (2-13, 0-10) back into the game.
Wilson, Braun and Agbaji, in that order, scored KU's first eight points of the second half. And the three Kansas guards were responsible for another sizzling stretch, midway through the second half, that turned the game into a blowout.
Agbaji scored on a tough and-one but missed the free throw. Wilson grabbed the miss and immediately score to put KU up 52-36. After another KU defensive stop, Braun scored on a hard drive to the hoop to put Kansas up 54-36.
From there, it was three consecutive Agbaji 3-pointers that lit the nets on fire and buried the Cyclones.
"We had a couple of possessions the second half where we looked as good as we have all year long as far as ball and body movement," Self said.
The surge from the KU starters put the game away early and gave the Kansas bench an opportunity to play some extended minutes.
Eleven different Jayhawks scored in this one, and KU's 97 total points, 58 second-half points, 38 field goals and 72 field goal attempts were all season highs.
The Jayhawks led for 37:55 of Thursday's game and trailed for just 25 seconds, a 7-5 in the opening minutes.
The Jayhawks outscored ISU 50-24 in the paint, 17-2 on second-chance points, 17-8 in transition and 15-6 off of turnovers. Kansas also turned it over just seven times.
Self said the thing he liked most about the lopsided margin in points in the paint was that so many of them came off of his guys driving to the rim. Junior forward David McCormack made 5-of-10 shots from the floor and finished with 12 points and six rebounds in 18 minutes.
A lot of those drives that led to point-blank buckets came in transition, and that was Wilson's favorite part of the night.
"I think we're best running in transition," Wilson said. "Because we've got so many weapons: Spot-up shooters, athletic guys, guys who can get to the rim, anything that we need. So I feel like we can really get a lot better at that and it'll really help us a lot."
Kansas will look to replicate this exact game in their next outing, when the Cyclones and Jayhawks face off again, this time at 2 p.m. Saturday at Hilton Coliseum in Ames, Iowa.
"I think we just do exactly what we did tonight," said Wilson when asked if an encore performance was possible. "Focus on the defensive end first, defensive rebounding, making sure they're not comfortable on the 3-point line and then go from there."