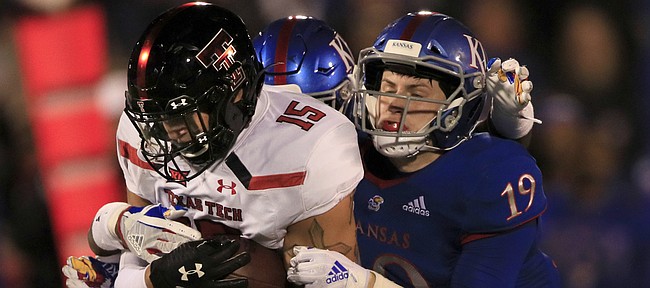 In a group of Kansas football linebackers that doesn't yet have a wealth of starting experience, their position coach, Chris Simpson, has been on the lookout during the preseason for players he can trust.
"Some things are starting to sort themselves out. It's still a work in progress, and I think it will be for a while," Simpson said on Sunday, following the Jayhawks' 15th preseason practice.
While KU's Sept. 3 opener versus South Dakota is not that far away, Simpson explained there's more evaluation going on in August than normal, because new head coach Lance Leipold and his staff didn't take over the program until after the Jayhawks completed their spring schedule.
"Obviously we've got to get ready to play a game. But in terms of our time with them and the amount of time they've had to execute things on the field, (Sunday) was literally the last practice — practice 15," Simpson said, likening KU's preseason calendar up to that point to the equivalent of a full spring with the new staff.
"I feel good about where we're at if you think of those things from that perspective," he added.
No one in Simpson's group has more starting experience than Gavin Potter. Now a 6-foot-2, 222-pound junior, Potter made eight starts as a true freshman in 2019 and five more as a sophomore in 2020. In both instances, injuries to players ahead of Potter on the depth chart gave him the opportunity to take on a starting role.
Potter finished fourth on the team in total tackles as a sophomore, registering 35, plus 2.0 tackles for loss, while appearing in eight games. The year previous, Potter played in all 12 games as a freshman, and finished fourth on the unit with 56 total tackles, to go with 3.5 tackles for loss and 1.5 sacks.
Those in-game reps as an underclassmen didn't always go great, especially in 2019, when Potter was thrown into the fire out of necessity.
At practices the past few weeks, Simpson has seen Potter trying to set himself up for success as a junior.
"Gavin's really smart. He's picking things up really well," Simpson said of coordinator Brian Borland's defense and the linebacker assignments within it. "He asks questions. He wants to know why, which I'm encouraged by. I want guys to know why and try to teach guys why, and not just, 'Hey, do this, because this is what I need you to do.'"
Beyond Potter, though, the KU linebackers have only started a handful of games combined. Super-senior Nate Betts made six starts in 2020, but those came at safety. Betts transitioned to linebacker early in the offseason, before Leipold's staff arrived. In the new defense, Betts plays what Borland and Simpson call a field outside linebacker position. Betts referred to it as a hybrid type of spot, with some safety elements to his responsibilities, too.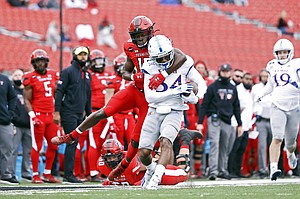 The Jayhawks also have former walk-on Nick Channel in the mix as a returning player with some starts on his résumé. Channel, who plays middle linebacker within Borland's 4-3 base defense, made four starts in 2020 and delivered all 30 of his total tackles on the year during the team's final seven games.
It appears sophomore Taiwan Berryhill, who made his one start in the finale last year as a true freshman, will need to be counted on more this coming fall. And both Borland and Simpson know and trust junior Rich Miller, who was a reserve at Buffalo the past two seasons.
Another intriguing option for KU at linebacker is redshirt freshman Cornell Wheeler, who transferred in this summer after beginning his college career at Michigan, where he didn't play in any games this past fall.
Simpson said the 6-foot, 225-pound Wheeler is doing a good job at practices during the preseason.
"He's trying to assimilate, not just to us as a staff, but to the locker room as well," Simpson said.
"Love his effort. Love his want to," the assistant added of Wheeler. "He's going to do some things to help us this year and in the years to come. Again, very young player."
Simpson said Leipold's program revolves around "getting better every day," and he thinks that's happening this preseason overall and with the linebackers.
In particular, Simpson is looking to see which linebackers are picking up the new defensive schematics and applying them to how they play on the field.
"It's not just what we do; it's how we do it, as well" he said. "And I really think they're doing a great job with that. They have that mentality where we're going to do something better today than we did yesterday."
KU football linebackers - starts in 2020
Nate Betts - 6 (at safety)
Gavin Potter - 5
Nick Channel - 4
Taiwan Berryhill - 1
Takulve "TK" Williams - 1 (at receiver)
Rich Miller - 0 (at Buffalo)
Cornell Wheeler - 0 (at Michigan)
Jay Dineen - 0
Dylan Downing - 0
Krishawn Brown - 0
Alonso Person - 0
[true freshmen excluded from list]