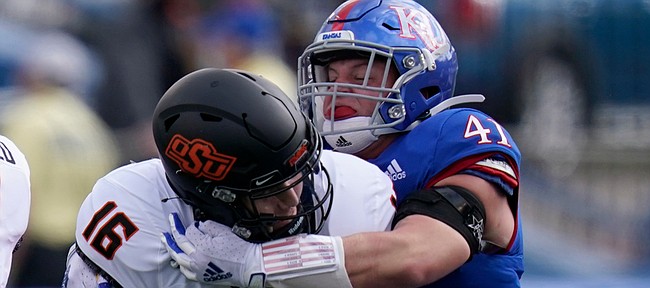 As Nick Channel's third year in the University of Kansas football program began winding down this past spring, the walk-on linebacker from Wichita wanted to find out whether a scholarship opportunity might be in his future.
But with the Jayhawks' head coaching position up in the air at the time, Channel didn't know what would come of his situation.
Once Lance Leipold took over the program, it didn't take the new coach long to determine Channel deserved a scholarship.
One of Leipold's first orders of business in early May, after KU hired the former Buffalo head coach, was to meet with every player in the program individually. When Channel's turn came up, the linebacker told Leipold about his experiences with KU football and brought up that he would love to become one of the walk-ons considered to be placed on scholarship.
Leipold told the former Kapaun Mt. Carmel High standout he would ask around and see what he could do about that.
"A week later I got a phone call from him saying I was going to get put on scholarship," Channel remembered.
A pre-exercise science major who one day wants to be an orthopedic surgeon, Channel's reputation as the type of player who will give the team everything he has was established well before Leipold took over.
During the 2020 season, as the Jayhawks' linebacking corps kept dropping in numbers, Channel turned from a reserve who barely played into a key inside linebacker who started four games. By the end of the season, Channel, who didn't record a statistic as a backup in either of his first two appearances, finished fifth on the team in total tackles, with 30 on the year.
He was one of just three players on the defense to record more than one sack (Channel had two), joining Kyron Johnson and Da'Jon Terry.
After redshirting in 2018, only appearing in one game in 2019 and breaking through as a contributor in 2020, Channel can now enter his fourth year in the program with even more confidence about his place on the team.
"It meant a lot," Channel said of being placed on scholarship, "because I've been here a long time. Three years so far I've been working my butt off, trying to work for that. And it's nice to see it finally pay off."
Being on scholarship hasn't made Channel complacent. New defensive coordinator Brian Borland said as he watched KU's linebackers the past few weeks during preseason camp, Channel was one who took him by surprise.
"He's smart. He's a good little player," Borland said of Channel, now listed at 6 feet and 214 pounds. "He's instinctive. He gets around the ball. He's strong. And I believe he knows the defense pretty well."
KU linebackers coach Chris Simpson said Channel has impressed this preseason, and he expects that to continue. In some aspects, Simpson said Channel does certain things as well as anybody the Jayhawks have at middle linebacker.
After a few weeks of coaching Channel at practices, Simpson has learned that Channel is "really smart" and a "student of the game."
"I think his GPA translates to the field," Simpson said of Channel, an Academic All-Big 12 first team selection in 2020.
Simpson said Channel is the type of player who can understand what's needed of him on a play call and then put himself in a great position to do that.
Channel appears likely to play plenty at middle linebacker this season. But his position coach also pointed out Channel is working well on special teams.
When Simpson first joined the staff this past May, Channel remembers one of the first things he told the linebackers was they need to contribute on special teams.
"He says with our skill set," Channel explained, "we've got size, speed, athleticism. We all need to be on those (special teams units) and contributing. Not just the DBs and all those fast guys."
Simpson likes deploying linebackers not only for coverage, Channel added, but also in return situations.
You can expect to spot Channel in his No. 41 jersey on kickoffs and when the Jayhawks are returning a punt.
Even with those special teams responsibilities, Channel said he feels like he's essentially being asked to do the types of things linebackers do anyway.
"Kicking off, I'm running downfield and making a play," he said. "Punt returns, I'm sitting back there at a linebacker position, just seeing whatever's coming out, if anything's coming out, or blocking whoever's the first one down the field."