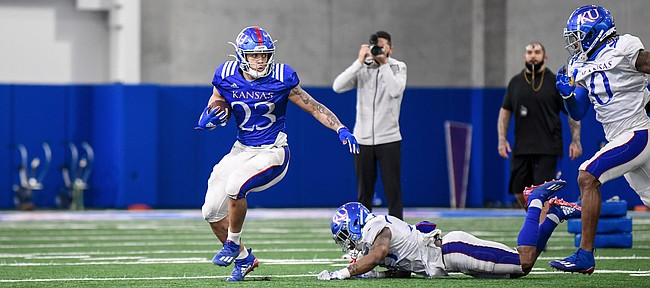 In a program mired in uncertainty, few aspects of the Kansas football team's 2021 season feel more settled than the running back position — even if the Jayhawks don't want to reveal the particulars of how new offensive coordinator Mike DeBord wants to make use of the backs.
"I can't really tell all of that," a grinning Amauri Pesek-Hickson replied Tuesday night, when asked how KU's running backs factor into DeBord's scheme.
"But Coach DeBord is a great offensive mind. We've got a lot of different things going on, a lot of different formations, a lot of different motions," said Pesek-Hickson, a redshirt freshman rusher. "I mean, he's a genius."
Regardless of who becomes the featured back — or if there even is one — the Jayhawks could have at least four viable options at the position, between junior Velton Gardner, sophomore Daniel Hishaw Jr., Pesek-Hickson and incoming freshman Devin Neal, who was a star at Lawrence High.
In DeBord's most recent stop as a college offensive coordinator, with Indiana from 2017-18, the coaching veteran of more than 30 years had the Hoosiers averaging 130.1 rushing yards per game in his first season and 157.3 yards a game in 2018.
The struggling KU offense averaged just 104.9 rushing yards an outing behind an often overmatched offensive line during an 0-9 2020 season.
Pesek-Hickson, the only KU running back to speak with reporters so far this spring, said members of his position group have liked what they've seen from DeBord during the Jayhawks' closed practices.
"We've got a lot more routes," Pesek-Hickson said of one difference in the new O.C.'s approach, adding that the back's runs and protection assignments are cleaner, as well. "Everything seems to be a lot tighter."
Among the trio of predominant backs who are on the roster this spring, Pesek-Hickson said each brings different qualities to the backfield when lining up.
Gardner, who only played in six games in 2020 and led the team with 325 rushing yards (4.5 per carry) is the quickest of the bunch.
"If he hits the hole fast," Pesek-Hickson said of Gardner, "he's going to be out of there."
Continuing with his assessments, Pesek-Hickson described Hishaw, who ran for 229 yards (4.4 per carry) last year, as "big and powerful," and said Hishaw can hit the gap the same way Gardner does.
Both Pesek-Hickson and Gardner, meanwhile, are more likely to be out wide and catch a swing pass or run a route.
And Pesek-Hickson, who only played in four games last year but ran for 145 yards (3.6 per carry), thinks all three backs are good downhill runners.
"We've got depth in our room. And it's good, friendly completion, too," he said. "Everybody's supporting each other. Everybody knows what to do and everybody knows how to do it."
With DeBord and interim head coach Emmett Jones working with the rest of the staff to try and construct an effective offense, Pesek-Hickson thinks they're collectively making their decisions with the best case scenarios for the players in mind.
And at his position, Pesek-Hickson sees those efforts as a reason the backs are on the same page.
"It's a well-oiled machine," he said.