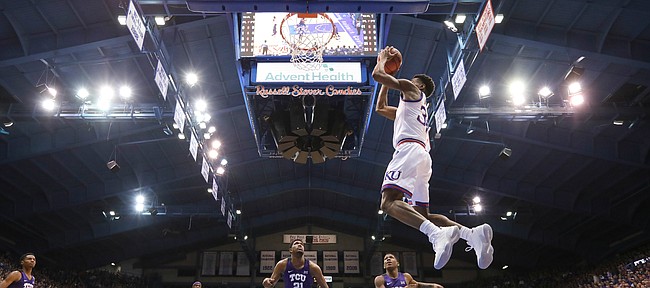 Allen Fieldhouse and other venues around the country will be mostly empty throughout the 2020-21 college basketball season, but Kansas coach Bill Self and his players have chosen not to dwell on the negative entering what promises to be the strangest season of their lives.
Earlier this week, in an email sent out to season ticket holders, Kansas Athletic Director Jeff Long revealed that the expected capacity for Kansas basketball games at Allen Fieldhouse this winter would be around 1,500 fans.
That's less than 10% of the building's 16,300-seat capacity and the presence of empty seats certainly figures to have an impact on the atmosphere and home-court advantage held by Kansas on game nights.
"I really don't know how it's going to play out," Self said in a Zoom call with local media members prior to Long's announcement. "I think this is one year that we need to not worry about that. We need to worry about just playing. We need to worry about being a team. We need to worry about looking forward to each situation regardless of how different it is or unnatural it feels, because it's going to be a year full of that."
Despite that approach, Self acknowledged that it actually might be KU's opponents that have a rare edge when they come into Allen Fieldhouse during the upcoming season.
"We've had the best home court in America — that's been proven out over time — for a long time," Self said. "I think a lot of that is due to the quality of players we have, but also a big portion of that is due to the support that we receive. And we're not going to have that. I would think if you're an opponent, you see this as an opportunity to play at Kansas and maybe not play against the sixth man near as much, which has obviously played a role in us winning a lot of games."
Self was quick to point out, though, that that type of advantage could easily flip the other way when the Jayhawks go on the road this season.
Instead of being greeted by rabid fan bases and additional gimmicks designed to create louder, more intimidating environments, Self said playing in front of just a few fans on the road could help the Jayhawks.
"We usually get most people's best shots in the arenas we play in," he noted. "And now it'll be comparable, obviously, to what it is here. (So) it's the same way (for) us going somewhere else, too."
Late last season, when asked about potentially playing postseason games inside empty arenas, Self acknowledged that he might have to watch his words a little more carefully when talking to officials and his players because of the potential for his voice to carry more with fewer bodies in the building.
For the players themselves, though, playing in front of fewer people, though different at this point in their lives, will not be entirely foreign.
Each one of these guys grew up playing pick-up games in empty gyms or early-morning AAU contests or outside on the playgrounds or in the driveway.
Senior forward Mitch Lightfoot said the key this season will be what it was back in those days — bringing and creating your own energy.
"I think it'll be different," Lightfoot said. "Go from playing three, four years in Allen, 16,300 every single time, to maybe something else. It'll be a little different. But coach Self is a great motivator. So I think we'll bring that same energy to each and every game. We'll prepare the same for each and every game, and we'll take it from there."
Junior forward David McCormack said he would miss the loud roars that only crowds of 10,000 or more fans can create.
"I don't know if that's something you can ever get used to," he said of playing with no fans or fewer fans. "Even if you walk on the court and you warm up, you always want to hear some type of chant, even if it's a boo — some type of interaction you're fine with. But we have to get the job done regardless of whether there (are) fans."