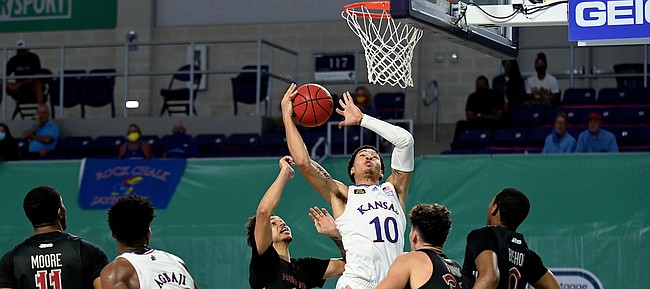 The sixth-ranked Kansas men's basketball team has used two starting lineups in two games so far this season, but head coach Bill Self said it's still too early to talk about having the team's rotation set.
Redshirt freshman Jalen Wilson started on Thursday against Gonzaga in the opening game of the Fort Myers Tip-Off. True freshman Bryce Thompson started in his spot during Friday's 94-72 win over Saint Joseph's.
And there were points during the second half on Friday when both sat for long periods of time even as Kansas (1-1) played with five guards on the floor.
Despite sitting big men David McCormack and Mitch Lightfoot for most of Friday's second half, Self said he thought better days were still ahead for McCormack, who started both games along with Christian Braun, Marcus Garrett and Ochai Agbaji.
"I've said this all along and I still believe this to be the case: David will be our leading scorer this year," Self said. "It didn't look that way down here because of the matchups and he didn't really play as well as he capable of. But it's encouraging to me that we can play small. It's also encouraging to me that teams in our league aren't going to play like St. Joe. They're going to play one traditional big for the most part. So I believe it'll be easier for David to be more effective when he's got a big guy out there to play against."
Nine players played at least 10 minutes against the Hawks on Friday, illustrating the amount of depth and how many different combinations Self can utilize this season.
Self said after Friday's victory that the Jayhawks made a major jump in short time in the way they shared the ball.
"I thought everybody that played, for the most part, drove to pass today," he said. "Where I thought yesterday we drove score a little too much."
As an example of just how deep KU can reach to impact a game, Self pointed to freshman Dajuan Harris — 3 minutes against Gonzaga and 15 on Friday — as the primary reason for the uptick in passing on Friday.
"The biggest difference in the ball moving was Dajuan was in the game," he said. "The ball never stuck with him. When he got it, it was in and out of his hands so fast, that makes the defense go from strong to weak faster."
The Jayhawks, as a team, dished 17 assists on 32 made field goals on Friday, compared to just 10 assists on 33 makes against Gonzaga.
Document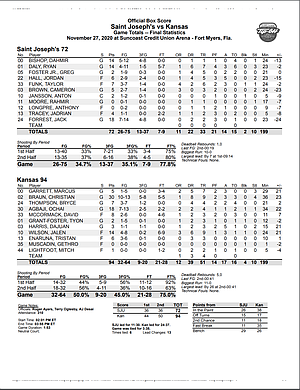 Injury update
Both McCormack and senior point guard Marcus Garrett were slowed by the injury bug during Friday's victory.
Garrett, who started and played 29 minutes, recording five points, seven rebounds and three assists without a turnover, sat during the second half because of trouble breathing.
"He does that sometimes," Self said. "He has days where it's hard for him to catch his breath, and today was one of those days."
Self said McCormack's minutes were limited in the second half because as a precaution after McCormack got tangled up with a SJU player near the end of the first half while battling for a loose ball.
"He didn't hurt it," Self said. "But he tweaked his knee. If we needed to play him, we could have. We got the clearance. He put a sleeve on in the second half for some stability, but I thought there's no reason to play him if he wasn't 100%."
Next up
After a couple of days off, the Jayhawks will jump right back into high-level competition at the Champions Classic on Tuesday in Indianapolis, where KU will face No. 10 Kentucky.

Tip-off for that one is scheduled for 8:30 p.m. on ESPN from Bankers Life Fieldhouse.
Self said on Friday that the Jayhawks would spend two more nights in Fort Myers before leaving for Indy on Sunday in time to get acclimated in the Hoosier State one full day before their next game.
"We'll practice some (Saturday), at least walk through," Self said. "And then we'll practice hard here on Sunday and I believe our flight is around 3 o'clock on Sunday and we get to Indy around 5 or 6."
The extended trip, done in part to limit KU's travel time, means that by the time the Jayhawks get home after Game 3, their season will have opened with an eight-day road trip.
This and that...
Friday's victory made the Jayhawks 1-1 for the second season in a row and the eighth time under Self... KU now leads the all-time series with Saint Joseph's, 6-2, including a 4-0 mark as a ranked team... The 22-point win made Kansas 97-13 following a loss in the Self era... Friday marked KU senior Mitch Lightfoot's 100th game as a Jayhawk.