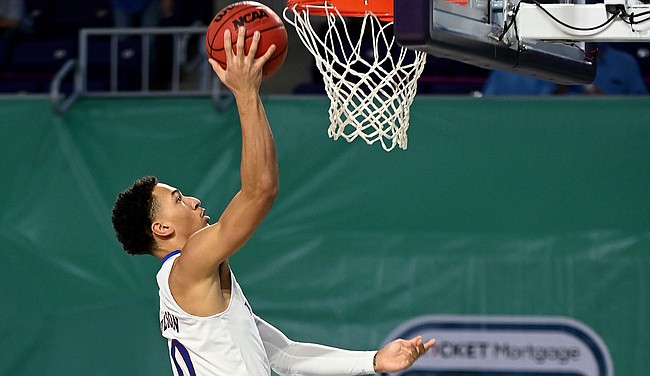 Bill Self still envisions David McCormack becoming the leading scorer on this Kansas basketball team by March. But two games into the season, McCormack isn't even the Jayhawks' best option at center.
As of Friday's 94-72 win over St. Joseph's, that title belongs to Jalen Wilson, who happens to not be a center at all.
Christian Braun scorched the nets and Ochai Agbaji out-quicked and jumped higher than the Hawks at the Fort Myers Tip-Off. But it seemed for awhile like those two Jayhawks might have to do just about all the scoring for No. 6 Kansas to win.
That burden began to dissipate in the second half, though, once Self leaned into KU's five-guard lineups, with redshirt freshman forward Wilson serving as the lynchpin and the quasi-big.
According to Self, McCormack, a 6-foot-10 junior, was dealing with a knee injury, which contributed to him only playing 11 minutes versus St. Joe's. When KU's starting center checked out of the game for good with 18:17 left in the second half, it opened the door for Wilson, a 6-8 forward, to take over. The versatile wing entered with the game tied at 44 and left with KU up 92-68 with just over a minute to go.
Document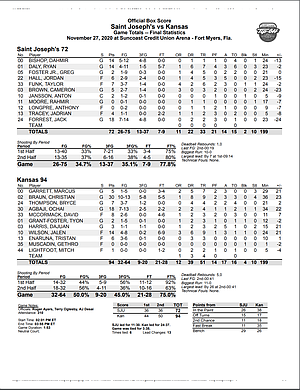 "Jalen was a big key for us," Self said during his postgame video press conference. "No question we were a better team with him in the game."
Wilson scored 12 of his 14 points in the second half, and contributed nine rebounds and three assists, as well. But Wilson provided much more than some key stats for KU (1-1).
With length and vision, Wilson can bust zones as a passer around the foul line, where he's right at home surveying with the ball and making the correct read to expose the defense's weakness.
He's also comfortable enough as a ball handler to take a defensive board and push it up the floor, a skill he showed off on a fast break in the first half, feeding Agbaji for a layup.
More importantly, though, KU looked better defensively when Wilson was on the court.
"With Jalen, you know every game he's going to come and fight," Braun said. "He's super-tough. He rebounded the ball pretty well today. And like I said, he's just going to come in and do what he's told. (Thursday versus Gonzaga) he came in and guarded the 5-man, so you know Jalen's pretty versatile."
And unlike McCormack, Wilson can switch on a screen without getting exposed by a guard or wing.
"He's given us," Self said of the emerging young forward, "exactly what he needed to give us. He gives us strength inside. He's fearless rebounding the ball. He's a good driver of the ball. And he shoots it plenty good enough that you have to guard him. I thought he was really good."
In an intriguing development for this top-10 team, Wilson and fellow redshirt freshman Dajuan Harris look like two key components of a winning five-guard combination. The Jayhawks don't even necessarily have to start both of them to use those lineups and thrive, either.
If Self wants to stick with McCormack as the starter — and there were no signs that a change is coming on that front any time soon — Wilson and Harris can come in and provide quite a spark with their passing alone.
"(Wilson) just moves the ball," Braun said. "He's not really selfish or anything. He just does what he's told and can guard a lot of positions."
Even on days when Braun and Agbaji aren't clicking offensively, this KU team should be balanced enough to have others step up. And between Marcus Garrett, Bryce Thompson, Harris and Wilson, the Jayhawks have good and willing passers to keep everyone involved. It was when Self had three of them — Harris, Garrett and Wilson — on the floor together late in the second half, that KU's offense flourished.
There are still a lot of questions about this team, especially with McCormack unable in the first two games to perform at a high level defensively.
"Jalen, he's been our best 5-man here," Self said of KU's showing at the Fort Myers Tip-Off. "But he's not our best 5-man. David is."
As Self remains confident McCormack can bounce back and show the type of intensity his coach and teammates raved about during the preseason, the Jayhawks at the very least have an effective backup plan in Wilson.
If McCormack's defensive issues remain unresolved, the Jayhawks can shift to a five-guard approach without worrying about the consequences.
Wilson may not be a traditional 5-man. But he's the exact small-ball default big that KU needs.