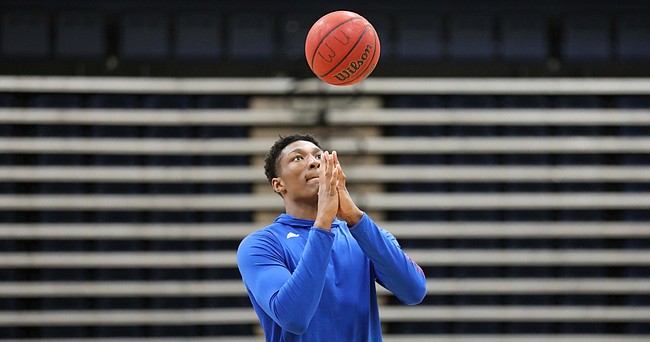 For years, talented forwards and centers have posted big numbers and delivered memorable seasons in Bill Self's system for the Kansas Jayhawks.
Now, it's David McCormack's turn.
After playing a supporting role during his first two seasons in Lawrence, McCormack enters the 2020-21 season — which opens Thursday at 12:30 p.m. against No. 1 Gonzaga in Fort Myers, Fla., on FOX — as the Jayhawks' top returning big man and a potential breakout player.
KU coach Bill Self has said throughout November that McCormack has looked "great" in practice. And on a team that features a handful of players getting preseason recognition for national awards, that praise has set the table for everything that's in front of McCormack today.
"I think David has separated himself, as far as the quality of play, maybe from anybody in the gym," Self said earlier this month. "I think Dave has been our best performer up to this point."
Asked to describe the area that McCormack has made the biggest jump, Self needed just one word.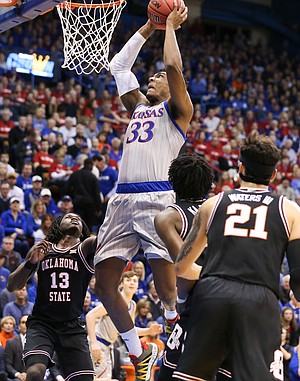 "Scoring," he said. "He's scoring the ball for us."
With former KU All-American Udoka Azubuike now collecting checks in the NBA and the returning experience in KU's front court limited to McCormack and senior forward Mitch Lightfoot, it's clear that McCormack is going to get every chance to succeed as KU's primary low-post option during the upcoming season.
"I think he'll get opportunities," Self said. "(Teams) can trap, they can do whatever, but we're going to throw the ball to our bigs as much as we can. At least that'll be something we try to do. So David probably has the best chance just because of the way we play."
Lightfoot, who has spent his fair share of time battling McCormack in practice during the past couple of years, said the possibilities for how McCormack can impact KU's offense were limitless.
"He's grown a ton, even from last year," Lightfoot said of the 6-10, 265-pound junior from Norfolk, Va. "He had flashes (last season). He had games where he had those high-point games, but you guys still haven't seen his ability to hit those turnaround jump shots that his size makes super-hard to guard. And his strength.
"You guys saw a lot of Dok last year, with jump hooks and dunks and turnarounds near the hoop. You'll get to see something different with (McCormack) out there."
A popular exercise among Kansas fans every preseason is to debate which player will lead the Jayhawks in scoring.
Not surprisingly, McCormack has been a popular answer, both with the KU fan base and his teammates.
"I think we're really good when we get Dave the basketball," sophomore guard Christian Braun said this week. "I think Dave's gonna be really steady for us just because he's a really good offensive inside presence for us."
Added Self: "I think it could be a bunch of different guys who lead us in scoring, but the guy that will probably have less low scoring games is David because we're gonna still play through our bigs as much as we possibly can."
McCormack knows that. And, in many ways, this role is the one he has been waiting for patiently. But he also knows that now that it's his, he will only be successful in it if he continues to focus on the things that got him to this point.
"I know that I have to do a lot of things in order for our team to be successful, offensively, defensively and for the intangibles in having the right mindset and spirit," McCormack said recently.
As for explaining the goals he set for himself to make all of that possible, that was simple.
"Just to play to the best of my capabilities," he said. "That's all I can do. I know that I push myself and push my teammates every day to make us a better team."