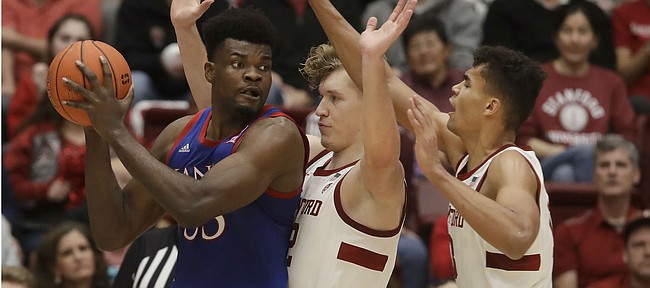 No. 3 Kansas Jayhawks (15-3 overall, 5-1 Big 12) vs. Tennessee Volunteers (12-6 overall, 4-2 SEC)
Time: 3 p.m. | Location: Allen Fieldhouse, Lawrence, Kansas
TV: ESPN | Radio: IMG Jayhawk Radio Network
Log on to KUsports.com for our live game blog coverage and follow the KUsports.com staff on Twitter: @KUSports @mctait @bentonasmith @SJacksonLJW & @ByBradenShaw
Keys for Kansas
1. Get back to basketball
No one has forgotten about Tuesday night's ugly scene at the end of KU's win over Kansas State in which benches cleared, a brawl broke out and four players wound up being suspended by the Big 12 Conference, including KU forwards Silvio De Sousa (12 games) and David McCormack (2).
But the Jayhawks catch a huge break in the schedule by having their very next game at Allen Fieldhouse, in front of their adoring home fans, and by facing a nonconference foe in the Big 12/SEC Challenge with which they have very little history and next to no bad blood from the past.
Given the serious nature of what unfolded the last time they were at Allen Fieldhouse, it's safe to assume that the Jayhawks will be on their best behavior in this one.
KU coach Bill Self said this week that he talked with his team at length about that incident and made it crystal clear that that type of behavior — or anything close — would not be tolerated.
So with that fresh in their minds and these players all wanting to move on, the likelihood of this one being all about the basketball on the floor is extremely high.
This team needs some good will again, and the best way to get that is by acting right and putting on a great show for their fans and those watching around the nation on ESPN's College GameDay.

2. Keep Azubuike fresh and out of foul trouble
With KU's depth in the frontcourt gone after the recent suspensions of De Sousa and McCormack, the Jayhawks are looking at playing a lot of small-ball lineups in this one.
On occasion, that almost certainly means five perimeter players in the game at the same time when 7-foot center Udoka Azubuike needs a break.
Finding strategic and creative ways for Azubuike to catch 10-12 minutes of rest should not be hard for Self and the coaching staff to do. But it will become difficult if Azubuike finds foul trouble and is forced to sit more than that.
The good news for Kansas is the fact that Tennessee isn't a very big team. Outside of starting big man John Fulkerson, who stands 6-foot-9 but gives up nearly 50 pounds to Azubuike, the Vols don't have a ton of size in their rotation.
Should Azubuike find foul trouble or fatigue, that should help the Jayhawks survive, as the game then would become a battle of wings and guards, with players like Marcus Garrett, Ochai Agbaji, Christian Braun and Tristan Enaruna being required to clean up the glass and battle in the paint.
That's not a strong point for any of those Jayhawks. But they're all capable and likely will need to get used to it as Kansas transitions to more and more four-guard looks the rest of the way.
The good news for the Jayhawks in this area is Azubuike's recent track record. Not only is he in the best shape of his life and enjoying the best, most active and explosive season of his KU career, but he also has done a fabulous job of staying out of foul trouble all season.
He's averaging just 2.2 fouls per game in Big 12 play and has recorded four fouls or more in a game just three times all season, the last time coming Dec. 29 at Stanford.
Self said Friday that being short-handed would not change the way the Jayhawks play. He then added, "The one thing I would say, 'Let's hope Dok doesn't get in foul trouble.'"

The Jayhawks are going to look a little different for the next couple of weeks, and figuring out how to make that transition on the fly will have its challenges. But the move is one that the KU roster seems well suited for and that should help tremendously.
What's more, KU (237th per KenPom) and Tennessee (308th) are two of the slowest teams in the country in terms of tempo and that pace should help protect KU's starting five and thin bench from getting gassed.
3. Communication on D
Although they lack star power on offense, the Volunteers are a wildly productive offensive team when they play together.
Tennessee ranks fourth nationally in assist percentage, scoring a whopping 65.2% of their buckets on field goals that come from assists.
That's a clear indication that Tennessee coach Rick Barnes' bunch is well versed in ball movement and extra passes and plays an unselfish style that has an eye on scoring any way possible.
In order to combat that, KU will have to talk and communicate as well as it has all season. That becomes particularly key when considering the fact that this game might feature a few KU lineups that have not logged a ton of minutes so far this season.
Garrett is enough of an elite defensive mind to keep this team in the right spots and on the same page. But he can't do it alone and should not be expected to. He'll need help. And Azubuike and point guard Devon Dotson are the two most likely candidates to give him that help given their status, importance and roles as leaders on this team.
Marquee Matchup
Righties vs. Lefties
According to the Tennessee game notes, studies estimate that roughly 10% of the population is left-handed, yet that number is much higher for the Volunteers.
In all, seven players on Tennessee's roster, including six of their top 10 players, are left-handed.
That includes starters Fulkerson, Josiah-Jordan James, Yves Pons and Santiago Vescovi. And that, while not necessarily a major deal, could have an impact on the way this one plays out, particularly in the early going.
"We don't even have one guy on our team (who's) left-handed," Self noted. "So that's something that'll be a little bit awkward, trying to defend."
For years, coaches and players have said that challenging shots taken by left-handed players can be difficult and lead to more fouls because so many players get used to defending right-handed players, who shoot the ball on the opposite side of their bodies.
At one point this season, in the season-opener versus UNC Asheville, Tennessee had five left-handed players on the court at the same time.
Among the more notable recent KU southpaws are: Ron Kellogg, Raef LaFrentz, Nick Bradford and Keith Langford.
Jayhawk Pulse
Although this is a rematch of last season's Preseason NIT title game in Brooklyn, the rosters and lineups look very different for both teams this time around.
The Volunteers feature just one player who started in last year's overtime victory by Kansas, and just four players on this year's Tennessee roster even played in that game.
What's more, the Jayhawks feature three new starters (only Azubuike and Dotson started last year's matchup as Garrett was injured) and KU also has four new faces in its rotation, with Agbaji, Braun, Enaruna and Isaiah Moss all missing from last year's game.
After a midseason stretch that saw the Vols lose five of eight game, Barnes' squad has won four of its last five games, with the only loss in that time coming at Georgia.
The losses during that rough patch came to Florida State, Memphis, Cincinnati, Wisconsin and LSU. And Tennessee boasts wins over Washington and VCU out of conference play, making it clear that the Vols' schedule has them prepared for high-level competition.
KenPom.com lists Kansas as a 14-point favorite with a 91% likelihood of victory. Those numbers a bit of a surprise considering KenPom has Tennessee ranked No. 49 nationally in its most recent rankings. But there's little doubt that Allen Fieldhouse and the GameDay environment, which typically fires up the home fans, has something to do with those numbers.
Tennessee has appeared in just five GameDay showcases all-time (3-2), while Kansas (14-5) will be playing in its 20th. This game also is expected to draw the 300th consecutive sellout crowd at Allen Fieldhouse, a mark that will be featured and celebrated by the ESPN crew and KU throughout the day.
KU leads the all-time series with Tennessee, 3-1, and the Big 12 is 4-1-1 in the six-year history of the Big 12/SEC Challenge.
Big 12 teams own a 35-25 cumulative record against SEC foes during the challenge, and the Big 12 Conference won the event in 2014, 2015, 2016 and 2019. The SEC prevailed in 2018, and the teams split, 5-5, in 2017.
Probable Starters
No. 3 Kansas
G – Devon Dotson, 6-2, 185, Soph.
G – Ochai Agbaji, 6-5, 210, Soph.
G – Isaiah Moss, 6-5, 208, Sr.
G – Marcus Garrett, 6-5, 195, Jr.
C – Udoka Azubuike, 7-0, 265, Sr.
Tennessee
G – Santiago Vescovi, 6-3, 188, Fr.
G – Jordan Bowden, 6-5, 193, Sr.
G – Josiah-Jordan James, 6-6, 208, Fr.
F – Yves Pons, 6-6, 215, Jr.
F – John Fulkerson, 6-9, 212, RS-Jr.