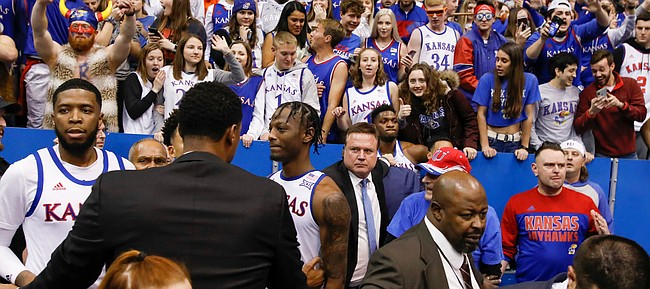 Days after two of his players were suspended for their roles in a brawl, Kansas coach Bill Self vowed that his team would learn from the incident.
More specifically, Self said suspended Jayhawks, Silvio De Sousa (12 games) and David McCormack (2 games), would be "perfect" from here on out.
"We take responsibility for the role in which we played and what transpired on Tuesday," Self said Friday while speaking with the media outside of the Kansas locker room. "We're not going to hide from it or make excuses. … It seemed like everything that could possibly go wrong in a five- to seven-second window went wrong to cause that to escalate. But there's still no excuse for it."
Photo Gallery
Kansas basketball v. Kansas State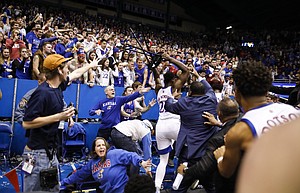 View a gallery of images from Tuesday night's game between the Jayhawks and Wildcats at Allen Fieldhouse.
After Tuesday's game, Self said he was embarrassed by the incident that began with De Sousa having the ball stolen from him and escalated into a bench-clearing brawl. Self expressed similar sentiments on Friday.
"My stance has not changed whatsoever," he said. "I'm embarrassed, I think it's bad for our sport; I think there's so many things that are negative with it. … This happened under my watch. That's disappointing and hard to deal with, but you also catch your breath and you deal with it."
Videos of the brawl shared on social media show De Sousa throwing punches at K-State players and hoisting a stool above his head as if preparing to swing it at one of them.
Self said De Sousa and McCormack were "crushed" after the experience, but he also said the punishments levied against them were fair.
Two K-State players were also suspended after the incident. James Love III was suspended for eight games, and guard Antonio Gordon received a three-game suspension.
Self said he and the KU administration had been cooperative with conference officials as they reviewed the incident and settled on penalties. Self also said he talked at length with his team about what happened.
"Being a coach isn't just about peaks," Self said Friday. "It's about valleys, too. And certainly that was a low point. I accept that, and we'll grow from it."
Self reiterated that he supported the way the Big 12 Conference handled the penalties.
"I think that they reacted in a way that was 100% in accordance with the way that they should," he said.
He also called the incident and its aftermath "a learning experience" for everyone involved.
"I think it will be a lasting image for our program and for (De Sousa) for a long time," Self noted. "And I know that it's not anything that we're proud of, but all we can do is try to be the best we can moving forward, and that's what we're going to attempt to be. And he will certainly lead the way in us being that."
Self likened the situation to parenting.
"If my son or daughter makes a bad, bad emotional decision and mistake, I'm not going to quit loving them," he said. "And he's ours. And I'm proud that he is."
Asked how he and his players would go about moving past the incident, Self said he thought time would play an important role.
"We're not going to make it less negative today or tomorrow," he said. "But there's a way (to do that), through involvement with others and talking to others and how you represent our place, because it'll be more magnified now than ever."
In the last year, Self and his program have been in the national spotlight for their role in the FBI's investigation into corruption in college basketball recruiting and for bringing a risque Snoop Dogg concert — featuring pole dancers and a money gun — to Allen Fieldhouse for the annual Late Night in the Phog season tipoff event.
Self said that the players on the KU roster weren't responsible for those incidents, but that the brawl was a different matter.
"Our players had something to do with this," Self said of this week's fight. "And we have to own it. … What happened the other night, we accept responsibility for the role we played and we have to be better for it."
Because of the suspensions, third-ranked Kansas will be down to just seven available scholarship players for Saturday's game with Tennessee and Monday's game at Oklahoma State. But Self said he was not concerned about that on Friday.
"How we play for two games, that doesn't even register with me right now," he said. "Our team will be short-handed, but this is bigger than your team being short-handed for two games. This is how are you going to react to somehow make a negative situation at least less negative? Because I'm not sure you can make it positive."
Self said he talked with one woman who sat in the section where the fight took place to make sure she was OK afterward.
He also said team video coordinator Jeremy Case, who could be seen on the video attempting to break up the fight, broke his right arm in the brawl and will wear a sling for four weeks while he recovers.
"He broke his right arm in trying to break it up," Self said. "(He) lunged and lost his balance, and when he did he kind of flipped over an individual and landed awkwardly."