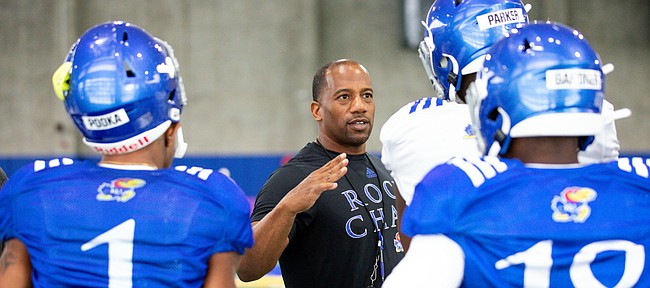 After one season as the receivers coach on Les Miles' Kansas football staff, Emmett Jones impressed his boss and the Kansas Athletics administration enough to gain a new job title and a contract extension.
KU announced Friday afternoon Miles promoted Jones to become the program's passing game coordinator and extended Jones' contract through February 2022. Jones will remain the receivers coach as well.
"Emmett has played a vital role in the development of our wide receivers," Miles stated in a KU release, "and we look forward to their continued growth this season. This promotion was well deserved and will be beneficial to our overall offensive scheme."
The news, no doubt, came as a relief to some KU football fans, after 247Sports recently identified Jones as a potential candidate for the open receivers coach position at Texas, on Tom Herman's staff. Plus, Brennon Scott, a Dallas linebacker recruited by Jones, had recently decommitted from KU.
Terms of Jones' new contract, requested by the Journal-World, had not yet been made available as of Friday afternoon.
His original deal with KU was for four years, with only the 2019 and 2020 seasons guaranteed. Kansas Athletics had options for the third and fourth years. His initial contract with KU paid him $240,000 in total salary.
Jones, hired by Miles in December 2018, quickly emerged as a key recruiter and player developer for the Jayhawks.
An outside receivers coach at Texas Tech before signing on with Miles and KU, Jones' coaching career began in the high school ranks in his hometown of Dallas. His reputation and connections in that metroplex and around the Lone Star State helped KU land recruits such as Steven Parker and Velton Gardner in the class of 2019, as well as already signed 2020 prospects Lawrence Arnold, Tristan Golightly, Malik Johnson and Armaj Adams-Reed.
What's more, KU's receivers proved quite effective in Miles' first season leading the Jayhawks, with Jones getting the most out of his position group.
Led by juniors Andrew Parchment (65 receptions, 831 yards, seven touchdowns) and Stephon Robinson Jr. (45 catches, 727 yards, eight TDs), KU finished with 2,778 receiving yards and 25 touchdowns during the 2019 season.
KU's receivers often raved about Jones as an instructor and mentor during interviews over the past year.
"For me it was just the realness, honestly," Parchment said. "I feel like I can connect with him very well, and also he just wants the best for every single receiver in that room. He wants everybody to reach their dreams, their aspirations, whatever that is — if it's playing on Sundays or being the best husband, being the best father you can be, you know what I mean? So I feel like he's definitely preparing us for the rest of our lives. And I feel like it's just the little things. The way he nitpicks on the little things of our routes, and even the way we walk."
When Jones most recently spoke with reporters, this past December, he explained what he thought helped him connect with recruits and players.
"Trust, man. You better be genuine with these kids," Jones said. "You better be authentic or don't try to make it like a sales pitch. Speak the truth about what's going on with this program — the good and the bad — and just consistently talking about the things that we'll do for kids and where we're trying to go with the program."
— Correction: The original version of this story incorrectly listed Jones' initial yearly total salary at $265,000.