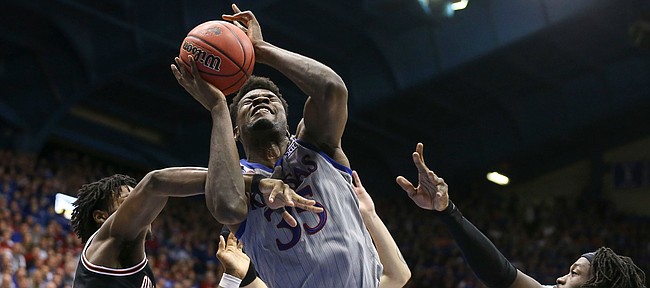 With his older brother, Chima Azuonwu, in the crowd, watching him play basketball for the first time in 10 years, Kansas senior Udoka Azubuike joined KU's 1,000-point club during a 83-58 victory over Oklahoma State on ESPN's Big Monday.
"You know, he got 500 of them on dunks or more," Kansas coach Bill Self said of his big man's career milestone. "So, yeah it's great. I'm happy for him. Of course, there've been a lot of guys who have scored 1,000 points, but there's been nobody score 1,000 points in their career from closer to the basket."
Azubuike, who played a college game in front of his mother for the first time at the 2018 Final Four, finished Monday's victory with 19 points and 16 rebounds (eight offensive) in 24 minutes for his 13th double-double of the season.
Kansas, which hit double-digit 3-pointers against Oklahoma State for the second time this season (11 of 33 in Game 1 and 10 of 28 on Monday night) now has won 18 Big Monday games in a row and 36 consecutive Big Monday games inside Allen Fieldhouse.
As has been the case in so many games this season, Azubuike played a big role in extending those streaks. How he did it was a little less common.
Taken directly from a page of the "He Did What? Almanac," Azubuike's 999th and 1,000th points came on a pair of free throws midway through the first half, as the reigning Big 12 and national player of the week found room to roam tough to come by during the first half of Monday's victory.
"It was actually surprising," Azubuike said after the win. "I didn't think my 1,000th point was going to come on a free throw."
Photo Gallery
Kansas basketball v. Oklahoma State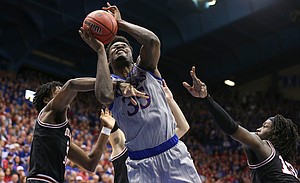 View a gallery of images from Monday night's game between the Jayhawks and the Cowboys at Allen Fieldhouse.
After attempting his first shot at the 10:31 mark of the first half — a missed one-handed dunk attempt on a lob from Ochai Agbaji — Azubuike gathered the rebound and was fouled on his way back up.
He banked the first one hard off the glass and in to get to 999 points for his career. And he swished the second one to reach quadruple digits for his career.
A couple of possessions later, Azubuike was fouled again, as the Cowboys swarmed him with two and oftentimes three defenders every time he caught the ball, refusing to let Azubuike do to them what he did to Baylor two days earlier.
A career 41% free throw shooter entering Monday night, Azubuike drained his next two free throws to start Monday's game 4 of 4 at the free-throw line. He finished the game 7 of 8 from the free-throw line and upped his season average by nearly five percentage points, from 42.3% to 46.6%.
"You don't see that very often," Self said. "He goes 7-of-8 from the line and one of them's a bank and another one's way off. But they were soft. He looked good from the line."
In time, Monday's game evolved into one that Azubuike fans are more accustomed to seeing. He finished with three dunks on the night and was a brutalizing force around the rim throughout the second half, blocking one shot and recording 11 of his 19 points.
Asked after the game, through a few uncharacteristic smiles and laughs with the media, if he was having more fun than ever during hte past couple of weeks, Azubuike smiled again.
"Of course. You've got to have fun," Azubuike said. "This is my last year, my last season. Regardless of what's going on, you've got to embrace it and just cherish the moment. It's basketball. You just have to have fun regardless."
Azubuike took a hard fall midway through Monday's second half and came up wincing. He was thrown down again on a foul on the very next possession, after which he stayed down for a second and then hit 1 of 2 free throws before heading to the bench.
As the KU big man made his way down the bench to slap hands with his teammates and coaches, the Allen Fieldhouse crowd rose to its feet and roared with approval after another solid showing.
Free throws played a big part of Monday's victory for the Jayhawks. KU (25-3 overall, 14-1 Big 12) hit 8 of 9 in the first half to take a 35-25 lead into halftime. And Kansas finished the night 17 of 20 from the free-throw line.
After playing just seven players total in the win at Baylor over the weekend, Self played eight in Monday's first half, with seven of them scoring in the opening 20 minutes.
With KU's starting five likely still feeling some exhaustion from the high-intensity win over Baylor on Saturday, Christian Braun, Tristan Enaruna and David McCormack all played at least 15 minutes on Monday, a theme that started in the first half.
"It was nice that we were able to cut down the minutes on everybody tonight," Self said. "Because the guys are tired."
Added Agbaji after the victory: "It was kind of rough at first, you know, starting to get it going and all that, but our coaches did a good job of getting us pumped up for the game, getting us ready and you know we just had to come in this game with a lot more focus because we've just got finish out the rest of the conference season."
Azubuike's first field goal of the first half came at the 7:57 mark, when he powered his way to the rim to finish a tough post move. That put KU up 21-14.
Later in the first half, after a quick turn over his right shoulder toward the baseline, he gave his brother the show he came to see, hammering a two-handed dunk over a retreating Oklahoma State defender to put the Jayhawks up 33-25.
The power play drew a subdued and friendly clap from Azubuike's brother in the stands. Later, after a one-handed hammer dunk early in the second half, Azuonwu got a little more excited about his brother's signature move, clapping harder and nearly standing after the flush that put the Jayhawks up 37-28 with 18:22 to play.
Four minutes later, after back 3-pointers from Agbaji and Isaiah Moss (9 points on 3 of 6 shooting from 3-point range) and a steady onslaught of transition opportunities for the Jayhawks, Kansas led 51-30 and had all but put the Cowboys away.
Six minutes after that, the game was officially out of hand, with KU leading 69-38 and the Kansas defense making life miserable for OSU, with active hands and intense pressure that led to easy transition points.
KU outscored OSU (14-14, 4-11) 11-8 in fast-break points and 28-24 in the paint on Monday night.
The victory guaranteed KU of being a top-two seed at the Big 12 Tournament in Kansas City, Mo., March 11-14.
Like last week, the Jayhawks will have a couple of days to rest before returning to the court. KU's next game is slated for 12:30 p.m. Saturday at Kansas State.