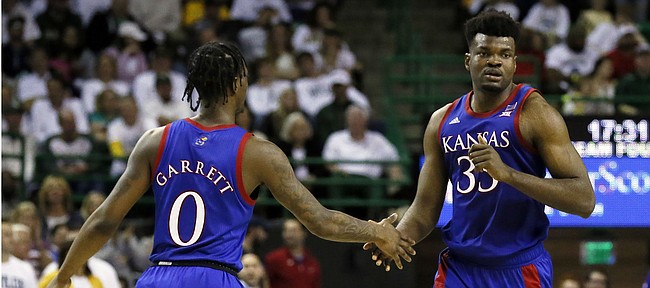 Waco, Texas — Stifled during a Kansas loss to Baylor in January in Lawrence, Kansas senior Udoka Azubuike refused to be taken out of Saturday's rematch at BU's Ferrell Center.
And he never was.
Behind Azubuike's 23 points and 19 rebounds in 36 minutes that dominated Saturday's game, third-ranked Kansas knocked off No. 1 Baylor, 64-61, in what Kansas coach Bill Self called the best atmosphere the Jayhawks have played in this season.
"That's about as well, overall, as I've seen him play," said Self of Azubuike, whose 19 rebounds were a career-high. "He was terrific. They did such a great job on him the first time because we had nothing, from a scheme standpoint, to help him. And today we were able to throw the ball to him over the top quite a bit. But he was great. He controlled the paint and certainly rebounded the ball at a high level."
Throwing the ball inside to their biggest player is nothing new for the Jayhawks. But in order to make it happen on Saturday, Kansas had to tweak its game plan.
Instead of entry passes to the post from the wing, which was the plan in their January loss to Baylor, KU kept the ball in the middle of the floor as much as possible and threw it over the top from there.
Sometimes it worked, particularly when junior guard Marcus Garrett (9 points, 7 assists in 33 minutes) was involved.
Other times it opened up driving lanes for Garrett and KU point guard Devon Dotson (13 points in 37 minutes), who either finished tough shots at the rim to help Kansas maintain control or missed but left a clear path for Azubuike to go get the rebounds.
"That's an easy clean-up for Dok," said Dotson between sips of Gatorade.
Eight of Azubuike's 11 made field goals on Saturday were dunks, either off of lobs or offensive rebounds.
"(We were) just trying to get more ways to free him up," Dotson added.
Azubuike made sure the efforts of his teammates and coaches paid off, and no one seemed to grow tired of talking about his performance in the aftermath of Saturday's victory, the fourth over a top-ranked team in the Self era.
"Unbelievable," said Garrett. "Protecting the rim, catching lobs, scoring when he got it down low, offensive rebounds. Everything."
"It's a lot of fun," said senior Isaiah Moss, when asked what it was like to watch Azubuike dominate like that. "Some of the things he does are still surprising to me, and I'll be like, 'Wow, this is great right here.'"
"He was feeling it," Dotson said of Azubuike, who he connected with on a picturesque, come-fly-with me lob in the first half that set the tone for the rest of the game. "In the first game they kind of took him out, and we just wanted to have the emphasis of feeding him and getting him touches. He was phenomenal."
Azubuike's presence and was key throughout the game because it never allowed Baylor to gain control. In order to stay out there, the 7-footer had to both tap into his improved conditioning and find a way to stay out of foul trouble, things that have plagued him throughout his Kansas career.
"I wouldn't have been able to do this my freshman year," Azubuike admitted after the victory. "I put in a lot of hard work in the offseason, working on my footwork and being able to run the floor, and it paid off."
So, too, did his mindset. Instead of allowing himself to be beaten down by comments about what his game lacks, Azubuike stayed positive, remained focused on what his team needed from him and used the slights as motivation.
"I've had a lot of people say, 'He can't do this, he can't do that,'" an emotional Azubuike said at the postgame podium. "All my life I have been looked down on on everything. So coming out here and playing the way I played and giving it all to my team just made me emotional."
Said Self of his senior center's monster effort and four-year path: "He's a better player than his numbers show because he's so good defensively. But tonight he was equally as good on offense."
After jumping out to a 5-0 lead, Baylor (24-2, 13-1) saw their early lead and control of the game disappear when the Jayhawks ripped off a 9-0 run to take command.
Other than one instance, when BU tied the game at 18 on a 3-pointer by Matthew Mayer, the Jayhawks led the rest of the half, with a 30-21 edge representing the biggest gap of the first half.
KU pushed its largest lead to 11 points (48-37) midway through the second half and the Jayhawks led for 35:46 of Saturday's game. Given the fact that Baylor had led for 97.4% of the time in their 12 home games leading up to Saturday's showdown, KU grabbing and keeping control was a significant part of Saturday's story.
"If we kind of get the crowd out of it and (are) in the driver's seat most of the game, that can help ease some nerves and calm everybody down," Dotson said. "I felt like we did a great job. There were some hiccups, but I'm glad we got to close it out."
Those hiccups came in the final minute and made KU's ability to close out the victory much tougher than it looked like it might be.
Dotson missed the front-end of a one-and-one trip to the free throw line. And sophomore Ochai Agbaji threw away an inbounds pass with Kansas leading 62-58. Baylor's Jared Butler (19 point) and MaCio Teague (8 points) made the Jayhawks pay with back-to-back 3-pointers that cut the KU lead to one.
But Moss calmly knocked in two free throws on the possession after Teague's triple. And KU's defense got the stop it needed in the final seconds, when Butler's 3-point try from the top of the key to tie it came up just short.
"We said let's guard them," Self said, when asked if he thought about fouling Baylor with KU leading by three instead of letting them attempt a game-tying 3-pointer. "Fortunately, for us, he missed the shot. But it was guarded."
Dotson was the KU player who switched onto Butler during that last possession, and his goal the entire time was to make whatever shot Butler took as contested as it possibly could be.
"I just wanted to make it tough and keep a hand in his face," Dotson said. "... I was just hoping it (didn't) go in. It was a big win. They beat us at our place and we wanted to get them back. Everybody did their part in this one, and it was exciting."
Next up, Kansas returns to Allen Fieldhouse on Monday night for an 8 p.m. Big Monday battle with Oklahoma State.