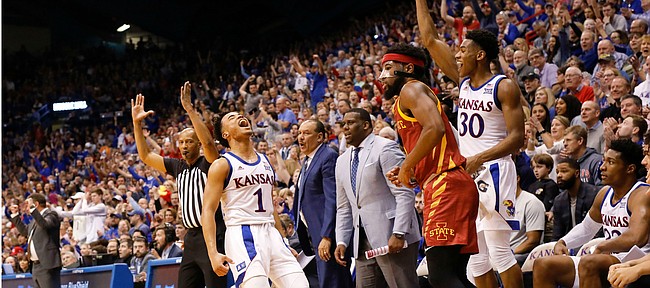 For weeks, the Kansas defense has carried the third-ranked Jayhawks to tough wins in tough places.
On Monday night, inside the cozy confines of Allen Fieldhouse, it was the KU offense that took its turn, catching fire to spark a 91-71 Kansas victory over Iowa State.
Point guard Devon Dotson exploded for 29 points (two off his career-high) on 11 of 14 shooting, and four other Jayhawks reached double figures in scoring.
Dotson connected on 6 of 8 3-point tries, hitting 3 of 4 from deep in each half on what was a balanced scoring night for the Big 12's leading scorer.
Third-ranked Kansas, which picked up its 800th all-time win inside Allen Fieldhouse, shot 56.7% from the floor and hit double-digit 3-pointers (12 of 27 Monday and 11-of-22 Saturday versus Oklahoma) for just the second time all season.
"We did some good things," Kansas coach Bill Self said after the victory. "But none (of it) was better than Devon tonight."
The 91 points scored by the Kansas offense were the fifth most by KU in a single game this season, and Monday marked just the sixth time all season that KU had scored 90 points or more in a single game.
The offense got going early and never stopped.
Photo Gallery
Kansas basketball v. Iowa State
View a gallery of images from Monday night's game between the Jayhawks and Cyclones at Allen Fieldhouse.
During Saturday's first half against Oklahoma, KU center Udoka Azubuike missed five shots and looked a bit off, hesitating instead of immediately attacking the rim.
He had no such problem Monday night.
On the first possession of the game, Azubuike caught a pass on the right block and went up, through two ISU defenders the second he gained possession. Moments later, he did the same along the left baseline. And he followed that up by flushing a perfectly thrown pass from Ochai Agbaji (14 points in 30 minutes) after sealing off his man in the paint.
In the game's first five minutes, Azubuike (13 points, seven rebounds and two blocks) had 6 points, four trips to the free-throw line and one vicious dunk.
Despite the strong start by the KU big man, the Cyclones stuck around.
ISU opened the game shooting 9 of 11 from 3-point range, playing Kansas virtually even through the first 15 minutes of the contest.
Even with the Cyclones red hot from downtown in the first half — they made just 2 of 11 from 3-point range in the second half — the Jayhawks maintained control with their efficiency and effort.
The Jayhawks shot 61% from the floor in the first half and made 7 of 14 3-pointers to take a 50-40 lead into halftime.
"When they're hitting shots like they did, we have to respond," Dotson said. "I think every game we try to knock down our shots, but this game people were rolling."
Said Iowa State coach Steve Prohm: "If you'd have told me we'd have 40 at halftime, I'd have thought we'd be up or down one or two. I knew (Kansas) would be better in the second half. And we probably played a part in that."
The lead and 3-point percentage nearly was larger, but a running 3-point attempt by Dotson at the first-half buzzer just missed.
Dotson shot 6 of 8 in the first half — 3 of 4 from 3-point range — and paced the Jayhawks with 15 first-half points.
Freshman guard Christian Braun (13 points on 5 of 6 shooting in 22 minutes) also drained three first-half 3-pointers for Kansas, which entered the break with mixed emotions about the first half.
"We didn't guard at all," Self told ESPN's Holly Rowe before heading to the locker room. "It was a H-O-R-S-E contest. The whole game plan is to try to run them off the line and we did a terrible job."
That said, Self was pleased with the 10 points and early tenacity by Azubuike.
"I thought we actually went to him a lot early and had pretty good inside-out balance," he said.
The Jayhawks (23-3 overall, 12-1 Big 12) quickly turned the comfortable halftime lead into an insurmountable second-half margin, first by hammering the ball inside to David McCormack and later with a little more damage from the outside.
The unofficial knockout blow came when Dotson picked up his third of three steals on the night, picking the pocket of ISU's Prentiss Nixon, and raced coast to coast to the other end to finish the layup while being fouled.
As the ball fell through the net and Dotson walked back toward the free-throw line, the KU sophomore flexed and kissed his right biceps.
The play, which was part of an 8-0 run by Dotson and a 13-0 run by Kansas, put the Jayhawks up by 20 with just over 10 minutes remaining and Iowa State (11-15 overall, 4-9 Big 12) saw the deficit balloon to as many as 28 (88-60) before this one was over.
With the Jayhawks now having five days until their next game, — 11 a.m. Saturday at No. 1 Baylor — Self said he was looking forward to giving his guys a bit of a break after a rough stretch of the schedule.
"I think we're OK," Self said recently. "(But now) the break occurs where you can actually catch your breath."
Monday marked the Jayhawks' fourth game in the past 10 days. To put that pace in perspective, KU's next four games will be played in a 16-day span.
"Wednesday on the road in West Virginia, 11 a.m. Saturday and then turn around and play Monday — that's about as hard, or as tiring, as what our league schedule can offer," Self said.
KU-Baylor on Saturday will be the featured game of ESPN's College GameDay. The Bears have hosted GameDay in Waco, Texas, just one other time, back in 2011.
"I'm very excited," Dotson said of the looming matchup with No. 1 after the game. "Big game. Should be fun."