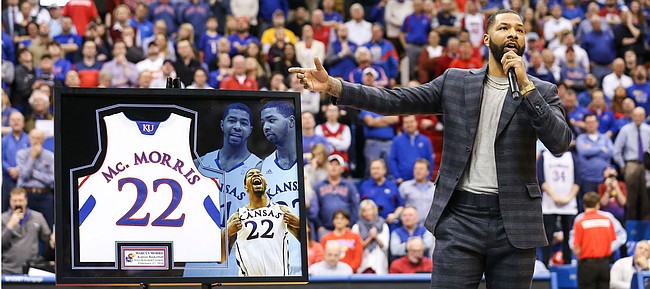 For the past couple of weeks, as he looked forward to his jersey retirement at Allen Fieldhouse, former Kansas forward Marcus Morris said he did not think the moment would hit him until it arrived.
He was right.
On Monday night, during third-ranked Kansas' 91-71 victory over Iowa State at Allen Fieldhouse, Morris watched as his No. 22 jersey was unveiled in the rafters at the south end of KU's home gym.
As a spotlight lit up the new blue banner in the fieldhouse's southwest corner, Marcus Morris stared toward it, put one finger in the air and tapped his chest, all with his twin brother, Markieff, standing by his side.
"Man," he said after bowing his head to gather his composure. "Man, man, man. This is special. This is special."
As the fans roared after Marcus Morris was introduced, he thanked a list of people who helped him get to this point in his life — God, his family, the KU coaching staff, the Kansas fans and more.
"I'm going to make this short and sweet," he began. "A lot of you all know me; I don't do a lot of talking. But from the bottom of my heart, I want to say thank you to you guys."
Photo Gallery
Kansas basketball v. Iowa State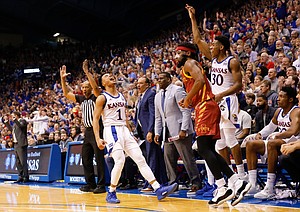 View a gallery of images from Monday night's game between the Jayhawks and Cyclones at Allen Fieldhouse.
As the Morris twins walked off the court, a tribute video showed a few of Marcus Morris' highlights on the video board.
"Just seeing Morris go in the rafters, it's forever," Markieff Morris said before Monday's game. "I'm excited for him."
Marcus Morris saved his most heartfelt words for KU coach Bill Self and his teammates.
"We never saw eye to eye on nothing," he said of Self. "But what he did for me and my brother was special. He showed us the definition of hard work, he was really hard on us and I never understood why. But when I got to the NBA, everything he instilled in me here paid off."
Monday's guest of honor also had some praise for the Jayhawks who played alongside him from 2009 to 2011.
"We came here as teammates and we left as brothers," he said. "I'm very, very grateful to have them in my life. … It's an honor to be up there with all those great players, standing alongside my brother."
800 and counting
Monday's victory marked the 800th Kansas victory inside Allen Fieldhouse, which is set to celebrate the 65th anniversary of its opening on March 1.
The Jayhawks are now 800-114 all-time inside Allen Fieldhouse — 262-14 in the Self era — and have an all-time win percentage of 87.5% in the historic venue.
KU's first victory at Allen Fieldhouse came on March 1, 1955, in a 77-67 win over Kansas State.
Self has more wins in the building than any coach in KU history, with Ted Owens (206 wins from 1964 to 1983) and Roy Williams (201 wins from 1988 to 2003) in second and third place behind him.
Iowa State is now a three-time victim of milestone wins at Allen Fieldhouse. The Jayhawks picked up win No. 200 in the building against the Cyclones on Feb. 15, 1978, and win No. 700 at Allen Fieldhouse against ISU on Jan. 29, 2014.
KU still 3rd in AP poll
When the latest poll was released Monday morning, KU held onto its No. 3 ranking in the Associated Press Top 25 for the fifth week in a row.
Baylor and Gonzaga remained in the top two spots, with the Bears receiving 48 first-place votes, the Zags getting 14 and Kansas retaining the one first-place vote it has had throughout its stay at No. 3.
The Jayhawks and Bears are closing in on a Big 12 showdown at 11 a.m. Saturday in Waco, Texas, where the conference title and a potential No. 1 overall seed in the NCAA Tournament could be on the line.
Baylor plays at Oklahoma on Tuesday before the battle of top-three teams.
KU now has been ranked in 216 consecutive AP polls, bringing the Jayhawks closer to eclipsing UCLA's all-time record of 221 consecutive weeks in the AP Top 25.
The Jayhawks are 5-3 this season against the current Top 25, with wins over No. 5 Dayton, No. 17 West Virginia (twice), No. 18 Colorado and No. 23 BYU. All three of KU's losses came to Top 25 teams — No. 1 Baylor at home, No. 6 Duke in the season opener and at No. 12 Villanova.
Also of note this week, Andy Katz, who covers college basketball for NCAA.com, named the Jayhawks his Team of the Week.
This and that...
Monday's win moved Kansas to 184-66 all-time against Iowa State, including a 95-16 record in games played in Lawrence and a 54-10 mark inside Allen Fieldhouse ... At 12-1 in Big 12 play, KU now has won 12 conference games or more for 20 consecutive seasons... The Jayhawks have won 23 games or more overall for 31 consecutive seasons ... KU is now 13-1 in home games this season and 12-1 at Allen Fieldhouse ... Monday's victory improved Self to 703-214 for his career, 496-109 at Kansas and 29-10 all-time against Iowa State.