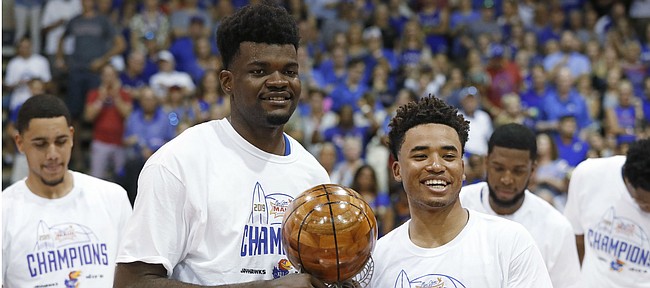 Two of the Jayhawks most responsible for No. 3 Kansas maintaining its place throughout the season as one of the best teams in the country, both Udoka Azubuike and Devon Dotson made the John R. Wooden Award late season watch list.
KU's top two scorers, Dotson (18 points per game) and Azubuike (12.6 points per game), join 18 other players who are now considered the frontrunners for the Wooden Award and its accompanying All-American team.
A 7-foot senior center, Azubuike by far leads the nation in field goal percentage, converting 76.3% of his attempts for Kansas (19-3).
The Jayhawks' large and agile protector of the paint is averaging 9.5 rebounds and 2.5 blocks on the season, as well. Earlier this week, Azubuike recorded his ninth double-double of the year, with 17 points and 12 boards in KU's home win over Texas.
KU's 6-2 sophomore point guard, Dotson leads the Big 12 in scoring and has put up double figure points in all but one of his 21 starts — in the Jayhawks' matchup with Baylor a hip pointer limited him to 28 minutes and nine points.
Dotson is shooting 46.8% from the field, 81% at the foul line, and averaging 4.1 assists, 2.1 steals and 3.9 rebounds.
In two of the previous three seasons, KU had a Wooden Award finalist, with Frank Mason III winning it in 2017 and Devonte' Graham making the final list in 2018. In 1988, KU's Danny Manning won the Wooden Award.
A poll of national college basketball experts chose this season's late season watch list based on individual performances during the first half of the 2019-20 season.
Here are the 20 players who made the watch list:
• Udoka Azubuike - 7-foot, sr. C, Kansas
• Saddiq Bey - 6-8, soph. F, Villanova
• Jared Butler - 6-3, soph. G, Baylor
• Vernon Carey Jr. - 6-10, fr. C, Duke
• Anthony Cowan Jr. - 6-0, sr. G, Maryland
• Devon Dotson - 6-2, soph. G, Kansas
• Anthony Edwards - 6-5, fr. G, Georgia
• Malachi Flynn - 6-1, jr. G, San Diego State
• Luke Garza - 6-11, jr. C, Iowa
• Markus Howard - 5-11, sr. G, Marquette
• Tre Jones - 6-3, soph. G, Duke
• Jordan Nwora - 6-7, jr. F, Louisville
• Daniel Oturu - 6-10, soph. C, Minnesota
• Filip Petrusev - 6-11, soph. F, Gonzaga
• Myles Powell - 6-2, sr. G, Seton Hall
• Payton Pritchard - 6-2, sr. G, Oregon
• Jalen Smith - 6-10, soph. F, Maryland
• Lamar Stevens - 6-8, sr. F, Penn State
• Obi Toppin - 6-8, soph. F, Dayton
• Cassius Winston - 6-1, sr. G, Michigan State
Azubuike a finalist for Senior CLASS Award
KU's star center also this week was named one of 10 national finalists for this season's Senior CLASS Award, given to an NCAA Division I senior with demonstrated success in the categories of community, classroom, character and competition.
Originally from Delta, Nigeria, Azubuike majors in liberal arts and sciences at KU and is set to graduate in May. He's a two-time Academic All-Big 12 selection, making the second team as a sophomore and first team as a junior.
Fan voting to help select the award's winner already has begun and will continue through March 23. Those votes will be combined with those cast by media members and Division I head coaches.
In 2005, KU's Wayne Simien won the Senior CLASS Award. In other seasons, Jayhawks landed on the Senior Class All-American teams: Mason (2017), Perry Ellis (2016, second team), Tyrel Reed (2011), Nick Collison (2003) and Kirk Hinrich (2003). The award started in 2001 and its All-American teams began in 2003.
The finalists for 2020 are: Azubuike, BYU's Yoeli Childs, Dartmouth's James Foye, Marquette's Howard, William & Mary's Nathan Knight, LSU's Skylar Mays, Utah State's Sam Merrill, Seton Hall's Powell, Penn State's Stevens and Michigan State's Winston.
March Madness sneak peek coming up
Selection Sunday won't be here until March 15, but on Saturday CBS and Turner Sports will team with the NCAA Division I Men's Basketball Selection Committee to give fans a look at how the top seeds would shake out at this point of the season.
The NCAA March Madness Bracket Preview (11:30 a.m., Saturday on CBS) will reveal the top 16 seeds in the country and the four No. 1 seeds as things stand entering the weekend's slate of games.
Host Greg Gumbel and analysts Clark Kellogg and Seth Davis are set to discuss with NCAA men's basketball committee chair Kevin White the selection and seeding process, as well as the reasoning behind the current seeds.
CBSSports.com's Jerry Palm also will join the program to project the remainder of the 68-team bracket.
This is the fourth year that Turner and CBS have previewed the field and seeds roughly a month out from the actual selection show.
Graham taking 3-point shot to All-Star Weekend
A former All-American at KU, Graham, now in his second season with the Charlotte Hornets, will be one of eight players competing in the 3-point contest during the NBA's All-Star Weekend, on Feb. 15.
Graham currently averages 17.9 points per game for the Hornets, with much of his production coming from downtown. The guard from Raleigh, N.C., has hit 181 of 478 3-pointers (37.9%) through his first 51 games. He ranks fourth in the NBA in 3-pointers made.
During the 3-point contest in Chicago later this month, Graham will be competing against Washington's Davis Bertans, Brooklyn's Joe Harris, Sacramento's Buddy Hield, Chicago's Zach Lavine, Portland's Damian Lillard, Miami's Duncan Robinson and Atlanta's Trae Young.
Graham also is set to participate in the NBA's Rising Stars game at All-Star Weekend, playing for the USA team during the Feb. 14 exhibition.
He'll be going up against a team of international players that includes his former KU teammate and good friend, Svi Mykhailiuk, who is originally from Ukraine. Mykhailiuk is averaging 8.9 points off the bench for Detroit and hitting 42.5% from 3-point range (94-for-221).