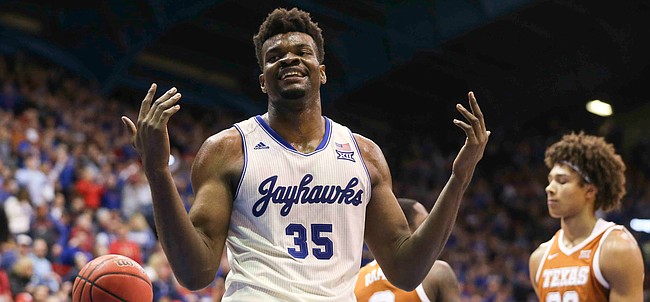 For a player the size of Kansas center Udoka Azubuike, being subtle is not something that comes naturally on the basketball court.
However, slowly but surely throughout his KU career, that's exactly how the 7-foot, 265-pound senior has started to understand his place in the game and on the floor.
Monday night, following the Jayhawks' 69-58 win over Texas at Allen Fieldhouse, Azubuike was asked about his monster second half, which yielded 10 points and eight rebounds, and his answer was the latest, and perhaps best, illustration of the maturity that has led to Azubuike's best season to date.
Photo Gallery
Kansas basketball v. Texas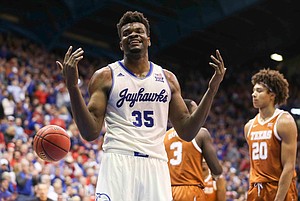 View a photo gallery from Monday night's game between the Jayhawks and Longhorns at Allen Fieldhouse.
No longer hung up on numbers, points or highlights, Azubuike's focus this season has been on making the right basketball play and the best decision in every moment.
"It's just about the win, about the team," said Azubuike, who recorded his ninth double-double of the season (17 points, 12 rebounds) despite not starting the first half on Monday. "There's a lot of people out there that have numbers on me and stuff. But if you watch, I get double- and triple-teamed every time. So I normally don't get the points that everybody is going to get. But it's the difference you make when you're in the game. And I think when I'm in the game I make a lot of difference. I draw a lot of attention and that helps my teammates out."
Kansas coach Bill Self pointed out after Monday's victory that that line of thinking by KU's dominant post presence was a sign of progress.
"I think that's something that he's seen. But I don't think he's always seen it," said Self of Azubuike's understanding of his importance beyond the stat sheet. "I think Dok equates good play to scoring points, but I don't think he does that near as much (anymore)."
Look no further than Azubuike's patience in the post throughout the season as proof.
Like any good scorer, at any position, Azubuike consistently works hard — mentally and physically — to make sure he catches the ball in the best possible position for himself and the Kansas offense.
If he's not there when he catches a pass — and by "there" we're talking as close to the basket as humanly possible — Azubuike usually does one of three things. He either uses his power to back his man down to the basket, tosses it back out, resets his position deeper and then goes to work or kicks the ball out to a teammate for an open shot that he helped create.
"His impacting the game is you have to game plan for him," Self said. "You have to game plan for him. And if you game plan for him then hopefully other guys will be open."
Added Azubuike: "When I get the ball where I need to get the ball, I know that something positive is going to happen. I'm going to get a bucket or draw the foul. … It's just about me getting my position."
When that happens, the numbers typically follow.
Monday's victory pushed Kansas to 25-1 all-time during Azubuike's career when the big man scores 15 points or more in a game. And, for the season, Azubuike is averaging 12.6 points and 9.5 rebounds in 27.2 minute per game.
Already with one season of leading the NCAA in field goal percentage under his belt (2017-18), Azubuike is all but assured of setting KU's career field goal percentage record and also is closing in on an even bigger distinction.
His eight makes on Monday night made him eligible for the NCAA's all-time field goal percentage record, which requires a minimum of 400 makes.
Azubuike is now 407-of-543 for his career, which, at 75%, currently puts him in the top spot on the NCAA's career field goal percentage charts, ahead of former Central Florida standout Tacko Fall, who shot 74% (497 of 672) during his UCF career from 2016-19.
Azubuike said Monday that continuing to put up numbers even when he's not hunting them means a lot to him when he looks at a box score after games.
"These past few games, teams have been throwing a lot of different defensive options at me," he said. "There's been a lot of two-men or I've been triple-teamed and it's been hard for me to get the ball."
That's where his newfound patience comes in handy, along with his teammates' willingness to look inside and his head coach's insistence that they do so.
"It's been good," said Azubuike of his senior season, which now has just nine regular season games left in it along with whatever postseason fate awaits the Jayhawks. "I won't say it's been all sugar sweet. There've been rough edges. But it's my senior year and I'm just going to live in the moment because I know I'm going to look back one day and think about this time."