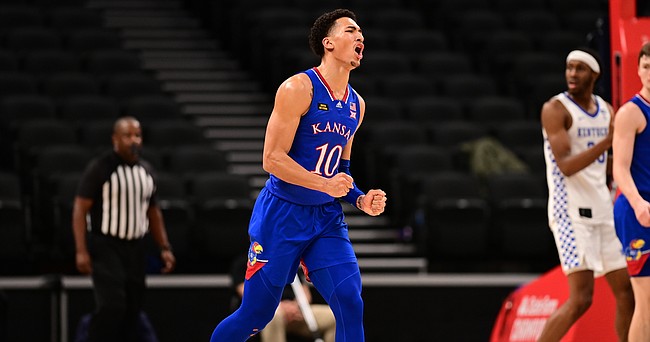 Kansas guard Jalen Wilson has a theory about the game of basketball that has everything to do with being around the ball as much as possible.
"My thing is, when you rebound the ball (and are) feeling the ball, you always get a touch," Wilson said after Tuesday's 65-62 Champions Classic victory over Kentucky in Indianapolis. "You're always active in the game. So by me rebounding, I always stay in tune with anything on the court."
That approach, which has served Wilson well throughout his basketball playing life, paid off bigger than ever Tuesday night at Bankers Life Fieldhouse.
After scoring just two points on 1-of-4 shooting in Tuesday's first half, the 6-foot-8 redshirt freshman exploded for 21 points in the second half to lead No. 7 Kansas (2-1) to its fourth win over Kentucky (1-2) in the past five meetings.
In addition to his career-high 23 points on 8-of-16 shooting, Wilson also added a career-best 10 rebounds and played 31 minutes while making his second start of the season.
"We don't come close to winning the game without him," KU coach Bill Self said after his team improved to 2-1 on the season. "He played really well and he was really the only offense we had that was pretty consistent."
Many of Wilson's minutes on Tuesday came at the 5 position when Kansas elected to play its small ball lineup.
Junior forward David McCormack, who started next to Wilson, had another rough outing in 19 minutes. McCormack scored seven points (five of them at the free throw line) and grabbed five rebounds, but also shot just 1-of-9 from the floor and turned it over twice.
Senior Mitch Lightfoot played just two minutes on Tuesday, giving Kansas the opportunity to take its five-guard lineup for another spin nearly half the time.
When they do that, Wilson's size and frame make him a natural to play the 5 spot, and so far it's led to good things for player and program.
"I didn't expect playing the 5, but I expected to play whatever my team needed me to play," Wilson said after the victory. "So I was open to anything they needed me to do, and if the 5 is it, I'll be glad to run it. I think it looks really good."
Asked what makes him so effective in that spot, Wilson said the size and strength he packages within his athleticism can create problems for defenders.
"I can really break down a 5 on offense," he said, moments before Self shared that KU's game plan against the Wildcats' bigger front line was for the Kansas player being guarded by Kentucky's 5 to attack him off the dribble.
Document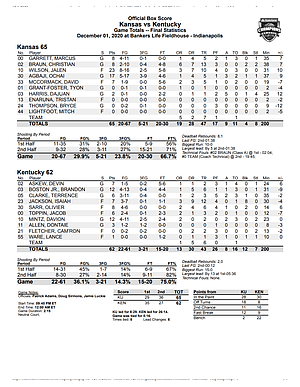 Many times, that was Wilson against freshman Isaiah Jackson. And while Jackson finished Tuesday's game with 7 points, 12 rebounds and 8 blocks in 30 minutes, some of Wilson's most memorable buckets came when he attacked Jackson with the drive.
"He's a long active defender," Wilson said of Jackson. "But I weigh more than him. You know, I'm like 20 pounds heavier than him, so me getting into him, putting my body into him and kind of wearing him down (helped a lot). When I get to the rim, I'm kind of stronger, so I can make better moves; I know that he's jumping higher, but I'm still able to find a way to get him up in the air."
While most of Wilson's points on Tuesday came off of drives to the rim, trips to the free throw line or the three offensive rebounds he snagged, the confidence he gained from success in those spots led to a 2-of-5 shooting clip from behind the 3-point line, as well.
Wilson's two triples, which Self called two of the three biggest shots in the game, came on back-to-back Kansas possessions inside the final six minutes. The first cut Kentucky's lead to one. The second tied the game at 51. The two combined stole the momentum from the UK bench and put it on the Kansas side to stay.
Wilson scored six of KU's first eight points of the second half and also scored 13 of 15 KU points during the stretch that featured his two shots from distance.
While the effort was viewed as a breakout performance in Kansas basketball circles across the country, Wilson saw it differently.
"I wanted to come out and prove to people what I can do," he said. "This isn't something that I'm just shocked by. I worked hard to be in this position, and I don't think anyone else is shocked by it. Coach told me good game, but I can't really hold on to it too long because we've got a lot of good games coming up."
After a day off on Wednesday, the Jayhawks will return to the court at 7 p.m. Thursday for the home opener against Washburn University.
After that, it'll be two more games in a five-day span, when KU hosts North Dakota State on Saturday (3 p.m.) and welcomes No. 9 Creighton to town at 4 p.m. next Tuesday.